Product Range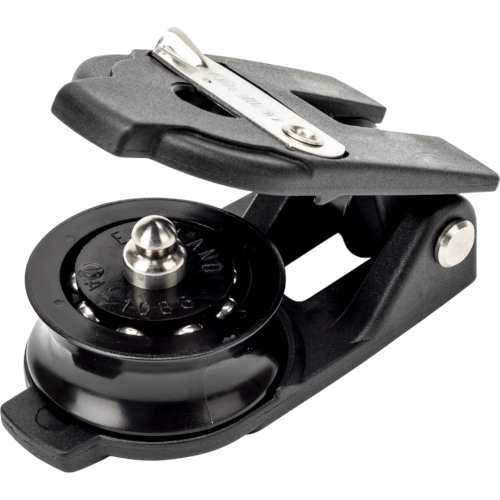 Snatch Blocks
A snatch block is a variation of pulley that has been designed to allow quick attaching and releasing of lines. Our range comes with a simple hinge mechanism that allows the side cheek to open a bit like an oyster shell.
Available with or without the locking mechanism to suit different applications. The locking mechanism can be operated with one hand.
Generally, snatch blocks are utilised in barber haulier or spinnaker sheet systems on a boat, where you may want to quickly attach or release the block.
Also widely used in non-marine sectors such as theatre production, tree surgery and cargo transportation.
Dynamic Bearings – Twin rows of stainless steel balls running on a stainless steel rail.
| | SKU | Title | breaking load kg | length mm | maximum line diameter mm | maximum working load kg | sheave diameter mm | Weight g | Price |
| --- | --- | --- | --- | --- | --- | --- | --- | --- | --- |
| | A1375 | Snatch Block | 700 | 76 | 6 - 10 | 200 | 40 | 95 | £49.88 |
| | A1375-A4102 | Snatch Block With Swivel | 700 | 76 | 6 - 10 | 200 | 40 | 95 | £59.76 |
| | A1375-S | Snatch Block With Additional Small Sheave | 700 | 80 | 10 | 200 | 40 & 16 | 93.5 | £57.43 |
| | A1376 | Snatch Block With Snap Shackle | 700 | 76 | 6 - 10 | 200 | 40 | 203 | £74.94 |
| | A1377 | Snatch Block With No Keeper Mechanism | 700 | 76 | 6 - 10 | 200 | 40 | 94 | £74.94 |
| | A1378 | Back To Back Snatch Blocks With Swivel | 700 | 76 | 6 - 10 | 200 | 40 | 373 | £148.43 |
| | A4475 | Snatch Block No Keeper | 350 | 53 | 5 - 6 | 140 | 30 | 28 | £27.19 |