Product Range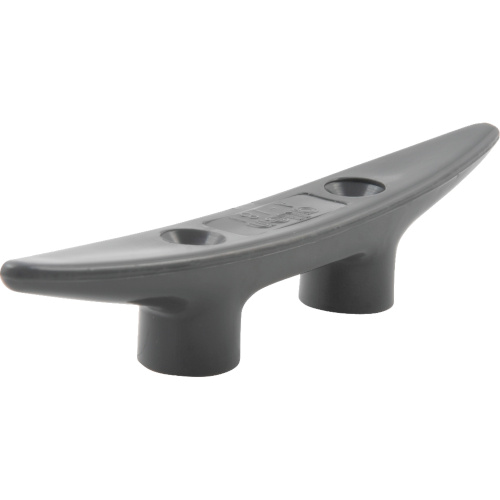 Horn Cleats
Horn cleats are a traditional design for holding rope.
All of our horn cleats feature two feet, through which they are fixed to the deck, hull or mast of a boat. They can of course be used in non-marine applications as well.
Available in nylon and aluminium.
For custom sizes please contact us.
| | SKU | Title | fixing hole centres mm | fixing hole diameter mm | height mm | length mm | material | maximum line diameter mm | Weight g | Price |
| --- | --- | --- | --- | --- | --- | --- | --- | --- | --- | --- |
| | A..81- | 62mm Horn Cleat | 20 | 3 | 13 | 62 | Nylon | 5 | 6 | £0.36 |
| | A.181 | 99mm Horn Cleat | 33 | 4 | 20 | 99 | Nylon | 8 | 9 | £2.14 |
| | A.281 | 155mm Horn Cleat | 48 | 5 | 27 | 155 | Nylon | 10 | 33 | £6.62 |
| | A.381 | 200mm Horn Cleat | 64 | 6 | 38 | 200 | Nylon | 14 | 74 | £9.55 |
| | A.481 | 100mm Horn Cleat | 31 | 5 | 18 | 100 | Nylon | 8 | 10 | £2.11 |
| | A.781 | 133mm Horn Cleat | 42 | 5 | 25 | 133 | Nylon | 11 | 22 | £3.61 |
| | AY7115A | Aluminium Horn Cleat | 48 | 6 | 33 | 156 | Aluminium | 22 | 180 | £73.15 |
| | AY9185 | Toe Rail Aluminium Horn Cleat | 150 | 8 | - | 200 | Aluminium | 22 | 519 | £180.18 |