Product Range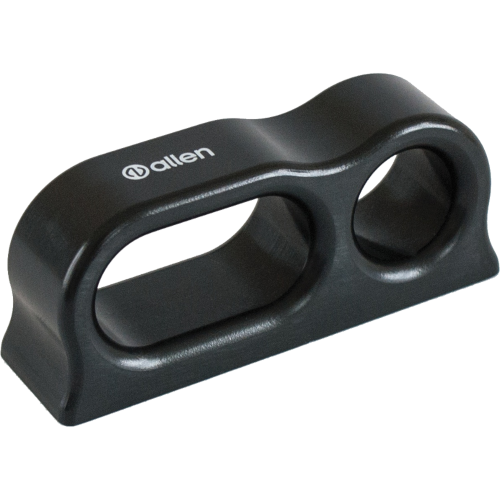 Fairleads - Aluminium
Aluminium fairleads have been designed for use on boats up to 40ft/12m where a shallow angle deflection is required for any control line or sheet. Smooth surfaces and nicely radiused edges minimise line wear.
Available in a variety of shapes and sizes to suit different applications. Manufactured from marine grade 7075 aluminium for extra strength and corrosion resistance. Hard anodised in black with a pad printed Allen logo.
Fitted using the tapped holes on the underside of the fairlead. Bolts are not included.
Open the PDF on the product page for detailed dimensions.
| | SKU | Title | colour | fixing hole centres mm | fixing hole diameter mm | inside diameter mm | Weight g | Price |
| --- | --- | --- | --- | --- | --- | --- | --- | --- |
| | A5052-10 | Keelboat Fairlead | Black | 64 | 10 | 60 X 30 | 189 | £79.60 |
| | A5052-12 | Keelboat Fairlead | Black | 76.8 | 12 | 72 X 36 | 307 | £89.30 |
| | A5052-4 | Keelboat Fairlead | Black | 25.6 | 4 | 24 X 12 | 14 | £50.50 |
| | A5052-6 | Keelboat Fairlead | Black | 38.4 | 6 | 36 X 18 | 39 | £60.20 |
| | A5052-8 | Keelboat Fairlead | Black | 51.2 | 8 | 48 X 24 | 104 | £69.90 |
| | A5053-4 | Keelboat Jib Sheet Fairlead | Black | 27.2 | 4 | Oblong Hole - 12 X 24 - Round Hole - 12 | 23 | £36.25 |
| | A5053-6 | Keelboat Jib Sheet Fairlead | Black | 40.8 | 6 | Oblong Hole - 36 X 18 - Round Hole - 18 | 64 | £47.59 |
| | A5053-8 | Keelboat Jib Sheet Fairlead | Black | 54.4 | 8 | Oblong Hole - 48 X 24 - Round Hole - 24 | 170 | £59.05 |
| | A5054-10 | Keelboat Sheet Deflector | Black | 37.5 | 10 | 16.7 | 55 | £56.18 |
| | A5054-12 | Keelboat Sheet Deflector | Black | 35 | 12 | 20 | 82 | £64.40 |
| | A5054-16 | Keelboat Sheet Deflector | Black | 60 | 16 | 26.7 | 206 | £72.62 |
| | A5054-6 | Keelboat Sheet Deflector | Black | 22.5 | 6 | 10 | 14 | £39.74 |
| | A5054-8 | Keelboat Sheet Deflector | Black | 30 | 8 | 13.3 | 31 | £47.96 |