Allen Academy Optimist Sailor Nick Evans Easter Blog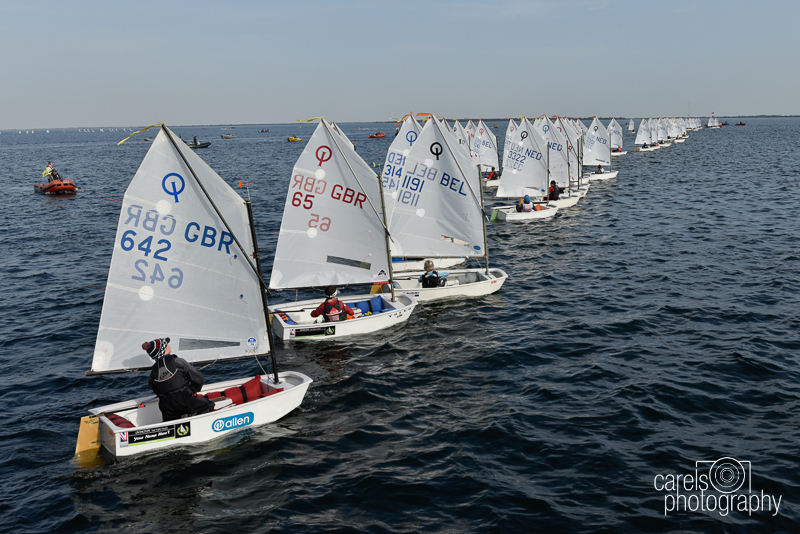 We had two days of training before the event which was important as I needed to get used to the very choppy, shifty and gusty lake. The first day of training brought light winds and rain – a horrid combination – so we struggled to do many exercises. The next day, however, was much better even if it was only 2 degrees because there was a solid 10 knots of wind.
We did three races on the first day where I got a 22nd a 12th and a 24th. I was disappointed in my last race as I was coming 12th before I got caught out by a big right wind-shift.
The next day was much like the first training day with 5 knots and big wind-shifts, so only one race, instead of the scheduled four, was completed. On that day I got a 21st which was a good result as I was last around the top mark due to a poor start in the middle of the line.
The third day is normally the start of the final series but as all the flytes had not completed at least five races, there was another day of qualifying. My results were 29th, 33rd (which was my discard) and an 11th which was a good finish to an otherwise disappointing day.
I was very happy as I made it into Gold Fleet which was one of my goals coming into this event. Gold fleet was definitely a step-up and I realise how much more improvement is needed.
My next stop was the Optisprings. I did two days of training before the event which was great as it was gusting and 15 degrees, almost Spring-like. The wind, however, didn't hold out for the Regatta, with just 10 knots on the first day and 6 knots on the second.
On the first day, there were four races and four bad starts for me which was disappointing.  However, I managed to stay consistent with a 30th (discard), a 15th, an 11th and a 13th. The second day was lighter, so light that a race was abandoned halfway down the penultimate leg. This was annoying as I was coming 5th which would have been my best race. On the race that we did complete, I won the committee end and tacked out left into pressure. I was eighth around the windward mark but due to a long run I lost 10 boats on the downwind as a huge gust came down on the other side of the course.
I think my time abroad was a very good experience as it has shown me how much improvement I need to make to be at the top of the fleet.
I want to thank Allen again for the boat and their great blocks and support and my parents for taking me.