Birrell and Brearey Win Merlin Rocket Nationals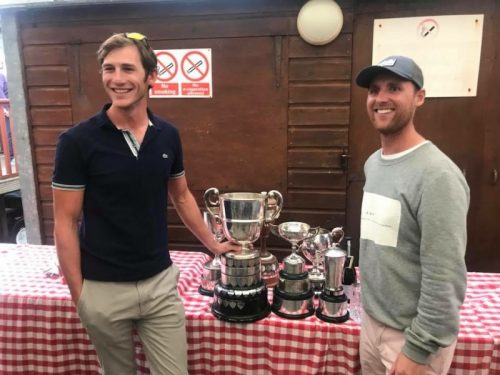 Team Allen sailors Christian Birrell and Sam Brearey return home from Lyme Regis as the new National Champions of the Merlin Rocket fleet.
Birrell and Brearey have had their eyes set on the Merlin Rocket national title for a few years. To ensure they could reach the goal and take home the trophy the pair worked with Allen to provide a winning hardware fit out.
"We set the goal of winning the Merlin Rocket National Championships back in 2016. In 2017 we bought a new boat and worked closely with Allen to deliver a high specification fit out. Being new to the class, the advice and experience of the Allen team was invaluable in getting us on the water with a package that worked straight away." Birrell commented.
Christian has spent the last few months fine-tuning the position and set up of the mini profile traveller cars and track in his new jib sheeting system. The set up allows for a wider and finer range of jib settings in all wind strengths.
"Over the last 18 months, we have continued to work in close partnership with Allen to develop new systems to further optimise the boat. Working together, in the lead up to the nationals we were able to develop a new jib car system that allows us to move the jib cars both fore and aft and inboard and outboard. At the nationals, we experienced a range of conditions from 5 – 25 knots and big seas to flat water. The increased jib control offered by the new arrangement provided us with the ability to be fast across all of these conditions." explained Chrisitian.
The Merlin Rocket fleet includes some of the UK's best sailors, with many Olympic sailors catching rides for the big events.
Christian went on to say "By our own count, there were 23 previous National or World Champions of various classes on the start line in Lyme Regis. The class seems to be on fire at the moment, with amazing competition and some of the best racing we have ever done. It is no surprise there are already 180 entries for Merlin Rocket Week at Salcombe next year! With some flexibility in the rules, the class continues to evolve and we are really excited about continuing to work closely with Allen to further optimise our performance for 2019"
A huge congratulations to the new Merlin Rocket Nationals Champions!
To find out more about Allen traveller cars or to get some inspiration for your next boat upgrade, go to allenbrothers.co.uk