Megan Pascoe – First regatta of the year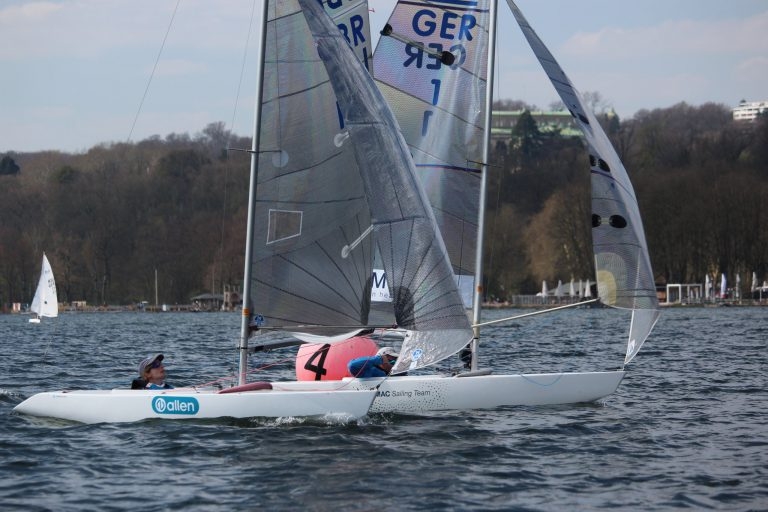 Ruhr City Cup in Essen
After a long winter mostly sailing a borrowed boat owing to my brother working some magic on mine it was time to start the season. The Ruhr City Cup is the ideal place to do it. A small crescent-shaped river with some interesting shifts but it makes the sailing fun.
It is always good to see what the German fleet has been up to over the winter and we spent a long time on Friday talking about this due to a complete lack of wind. Sitting in the sun chatting sailing, planning the next couple of years is not a bad way of spending a Friday. It beats sitting in the office.
As Saturday came the wind did as well, some of it anyhow. Five races in one day with a coffee break after 4 lead to a full on day. It's always nice after the winter to find out how fast the boat is going and pleasantly mine was going fast enough. I had a great battle all day with Heiko Kroger a Paralympic and World Champion. Unfortunately, as you can see from the picture I was on the outside of too many leeward marks going into the finish. We both had to bow to a very fast local Dragon sailor Ben van Cauwenbergh, a Belgium living in Germany sailing under an American sail number.
Sunday the wind had gone 180 degrees so we weaved our way through the rowers for three last races. I was starting better but in the first couldn't quite hold onto the inside at the leeward mark and lost to Heiko. Second race I couldn't find the right shift to save my life but managed to find one that mattered at the top to lead and managed this time to hold it. This lead to the last race winner takes all. Heiko did a very nice job of covering me up the beat, I should have stayed close down the run but didn't and could only get back to fourth. Every days a school day and we'll try again.
It is a great little club at WSB Baldeneysee celebrating its 100th year. The race team was once again excellent as local sailor Stefan Giesen brings his team from Kieler Woche. It is the volunteers that make this event from the beer fridge to an immense amount of cake. An event structure that is almost uniqiue to the Ruhr City Cup that everyone should experience once in their life. As Ben wrote in the German report all together nice weather, wind, nice people, three days all you can eat and drink, and fun!! Sums up the weekend perfectly and a great start to the season. Very excited for the months ahead.
Results: https://www.manage2sail.com/it/event/ERCC2019#!/results?classId=204e29a8-dcc9-4bb2-a5ce-ff509b58191b
Photos courtesy of www.2punkt4.de