Youth Team Allen Sailors Finish 5th at RS Feva Worlds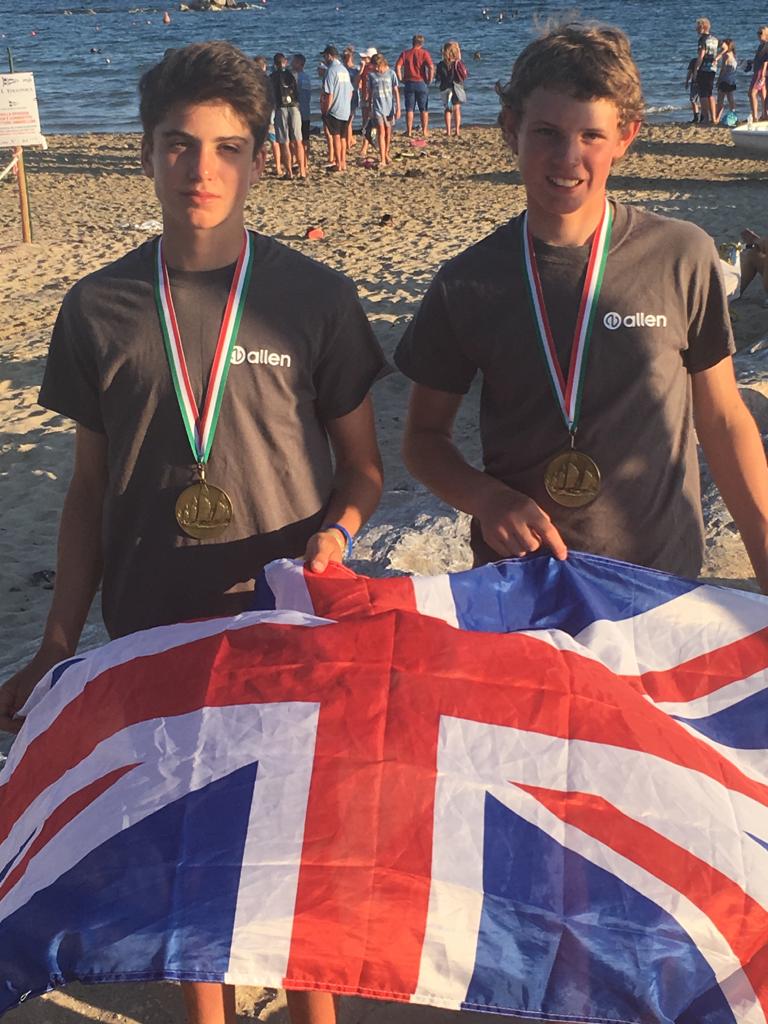 Joey Taylor and Terry Hacker recently finished 5th at one of the highest attended RS Feva World Championships.
Here is a short write up from Joey about the event –
The RS Feva fleet headed for Follonica, Italy, for the biggest ever RS double-handed event with 23 different nations represented and 200 boats in probably the most competitive World Championships fleet so far for the class.  With our boat very kindly being transported on top of a Norwich School minibus, we were able to fly out and see the sights of Pisa before heading on to the venue.
We were able to get some training in before the event which helped us acclimatize to the heat, prevailing light winds and sloppy chop before the 2-day qualification series started on Monday.  With the fleet spit into 3 flights, we got off to the perfect start with a bullet in race 1, followed by a not so perfect 20th and a good 4th leaving us 15th overall overnight.
We stepped up a gear for day 2 with three top 10s allowing us to discard the 20th and leaving us 12th overall heading into Gold fleet for the remaining 3 days of the regatta.
Day 3 dawned to the now expected heat, light winds and sloppy chop.  Unfortunately, it didn't go great for us in the first race as we struggled to get off the line and ended up 19th.  Things didn't improve in the second race as, after a good start, we were yellow flagged as we crossed the fleet putting us pretty much at the back after we had done our penalty.  We recovered to 23rd in that race and then finally got our act together with a 4th in the last race of the day.
Day 4 was looking good for us with a 5th and then 4th, but unfortunately the 4th turned out to be BFD.  This must have really focused our minds as, after several general recalls, we won the last race of the day, which included beating Simon Cooke (championship leader and a NZ ex Olympian and former 470 World Champion).  Despite the BFD, we were now up to 5th overall with everything to play for in the last 2 races.
We woke up on the last day knowing we had a shot at the title, but also knew that we couldn't afford another BFD or bad race.  We held our nerve in the first race and came 2nd, putting us right in contention for the Youth World Champion title.  With everything riding on the last race we were really conscious not to be over the line but held back just too much and couldn't find clear air up the first beat, eventually finishing 26th.  At the time we were disappointed, but we learnt a lot from that last race and won't make the same mistake again.
Whilst it's very easy to dwell on what could have been, overall, we are really pleased with how we sailed in what is our least favorite types of conditions.  To be 4th Youth team and 5th Overall at a World Championships with 200 boats, and to have been in contention for the title with one race to go, was a real achievement for us.
The RS Feva is an amazing fleet.  We were so lucky to have the Worlds in such a great venue with great racing and time to swim and play with friends on the beach after.  For those staying on the campsite, our first experience of Foam Night was brilliant!  Thanks must go to everyone at Follonica Sailing Club and RS for putting on an amazing fun regatta, to all the parents for getting us and our boats there, and to Allen whose support has really helped us.