Pascoe Takes Another World Title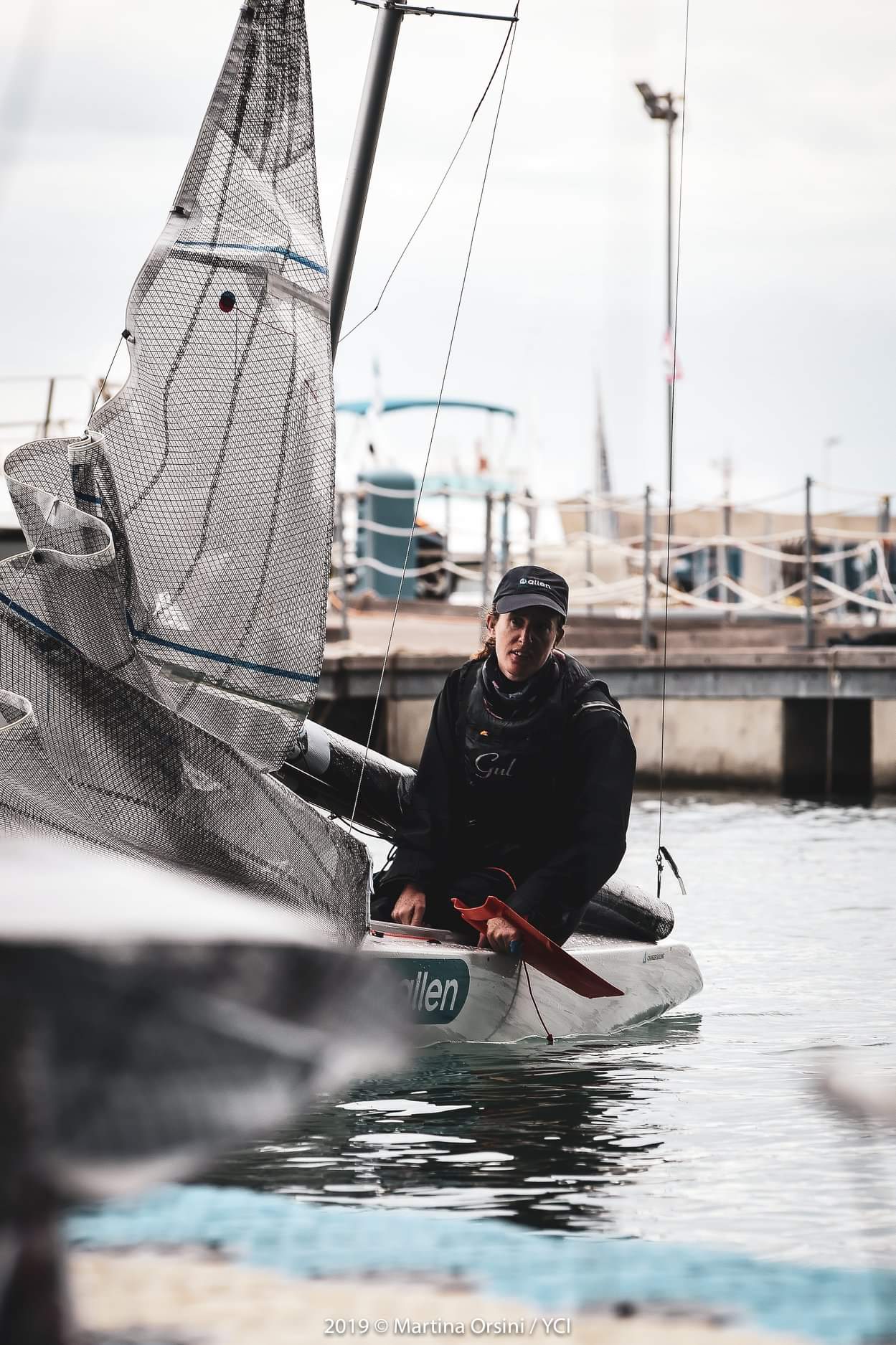 Team Allen sailor Megan Pascoe has claimed another 2.4 World Championship title! Read about her time at the event below
Nearly 80 boats arrived in Genoa at the Yacht Club Italiano for the 2.4mR World Championships last week. Multiple world champions were within the fleet with only a handful of the top sailors absent. Registration and measurement were easy and we all left for the practice race. We had an offshore breeze and a nice 7 knots. By the time we had got halfway up the beat the wind disappeared. If this was a sign of things to come we were in for a long week.
Turning up on Tuesday we looked out to sea to big waves and big breeze. When even the tug boats were going underwater staying on dry land seemed safer. After a thoroughly entertaining day of putting the world to rights we hoped Wednesday would be better. It was and the fleet left the dock in what we thought was a nice 8 knots, or that's what the forecast let us believe. What we really had was 16 knots and big waves. 3 races were sailed. Having not been in those conditions for a few years it was nice that I seemed to have a bit of pace. I finished the day with a 1,1,2. With a few of the top sailors already collecting letters and the chance of 2 discards being slim, it was going to be an interesting series. The usual players were at the top with Marko Dahlberg from Finland putting in a 2,2,1 showing that he is still one of the fastest in the breeze. Stellan Berlin from Sweden with a UFD and two other results in the top 4 was showing why he is a multiple world champion. Paralympians Heiko Kroger and Bjornar Erikstad were going well but both with a UFD a DNF, they were going to struggle to get to the top.
By Thursday no one believed the forecast and after a delay we went out in 12 knots with slightly fewer waves. Stellan left us all in his wake with Marko and fellow Fin Rikard Bjorstrom making the top 3. As we crossed the line we found that Stellan had a UFD making it look like it was going to be a two horse race between Marko and I. We tried a start for race 5 under a black flag but with a 90 degree wind shift and a large black cloud the race was abandoned up the first beat and we went home. It was difficult to see if we were ever going to get a series in. After the cloud passed we left the dock again and had the 5th race in a nice breeze. Heiko took the race win, I finished second and Fia Fjelddahl in third cementing her place inside the top 3. Marko made a rare result outside the top 3 setting up an exciting last day.
Friday was 16 – 20 knots with the waves as big as usual. It was going to be a big day to end it all. I was having a good race with Heiko and Antonio from Italy in a building breeze and I managed to beat Heiko up the last beat. With Marko in 4th, I had one hand on the trophy. The wind dropped enough to encourage the race committee to run another race. It was getting windier and windier as we went up the first beat. A rain cloud came in and a few of us headed to the spreader mark instead of the windward mark. Antonio went the right way and walked away with the race. With the wind on the fleet's limit, we went home and that was the end to a very entertaining series. I was very happy to win my second world title. It was great to do it with my parents watching and so many British and Irish around. The 2.4 fleet is a great fleet to be part of with a varied group of people. The top 4 were from 4 different countries, a mix of female and male competitors, able-bodied and disabled, 3 different sailmakers and 2 different mast makers.
An Aussie asked me what the secret of the week was. Some suggest it might have been the longer keel but with most of the other boats on standard keels I'm unsure of that. With sail set up I set up with more twist to get through the waves. Depowering more to get the boat balanced so you can steer through the waves. Then it is just concentrating on the steering to keep the boat going. Finding the windward mark is always useful as is being able to see the flags! An electric pump that is reliable is a simple win but an important one that can save you from joining the submarine core. The last point is sending it downwind. Learning to steer around the waves and getting the pump in the right place.
But most importantly is having reliable kit! So a thanks must go to Allen for ensuring my boat is fully sorted.
All in all a great way to end 2019.
Photos courtesy of Yacht Club Italiano.