2020-2021 Allen 29er Grand Prix Series – Leo Wilkinson Write Up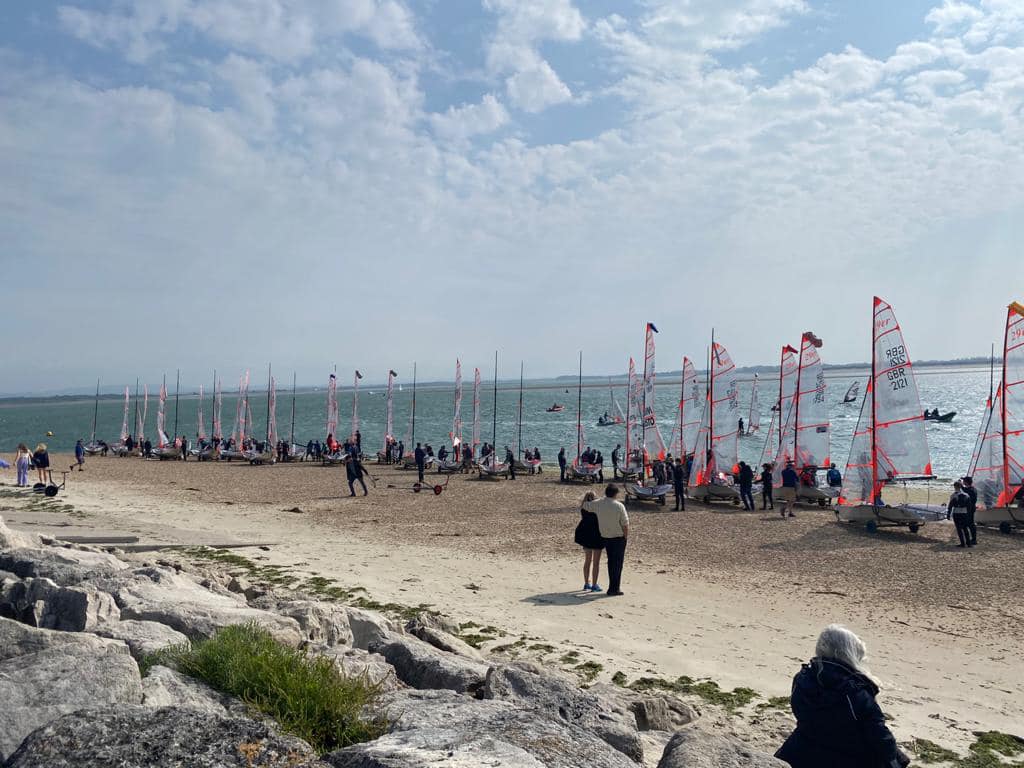 The Allen Grand Prix Series 2020-21 kicked off at Weymouth in September- the first 29er event since January due to Covid-19. With the biggest turnout of the series, the 74 boats were split into two fleets for some windy and choppy conditions. Elodie Edwards and Ewan Wilson, and Tom Storey and Ben Willet dominated the first day and took first and second places, with Ben Mueller and Freddie Lonsdale in a close third.
GP2 was at WPNSA again with similar conditions. Day one ended with very tight results, the top 10 only split by 11 points. With shiftier conditions on the second day, consistency was key. Leo Wilkinson and Sam Jones took the win on countback from Elodie Edwards and Ewan Wilson. Emily Mueller and Louis Johnson rounded out the podium.
Stormy conditions resulted in the abandonment of day one of GP3, also at WPSNA. Light winds on day 2 and the appearance of a pair of dolphins saw home a tight finish of the top 3 with Leo and Sam taking their second GP win, followed by Aled Llewellyn-Jones and Ben Bradley, and Tom and Ben.
The June sunshine welcomed the fleet to Hayling Island SC after another long Covid break to enjoy a wide range of conditions. Only three races were completed on day one due to light wind and strong tides, with the fleet having to walk home along the beach. The second day started windy before dropping throughout the day. Emily Mueller and Florence Breillsford dominated to win with Leo and Sam in second, and Freddie Westwell and Jesse Kibble in third.
The final GP of the series was back at WPNSA with unseasonably wet grey weather and very shifty light winds leading to a high scoring event. Aled and Ben finished third, and Emily Mueller and Seb Gotto second, Emily's third podium with three different crews! Team Allen sailors, Leo and Sam, took their third GP win to win the series overall. Consistency from Aled and Ben gave them second overall, and a strong performance at the start of the series gave Elodie and Ewan third. The overall female competition was very close with Sophie Dennis and Emma Wells winning on countback from Team Allen sailors Monique Vennis-Ozanne and Jess Jobson.
Hats off to the UK 29er Class Association for their fantastic job in putting on a great series under difficult and ever-changing circumstances, and to Allen for their prizes and support.
Images Courtesy of the 29er Class Association.
Written by team Allen sailor Leo Wilkinson.