Allen Contender Open at Hythe and Saltwood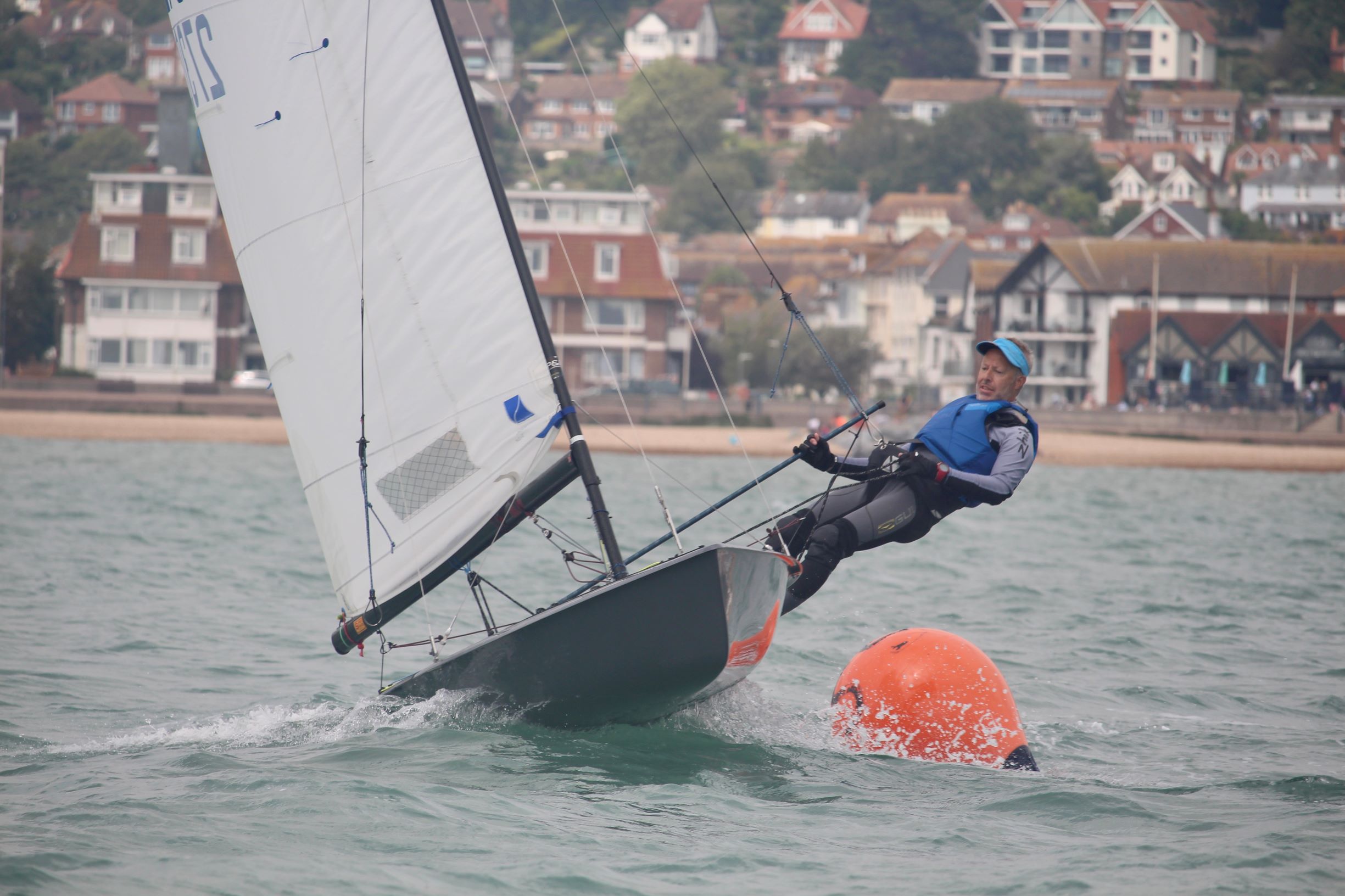 Despite a dodgy forecast, including thunderstorms & not much breeze, 12 visitors joined the 4 local Contenders on the Kent coast, back at Hythe & Saltwood SC for the first time in a few years.
After a bit of conditions familiarisation time, the fun of judging start stuff v tide began (well was springs to be fair), and Rob Smith managed to nail the timing to allow early port tack along the shore, and then the best guess hitch out to sea. Lap1 good judgement, but even a bit of safety over standing thereafter allowed Stuart Jones to make some gains from port approach into the tide. In the end Rob held the lead throughout but little finishing margin from Stuart, with Ed Presley & Gary Langdown following up.

Race2 was local elder brother Adrian's turn to get out of the blocks in the clear and head right high wiring. If anything, the tide had racked up a bit, and although both Adrian and chasing Pete Noble judged their tack well, Rob needed one late risky hitch to join them. Gary snuck round from out to sea, but the following peloton had the almost inevitable mess in fighting to beat mark1.
Although getting reeled in a bit, Adrian held form to take the gun, however the chasing trio got tighter with Rob coming in from left on the run to grab 2nd from Pete who just held off Gary. Elsewhere the other Hythe boats were having close battles, and great to see Tony Brooks back in the fold after injury.
Race 3 joy was a bit more breeze in latter stages, to go with the downwind mini-wave fun. The front gang was a similar cast list, Adrian took the lead early and continued his good speed from race2 to extend on most legs, Stuart and Gary posted 2nd & 3rd.
With the weather playing ball, the evening progressed through to late chat on the club deck with great channel view backdrop, helped by plentiful food from the Loaf team and club bar drinks. One topic was a lengthy unresolved discussion on merits of tacking facing forward or back, including chair assisted demo from Simon! (it won't become training material).
The fears for much caffeine then pack up were never realized on Sunday, as some unexpected breeze stayed put during the brief postponement, and race 4 started before the tide woke up. Although still up there, the overnight 1,2 for the Smith brothers (seniority order) was threatened immediately by Simon Mussell getting his light head on until overhauled by Stuart.
With a high wiring breeze, but tide starting to kick in, race 5 started with a Jones, Langdown, and Smith senior battle, joined this time by Nick Curry throughout. He managed to hold onto 3rd, with Ed Presley showing great downwind form to just pass Adrian for 4th, while Gary secured his first bullet from Stuart.
The race team would have enjoyed hot coffee & bagels courtesy of the 'deliveroo safety boat', but cold it was thanks to a good number of general recalls in the last race, eventually calling for black 'buoyancy aid' flag usage. Nick accelerated one recall by taking the committee boat for a little anchor rope tow!, but the main game was playing 'judge the drift' on how far west to turn for the start. Once away all the usual suspects were featuring, and Simon continued his day 2 form, as did Gary & Ed.
Stuart strode off into the lead but was uncharacteristically passed by Simon Mussell downwind, Stuart then woefully misjudged the lay line and engaged point mode, this worked nicely but it did interfere with Ed who was making the Winward mark with ease until lee-bowed by Jones who was pointing directly into the wind. After ducking behind Jones, Ed then could no longer make the mark and hit it, Stuart sailed away laughing all the way to the leeward mark. After a 360, Ed again nailed off wind gains for 3rd, with Simon 2nd, but Stuart Jones showed his experience and found a way to the front. Once leading he loose covered for much of the race to add a bullet and secure the overall open victory with some margin. Gary did enough on day two to take second by 2 pts from overnight leader Adrian in third.
Close racing all weekend was enjoyed thanks to the tireless Hythe & Saltwood team, who worked hard to put on a great welcome and weekend for everyone, big thanks to them, and to the weather gods for sparing the Kent corner. Next stop Yorkshire Dales before the Nationals at Plymouth in September.
Photography by Lucy Samuel.