Mozzy's RS800 National Champion Report.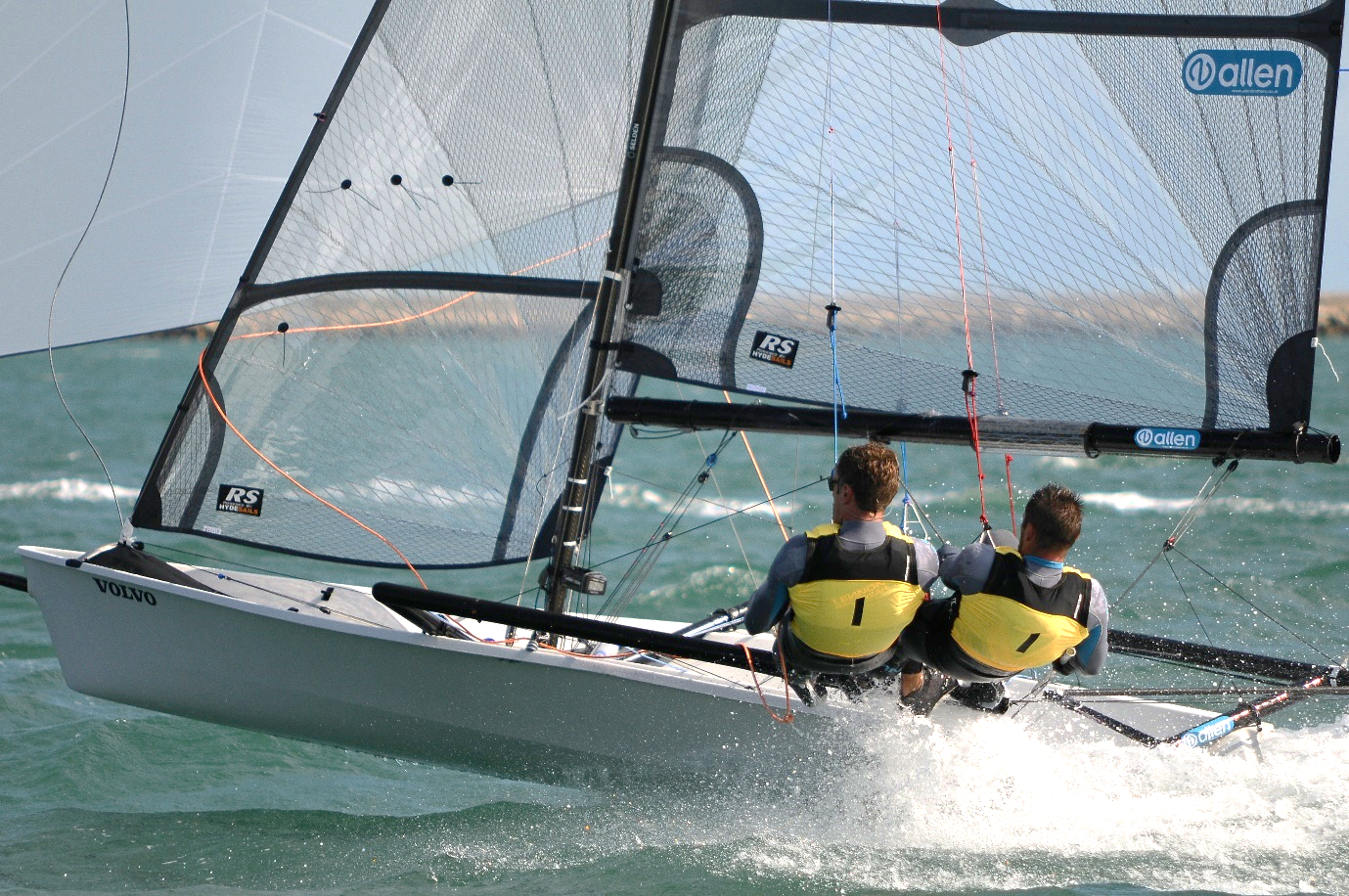 This season has been like no other. Under more normal circumstances the coldest winter months are spent grabbing short sails in Chichester Harbour, trying to eek out some productive time on the water before hands and toes lose cooperation. Instead, 2021 started from the comfort of my home office, still fixated on boats, but the America's Cup foiling AC75 kind. In the tedium of a winter lockdown Rob Gullan, Tom Partington and myself set about sharing our opinions and theories on the differences in systems and sailing styles of the AC teams. It turned out other people were interested too! It was a great experience, but also afforded me the opportunity to become associated with Allen, not just for the YouTube cup content, but in support of my own sailing too.
Come April it had been about five months since we had sailed; all talk no action! Probably no-one cares, but after months of dissecting other sailors' performances, I felt some obligation to put in some decent performances of my own. I must admit to some doubt setting in and I was eager to get the 2021 season off to a good start with some solid results.
But thing's don't always go to plan. Our two events at Stokes Bays and Torbay were both one day affairs sailed in light winds. Neither went to plan and we got a much-deserved mid fleet result at Stokes followed by a kind of fluky second place at Torbay where it never felt like we were on top of our boat speed downwind.
We licked our wounds and got in some club sailing at Hayling where we're fortunate to have a few other RS800 to race against.
As the nationals approached the forecast slowly built to a quite pleasant few days of 12-20 knots. In these conditions and above we felt quite confident. At this point I had a pretty good idea that a major challenge would be coming from our Hayling Island mates and YouTube channel commentary team Rob Gullan and Tom Partington. Rob got his 800 a similar time to me and Guy and has been making steady progress: 3rd at the 2019 Nationals, 2nd last year and he teamed up with European Champion crew Tom Partington for this Nationals. Tom has been in and out of 800s for many years and is a former International 14 World Champion crew. Over the years we've bounced quite a few ideas back and forth with them, so I knew they'd have a very good idea on how to set up and race the boat. They had enough success separately in 800s and other classes that they could clearly string a championship series together. The question was whether they would get enough boat time together to get that relationship working under race pressure.
Sure enough, day one ended race a piece, sharing the 1st and 2nd places. Rob and Tom took the yellow bids by virtue of winning the second race. The racing had been a gusty shift affair with our outer loop course set underneath Portland Bill in the Southerly breeze. Although scores were level it felt like we had the edge on the long reaches to the outer loop and a little bit extra downwind and through manoeuvres. One thing was for sure, they were going to push us hard over the Championship.
There are two races which really stand out to me as being crucial for our success, so I will tell the story of those. The first happened on the middle race of day two, the fourth race of the championship. The breeze was up for second day and was gusting 20 knots by this point. It was full on, dropped to knots skiff racing. We jumped from 5th at the windward to almost rolling them out of the first gybe then made the move stick up the next beat. The second lap we spent a long time on starboard, coming in on layline to the windward from the right-hand side, then straight setting into a nice puff. Eyeing up the layline to the leeward marks we initiated the gybe on to port. I stepped in, running my back hand along down the tiller, then across to the new stick, which to my horror was not anywhere to be found. I called for a stop to the gybe. I knew the spare was in the starboard rack, and whilst I also had my starboard tiller I could stay out on the wire and preserve some speed whilst guy went in to switch the spare in. Pulling the spare out of the rack tube, whilst bouncing along, still at a decent pace, was a nervy watch. One fumble with the spare tiller and it would mean a trip back to shore and a missed race. Fortunately, Guy got the tiller in just in time. We were rapidly sailing past the port layline into the final leeward marks!
With the new extension fitted we completed the final lap and took a decent win; one we had worked hard for on the first lap to overtake boats on the reach and get in contention by the first leeward. It would have been a massive blow to morale to lose a race like that to a missing tiller extension. We have some Allen universal joints on order to replace the previous off brand fittings!
The second stand out moment came in the first race of the third day. The first race of the day (Race 6) we were third to the windward, took a couple of boats on the top reach and were in touching distance of the boys by the leeward mark. We slipped by on the second beat and at the penultimate leeward gate, with a lap to go had a decent lead and took the extra gybe to round the right hand mark and head left up the beat. Halfway through applying kicker and Cunningham and the unexpected happened! I was suddenly dropped without warning into the cool waters of Portland Harbour. Disaster. My trapeze wire had given way. With some good fortune I was able to grab the rack before getting completely separated from the boat. I hauled myself back aboard. With still a full lap to go, and no starboard trapeze wire for the helm we were in a vulnerable position. We tacked over on to port immediately so we could both get wiring and back up to speed. At this point, despite falling out, we still had some margin, but we knew as soon as we switched over to starboard the rest would eat into us very quickly.
The situation sparked a dilemma. Do we capsize and re-tie the trapeze? How long would that take? Can it even be retied? If we don't capsize how slow will we be on starboard? How will we sail the boat on starboard?
We figured with only a lap to go and given that the final two sail reach was on port, we could probably get round and salvage an okay result. There was also no guarantee that the problem was fixable with a capsize. The only consolation was that the Rob and Tom were happily heading out on port just to leeward with us, to the unfavoured side of the course.
Sure enough we lost considerable ground up the beat. Rob and Tom easily sailed by us on starboard, whilst Hugh and Fiona and Phil and John who had gone to the favoured left of the beat had got by us too. This was somewhat fortunate as well because it put Rob and Tom in third. At least if we weren't going to get the win our main rivals would not either.
We tried mitigating the lack of trapeze by me leaning out on Guy's legs as much as possible, but it was hopeless. We rounded the final windward, guy set the kite, hit the trapeze and I took up a decent hiking position at the back of the rack, one leg tucked under the tube leaning out as much as I dared. The breeze was down a little bit by this point, but we rounded with a decent gust and this mode with me sat in allowed us to soak down inside Phil and John. Rob and Tom gybed out but were maybe pressing too hard in a falling breeze and dropped behind us. We rolled Phil and John in the gybe and hit the wires for the final push to the finish. By this point Hugh and Fiona had a 10-boat length lead, but the next three rounded almost abreast at the leeward mark. We pressed hard on the final two sail reach, defending high and content to just keep our chief rivals behind.
Somehow, we limped through to second place, Tom and Rob got 3rd. Obviously the race win would have been nice, but under the circumstances we were thrilled with the result. Overtaking two boats without a starboard trapeze was epic. Finishing ahead of Rob and Tom in this race meant they had to beat us in all remaining races, firmly swinging the event in our favour.
Further inspection of the trapeze failure showed the old trapeze eye had a squared off inside edge which was creating a point load of the line. I've now fitted some nice new trapeze eyes from Allen, which have a nice rounded edge which should be much kinder on the dyneema!
On Sunday we awoke to a glassy Portland Harbour. A light unstable late summer sea breeze filled in but never stabilised. At lunch the decision was made to call the event to a close. It's always thrilling to win a championship, but 2021 was extra special to share some of the closest high wind sailing alongside two of our good mates. The event symbolised what skiff sailing should be about. Fast boats and fun times.
Next on the list is the RS inlands at Grafham and Endeavour Trophy a week later at Royal Corinthian on the Crouch. Wish us luck!