Product Range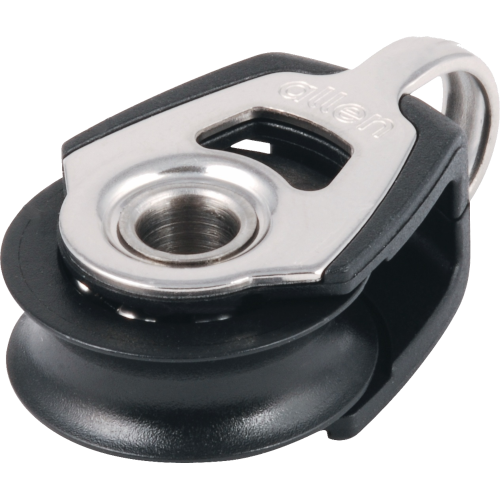 30mm Dynamic Blocks
Allen 30mm dynamic blocks are super smooth, high performing and ultra-reliable. Available with a wide range of accessories and features to suit most control line applications on dinghies and keelboats.
Dynamic Bearings - Twin rows of stainless steel ball bearings running on a stainless steel axle provide superior rolling speeds and durability when compared to plastic alternatives.
Ultra-Strap – A stainless steel strap which holds the block together and provides a strong, reliable and rope friendly attachment point.
Becket – The hole through the middle of the block can be used as a tying off point (becket).
Maximum Working Load – If exceeded the block may not perform as designed. Breaking Load – The load at which a major block failure is likely to occur.
Filters:
Block Configuration
Single
Double
Triple
Linked
Through Deck
Flip Flop
Tii-On
Fiddle
| | SKU | Title | breaking load kg | fixing hole centres mm | length mm | maximum line diameter mm | maximum working load kg | shackle pin mm | Weight g | Price |
| --- | --- | --- | --- | --- | --- | --- | --- | --- | --- | --- |
| | A2030 | Single | 750 | - | 49 | 8 | 140 | - | 26 | £15.61 |
| | A2030-40 | Linked 30 & 40 Blocks | 750 | - | 110 | 8 - 10 | 140 | - | 63 | £57.72 |
| | A2030F | Single Fork Head With Removable Pin | 450 | - | 56 | 8 | 140 | 5 | 31 | £20.65 |
| | A2030F-873 | Single Fork Head With Kicker Key | 450 | - | 77 | 8 | 140 | 5 | 40 | £27.76 |
| | A2030HL | Single High Load - Stainless Steel Sheave | 800 | - | 49 | 8 | 300 | - | 39 | £36.64 |
| | A2030HLF | Single Fork Head With High Load Sheave | 750 | - | 56 | 8 | 300 | 5 | 43 | £41.69 |
| | A2030HLF-873 | Single High Load Dynamic Fork Head With SA.873 | 750 | - | 77 | 8 | 300 | 5 | 52 | £48.77 |
| | A2030LZ | Single Stand-Up Fixed | 500 | 34 | 59 | 8 | 140 | - | 30.2 | £23.80 |
| | A2030R2 | Two Singles On Ring | 750 | - | - | 8 | 140 | - | 82.5 | £36.53 |
| | A2030R3 | Three Singles On Ring | 750 | - | - | 8 | 140 | - | 108.5 | £54.55 |
| | A2030SC | 30mm Block w/Swivel | 450 | - | 66 | 8 | 140 | 4 | 36 | £39.50 |
| | A2030SHK | Single With Swivel Hook | 450 | - | 70 | 8 | 140 | - | 35 | £38.66 |
| | A2030Tii- | Single Tii-On | 750 | - | 42 | 8 | 140 | - | 24 | £15.61 |
| | A2030TiiHL- | Single Tii-On With High Load Sheave | 800 | - | 41 | 8 | 300 | - | 37 | £36.64 |
| | A2030XHL | 30mm Extreme High Load Block | 1250 | - | 43 | 8 | 500 | - | 41 | £142.70 |
| | A2031 | Single Multi Function | 500 | - | 47 | 8 | 140 | 4 | 28 | £14.14 |
| | A2031F | Single With Fork | 450 | - | 59 | 8 | 140 | 4 | 36 | £20.65 |
| | A2031SC | Singe With Swivel Fork | 400 | - | 63 | 8 | 140 | 4 | 37 | £29.95 |
| | A2031XHL-873- | 30mm Extreme High Load Block With SA.873 | 1000 | - | 48 | 8 | 500 | - | 55 | £149.77 |
| | A2032 | Double | 1250 | - | 63 | 8 | 280 | - | 72 | £43.03 |
| | A2032A | Articulating Double | 1250 | - | 63 | 8 | 280 | - | 61.6 | £45.40 |
| | A2032HL | Double High Load | 1250 | - | 63 | 8 | 450 | - | 87 | £85.04 |
| | A2032Tii- | Double Tii-on Block | 1250 | - | 42 | 8 | 280 | - | 48 | £44.17 |
| | A2033 | Double With Becket | 1250 | - | 76 | 8 | 280 | - | 77 | £44.69 |
| | A2034 | Triple | 1750 | - | 63 | 8 | 490 | - | 103 | £56.29 |
| | A2034-676 | Triple With Inverted Cleat | 1750 | - | 65 | 8 | 490 | - | 193 | £110.72 |
| | A2034A | Articulating Triple | 1750 | - | 63 | 8 | 490 | - | 82.2 | £58.67 |
| | A2034HL | Triple High Load | 1750 | - | 63 | 8 | 650 | - | 132 | £119.33 |
| | A2035 | Triple With Becket | 1750 | - | 83 | 8 | 420 | - | 114 | £65.82 |
| | A2035-676 | Triple With Becket And Inverted Cleat | 1750 | - | 83 | 8 | 490 | - | 200 | £120.22 |
| | A2036 | Single Cheek Block | 500 | - | 59 | 8 | 140 | 4 | 35 | £22.62 |
| | A2036-PROFIX | Cheek Adaptor For A2031 | - | - | - | - | 3.8 | - | 6 | £12.16 |
| | A2036M | Single Composite Cheek | 400 | 30 | 50 | 8 | 140 | - | 24 | £16.04 |
| | A2036MHL | Single Compostie Cheek Block With High Load Sheave | 400 | 30 | 50 | 8 | 300 | - | 37 | £30.04 |
| | A2037 | Triple With Cleat & Becket | 1750 | - | 83 | 8 | 490 | - | 208 | £120.22 |
| | A2038 | Back To Back | 750 | - | 78 | 8 | 140 | - | 49 | £47.57 |
| | A2038HL | High Load Back To Back | 750 | - | 78 | 8 | 600 | - | 76 | £89.66 |
| | A2039 | Linked Singles | 750 | - | 94 | 8 | 140 | - | 52 | £33.08 |
| | A2039-CAM | Single With Fiddle And Cleat | 600 | - | 88 | 8 | 140 | 4 | 86.2 | £101.95 |
| | A2039-CAM-LDC | Single With Fiddle, Cleat and Hook | 600 | - | 100 | 8 | 140 | - | 86 | £90.89 |
| | A2039FIDDLE | Single With Fiddle | 600 | - | 85 | 8 | 140 | 4 | 47 | £81.04 |
| | A2131 | Single Through Deck | 500 | 60 | 47 | 8 | 140 | - | 25.6 | £31.68 |
| | A2131HL | Single Through Deck Block With Steel Sheave | 500 | 60 | 74 | 8 | - | - | 25.6 | £52.70 |
| | A2132 | Double Through Deck | 500 | 90 | 77 | 8 | 140 | - | 45 | £47.53 |
| | A2132HL | Double Through Deck Block | 500 | 90 | 77 | 8 | - | - | - | £89.57 |
| | A2134 | Upstand Block | 600 | 28.6 | 39 | 8 | 140 | - | 34.6 | £35.50 |
| | A2136M | Double Composite Cheek | 400 | 30 | 50 | 8 | 280 | - | 36.6 | £35.30 |
| | A2136MHL | Double Composite Cheek Block With High Load Sheave | 400 | 30 | 50 | 8 | 300 | - | 57.6 | £63.30 |
| | A4101 | Upstand Block | 850 | 25 | 45 | 8 | 140 | - | 57 | £35.50 |
| | A4111 | Double Upstand Block | 850 | 47 x 25 | 45 | 8 | 140 | - | 46 | £63.00 |
| | A4978 | Flip Flop | 700 | - | 63 | 8 | 140 | - | 58 | £36.44 |
| | A9030 | TiiTAN Block | 1250 | - | 40 | 8 | 500 | - | 28 | £186.28 |
| | A9031-873 | TiiTAN ILCA Vang Block | 1000 | - | 48 | 8 | 500 | 5 | 43 | £193.36 |