Product Range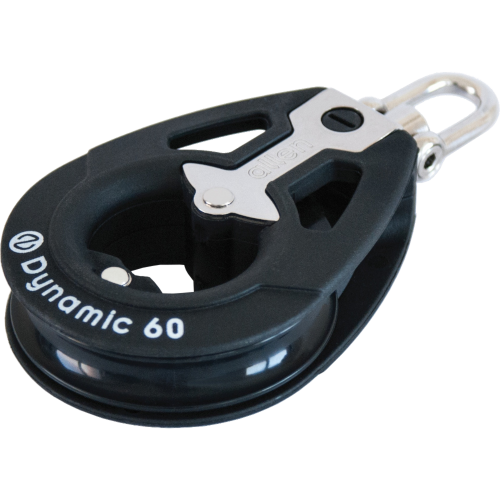 60mm Dynamic Blocks
Allen 60mm dynamic blocks offer low friction performance in a lightweight body. This range is ideal for fast-running control lines and sheets on keelboats, as well as more demanding applications such as backstay purchase systems. Also, a great choice for high-performance catamarans. Available with a wide range of accessories and features.
Swivel Lock - Single variations feature a built in swivel lock switch, located at the head of the block. Muti sheave options feature a removable swivel lock moulding.
Dynamic Bearings - Twin rows of stainless steel ball bearings running on a stainless steel rail provide superior rolling speeds and durability. Great for fast running lines.
Becket – The hole through the middle of the block can be used as a tying off point (becket).
Maximum Working Load – If exceeded the block may not perform as designed. Breaking Load – The load at which a major block failure is likely to occur.
Filters:
Sheave Type
Single
Double
Triple
Quad
Quint
| | SKU | Title | breaking load kg | fixing hole centres mm | length mm | maximum line diameter mm | maximum working load kg | shackle pin mm | Weight g | Price |
| --- | --- | --- | --- | --- | --- | --- | --- | --- | --- | --- |
| | A2060 | Single | 1000 | - | 118 | 12 | 500 | 5 | 126 | £57.72 |
| | A2060C | Single Cheek Block | 1000 | 60 | 115 | 12 | 500 | 5 | 149 | £64.54 |
| | A2060TII- | Single Tii-On | 1400 | - | 84 | 10 | 700 | - | 91 | £57.72 |
| | A2062 | Double | 1250 | - | 130 | 12 | 600 | 5 | 255 | £119.46 |
| | A2063 | Double With Becket | 1250 | - | 148 | 12 | 600 | 5 | 271 | £125.11 |
| | A2064 | Triple | 1250 | - | 130 | 12 | 600 | 5 | 353 | £162.35 |
| | A2065 | Triple With Becket | 1250 | - | 148 | 12 | 600 | 5 | 397 | £168.01 |
| | A2066 | Quad | 1250 | - | 130 | 12 | 600 | 5 | 443 | £210.56 |
| | A2067 | Quad With Becket | 1250 | - | 148 | 12 | 600 | 5 | 456 | £216.23 |
| | A2069 | Quint | 1250 | - | 130 | 12 | 600 | 5 | 549 | £242.71 |
| | A2069B | Quint With Becket | 1250 | - | 150 | 12 | 600 | 6 | 555 | £248.26 |
| | A2166 | Cheek Adaptor For 60mm Block | - | 60 | 115 | - | - | - | - | £6.80 |