Product Range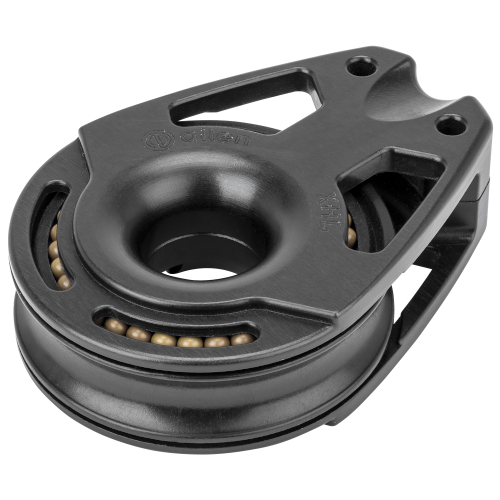 High Roller Blocks 40 & 60mm
High performance blocks designed for high stakes sailing.
Lightweight aluminium side cheeks encapsulate an aluminium sheave, which free spins on roller bearings and side load ball bearings.
Easily unassembled and serviced to give longer lasting high performance.
Ideal for fast running and highly loaded lines on big boats. Applications such as: mainsheets, runners, halyards, spinnaker systems, jib sheets and control lines.
Roller Bearings - Roller/ needle bearings and side load ball bearings.
Maximum Working Load – If exceeded the block may not perform as designed.
Breaking Load – The load at which a major block failure is likely to occur.
| | SKU | Title | breaking load kg | length mm | maximum line diameter mm | maximum working load kg | sheave diameter mm | Weight g | Price |
| --- | --- | --- | --- | --- | --- | --- | --- | --- | --- |
| | A9040 | Single Tii-On High Roller | 2000 | 55 | 10 | 800 | 40 | 47 | £287.65 |
| | A9060 | Single Tii-On High Roller | 4000 | 83 | 13 | 2000 | 60 | 132 | £316.33 |
| | SA9040 | Servicing Kit For A9040 | - | - | - | - | - | - | £127.80 |
| | SA9060 | Servicing Kit For A9060 | - | - | - | - | - | - | £156.60 |