Monique Vennis-Ozanne 29er Summer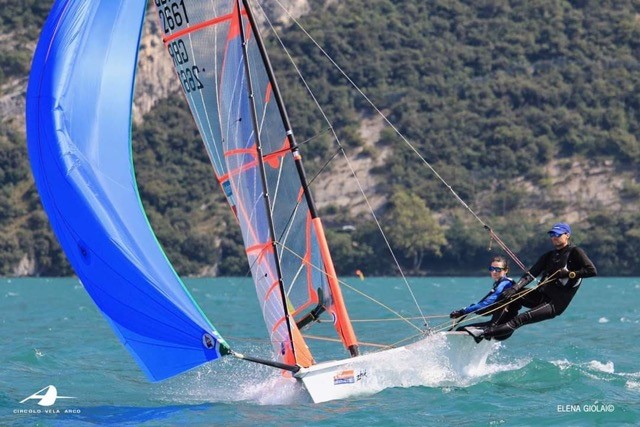 After four weeks of exams throughout May and June I finally finished school and my summer of sailing in my 29er could began. I usually sail with John Mather, but, I also had the chance to sail with my brother Billy, who is also a member of Team Allen.
Summer started off in Kiel for the 29er Eurocup as part of Kiel Week. This week is always a good one, especially as a treat from finishing school a week beforehand. We were treated even more with sunny weather and wind all week. It was a week of many general recalls, the most I've ever experienced, and lots of black flags. Despite this, John and myself sailed a consistent series in 10-18knots most of the time to round up Kiel Week 18th out of 118, so a good start to the summer.
Next up was the Hayling 29er GP. There was a brief postponement leaving us sailors waiting in anticipation to get out onto the classic Hayling summer water; sunny, breezy and wavy. We had a slow start with a 9th and 10th then found our pace with two 2nds. The streak of 2nds continued onto Sunday with two more 2nds followed by a 1st and 5th. This left us happily 2nd overall in the 55-boat fleet.
Following the Hayling island event, my brother, dad and I drove the 1100 miles to Gydnia, Poland for the 29er World Championships. We had the van fully loaded to the brim with four 29ers, a Rib and plenty of spare parts. We arrived a few days early so we could do a cheeky bit of practising as Billy and I hadn't sailed together since April. This would also be our second event together. I also needed some time to get used to having someone 20kgs heavier than John upfront again. We had a bit of breeze throughout the practice days and qualifying, Billy was loving the Allen 50mm pro-ratchets for the kite sheets as they reduced the load of the kite for his softy's hands!
We had what could've been a very good qualifying series, scoring a 3rd, 2nd, UFD, 35th, 3rd and 2nd. The 35th came after a frustrating pitchpole, nevertheless I'm still super pleased to have got some great results at my first World Championships. The final series was lighter, and Billy and I struggled a bit more due to our weight. We finally finished 36th out of 175 at my first Worlds, Which I am really pleased with.
The last event for me this summer was the Europeans, held in another amazing location.  Arco, Lake Garda, Italy. Nothing beats racing with the Garda mountains as your backdrop. Our qualifying was average apart from a 2nd and 3rd when the wind eased off briefly. Silver fleet was still a high standard with two world number ones amongst us and pretty windy conditions all week. Fortunately, there were no complications or breakages due to our reliable Allen hardware. We were able to really crank the Kicker and Cunningham on to depower us and not have to worry.
After the long week, with far too many 7am starts, we ended the event placed 13th Silver and 73rd overall out of 210 boats.
I have thoroughly enjoyed my first summer of sailing the 29er and I am looking forward to the next one as the Worlds is on our home waters of Weymouth.
Thanks again to Allen for supporting me with the most reliable kit!