Lockdown Sailing With Allen Academy Optimist Sailor Patrick Bromilow.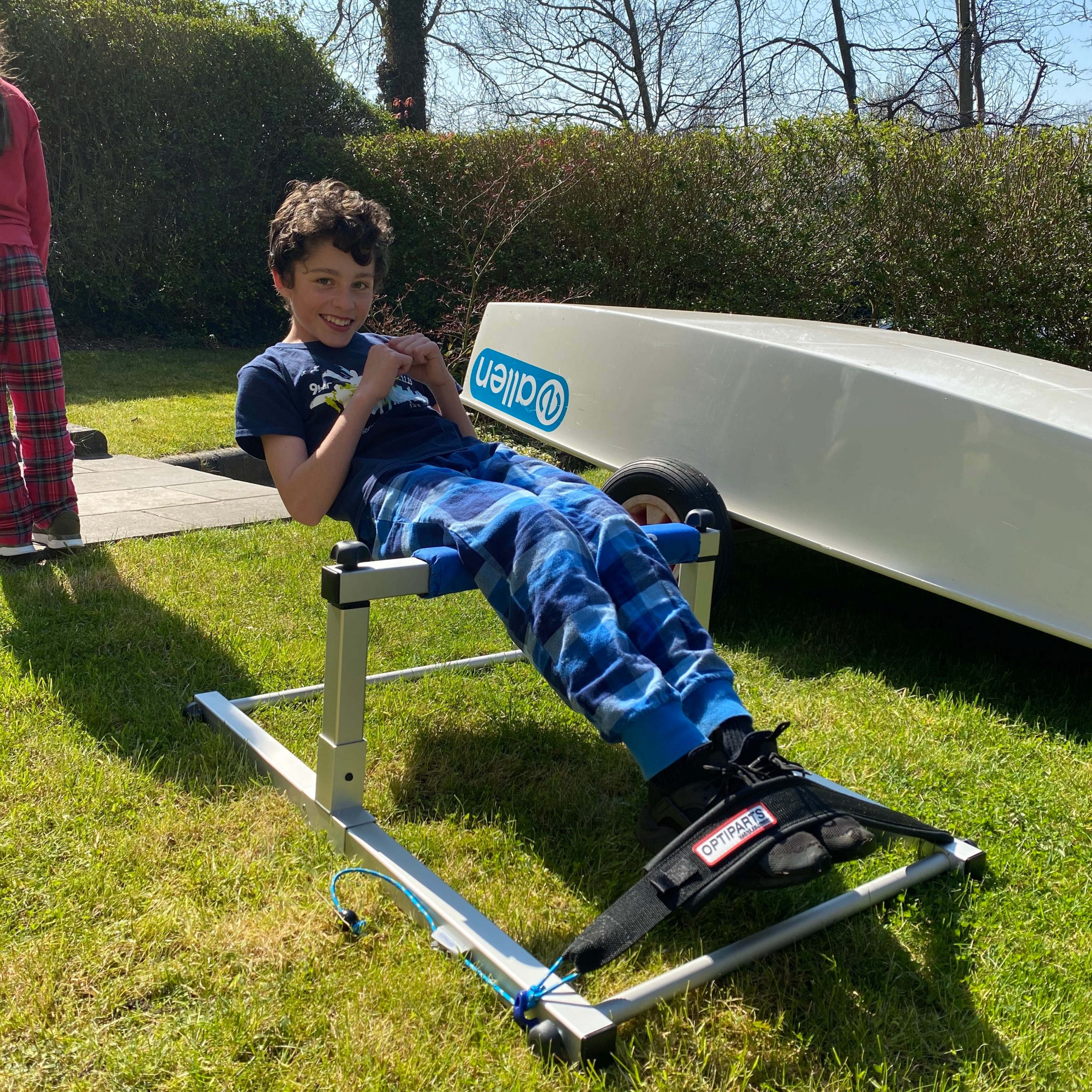 Lockdown began for us on 20th March. It was my last day in school, and also our first and last junior club racing of this season.
Following the lockdown, we had our remaining Winter squad weekend at Pwllheli cancelled. Luckily we had enjoyed lots of windy weekends for the other ones and had even sailed with dolphins in Sunderland!
Then, event after event got cancelled…Spring champs, Braassemermeer, Garda, Inlands, Selections and finally our National Championships were cancelled which were due to be held in Largs in August. It was very disappointing.
During the start of lockdown, I got a hiking bench, so each day I went on it and kept a chart to time how long I could hike for, and how many sit ups I could do on it. The RYA started their Sail from Home programme, so I found some of these quite useful and interesting – particularly the workout Wednesday fitness sessions. I tried to get out for a run or a cycle each day with my family, but it was very frustrating not being able to go sailing – especially as we live on the coast and the weather and conditions for sailing were perfect!
I started to play Virtual Regatta Inshore and entered a couple of regattas which was quite fun, but not as good as the real thing! I think I'm better at sailing my actual boat than an online version.
Mid May arrived, easing lockdown restrictions a bit, which meant we could go sailing again! I was so excited to get back on the water. Our local club has both a marine lake and tidal waters to sail on. The marine lake is controlled by our local council, so that has remained closed. This has meant that we have sailed on the tide the whole time, which is really fun and lots more space than the marine lake. Because we haven't been sailing on the lake, we have become better at checking the tide times and tide heights to find the best times we can go sailing, and knowing when to launch and recover at the right times too.
We have about 10 active optimist sailors at our club. A mix of National squad, girls squad, zone and pre-zone. We have been organising our own training drills on the water, running our own quick races as well as having lots of fun helping the younger ones, and also some kayaking when the wind is too light. We have been getting out sailing several times a week, so we have been fitting schoolwork around the tides.
We are hopefully going to be getting back to some organised competition in late August when our Selections event should hopefully take place at Pwllheli. I am hopeful to make one of the teams going to rearranged international regattas in the Autumn and Winter this year which are replacing the Euros and Worlds which were cancelled earlier in the year. Fingers crossed the event is able to go ahead.
At the moment, I am enjoying sailing at home most days with my friends at my club.