Hadron H2 National Championship sponsored by Allen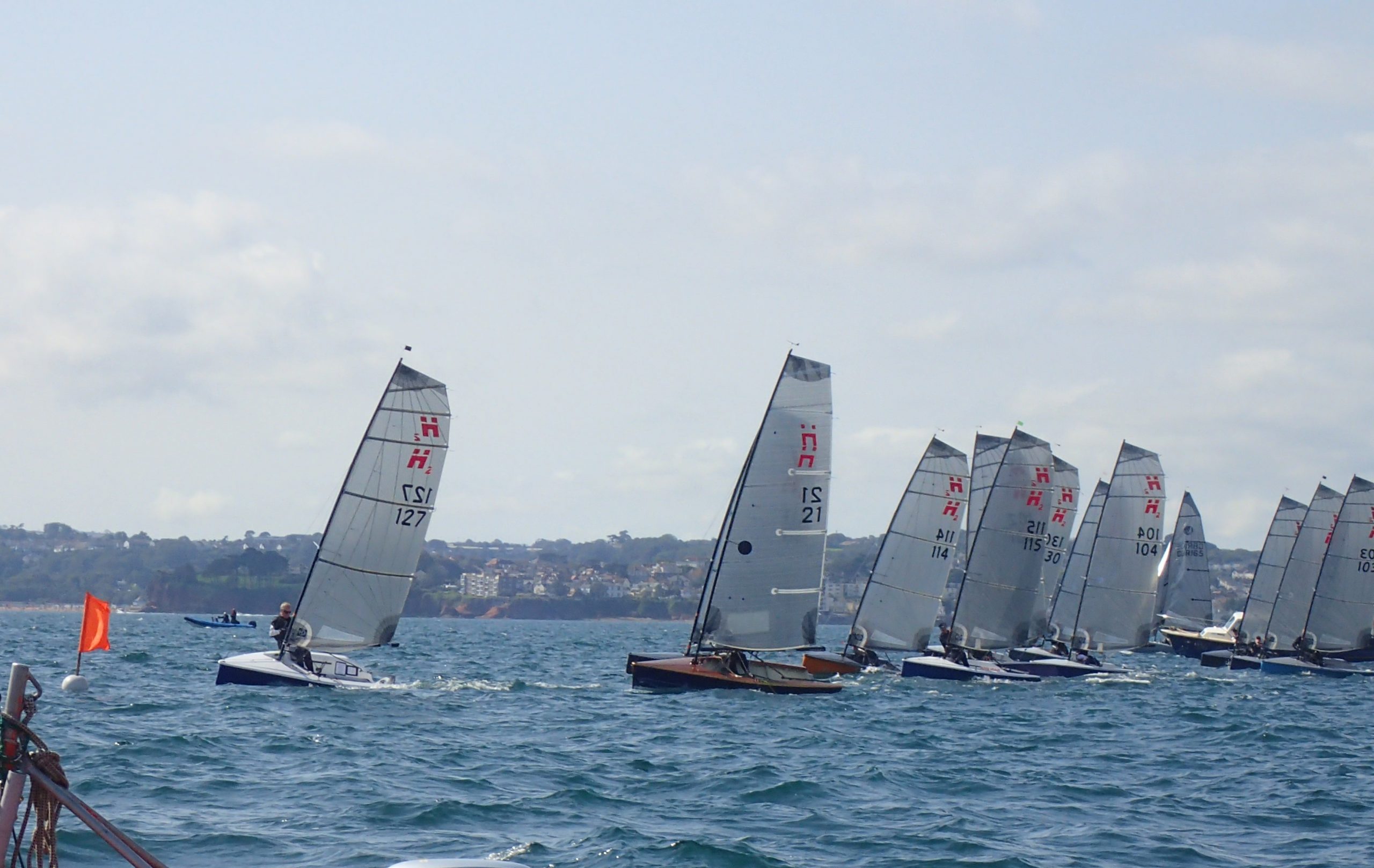 The fourth Hadron H2 National Championships got underway at Royal Torbay YC on Friday (September 11th). The day dawned with little sun and little wind but after a short postponement the shifty WSW wind steadied somewhat and increased to over 5 knots and the first start was underway.
The fleet may be smaller than usual (you know why!) but the quality of the entries is very high, with any one of them capable of winning the event. Spectators' attention, however, was on the potential tussle between Richard Leftley, current Inland Champion, and Ian Sanderson, National Champion for the last two years. Richard led Ian at the weather mark but the lighter helm clawed back the lead on the off wind legs. However, he was not alone – Ian Dawson (Warsash SC) and Robin Parsons (Deben YC) also passed Richard off wind. Ian Sanderson took the winning gun by about 15 seconds from Richard, who had improved his off wind speed in the latter half of the race. The rest of the fleet were not far behind, however, with new H2 owner Robin Parsons sailing his first Championship race in third place. Dave Barker (Draycote Water SC) came fourth.
The wind was strengthening for the second race, which gave some advantage to the heavier Richard. His superiority upwind was increased, which was sufficient for Ian to have difficulty in closing the gap on the off wind legs. Richard held off a final attack by Ian on the last run to take his first winning gun. The jubilation was apparent! After finishing mid-fleet in race 1, Adrian Williams (Warsash SC) found the sweet point in 'Tangerine Dream' to finish in third place with Ian Little (Thorpe Bay YC) also improving to finish 4th.
In race 3 the wind maintained a steady(ish) 10 knots which enabled Richard and 'H2oligan' to stay just ahead of Ian's 'Shifty Fades Away' to record his second win (more jubilation from Richard!). Andrew Mcgaw (Grafham Water SC) sailed a good race to finish third, giving him third place over all after day one. Ian Little posted another fourth place to improve his ranking overall.
So the theme has been set for the next two days – it's going to be a battle between Leftley and Sanderson for top honours. But the rest of the fleet was never far behind in any of the three Friday races – there is no doubt that it is getting more competitive – so it's still all to play for.
I was out on one of the support boats all day and was very impressed by the practised and professional organisation of the racing – excellent work by the enthusiastic team from Royal Torbay YC.
DAY 2
After the revels of the Class Dinner in the hospitable environment of the Royal Torbay YC on the Friday evening, the bright light of a sunny Saturday morning greeted the H2 competitors with a faint zephyr from the south west – or thereabouts. This was not good news for one of the two leading contenders – Richard Leftley – who wanted more breeze against his rival Ian Sanderson. But it was what it was and after a short delay race 4 got underway. Sure enough, those who were betting on Ian got a good return on their money as he won the first race of the day, with Richard literally in the Doldrums in fourth place. Dave Barker had his best result so far with a well deserved second place, ahead of Robin Parsons in third.
What Richard did not need in race 5 was to be over the start line and by the time he had restarted he was last H2 away. However, he recovered to 5th place at the weather mark but Ian Sanderson was already on his way to another win. Richard could not improve his position in the very light airs. Second place went to Grand Master Ian Dawson who just squeezed in ahead of Simon Hipkin, with 'Dark Horse' Robin Parsons gaining another good result just behind.
The wind started to fill in for race 6 and Richard took full advantage, leading from start to finish. Ian had to settle for second place with Andrew McGaw third and Adrian Williams having a good race in fourth place.
The leader board (after one discard) now shows Ian Sanderson ahead on 7 points with Richard Leftley on 9 points. Richard will have to win both races tomorrow to win the Championships but at this stage it must be current champion Ian Sanderson who is the favourite. Third place is likely to be decided between Robin Parsons and Ian Dawson.
DAY 3
Another lovely sunrise over Torbay – but a flat calm. Not good for sailing. The H2 fleet launched on time and spent an hour or so waiting for some pressure – which duly appeared from the south at about 11:30. The final two races took place in a 10-knot breeze amid sparkling seas – superb sailing weather. If Richard Leftley could win the last two races he would be the champion but Ian Sanderson was determined to keep his slender overnight lead. Richard's windward superiority in a breeze was soon made apparent as he rounded the weather mark in first place, followed by Adrian Williams and Andrew McGaw, with Ian Sanderson trailing in seventh place. Ian made up several places downwind and was second at the leeward mark but he could not catch Richard, who scored his fourth win of the event. Simon Hipkin sailed consistently well for third place, with Ian Dawson fourth.
The 8th and last race soon started in similar conditions to race 7. Again, Richard was first to the windward mark but this time Ian was a little closer. Nonetheless, Richard maintained his lead and at the start of the final run had a 100 metre lead over Ian, followed by Andrew McGaw and Ian Dawson. With just a few hundred metres to the finish, Ian had narrowed the deficit to 50 metres but it seemed that he would have to relinquish his title to Richard. But Fate likes to play tricks – whether it was a gust from astern or Ian finding another gear, the gap narrowed rapidly in the approach to the final mark and Ian reached across Richard's stern, did a smart gybe and took the inside berth at the mark. Ian rounded ahead of Richard and received the winning gun just 3 seconds ahead of his rival. So after three days, 8 races and several hours of racing, the Championship was won by a margin of 3 seconds. It was a fitting climax to a great event in which all competitors played a full part – there being no more than 3 minutes separating first and last in most races.
Ian Sanderson's H2's sail number – 111 now matches his championship wins – 3 in a row.
Special mention must go to Ian Dawson, who finished in third place overall and also won the Grand Master's Trophy for the first helm aged 65 to 69. In fact, he finished ahead of the winner of the Master's Trophy (60-64) – Andrew McGaw, who finished was fourth. But all competitors sailed very well and almost all finished within shouting distance of the two front runners on occasion.
Back ashore the distanced prize-giving provided multiple prizes for all competitors – thanks to our sponsors, Allen Brothers.
The Hadron H2 Class Association thanks all the volunteers and staff of the Royal Torbay YC who provided us with a great course and fine hospitality. Special thanks go to PRO Bob Penfold and his team, who always managed to second guess the shifty conditions and set perfect courses. The launching and recovery in a busy harbour was very efficiently managed by Richard Walden – a master of diplomacy and persuasion.
Report and photos by Keith Callaghan