Allen Sponsored 29er GP4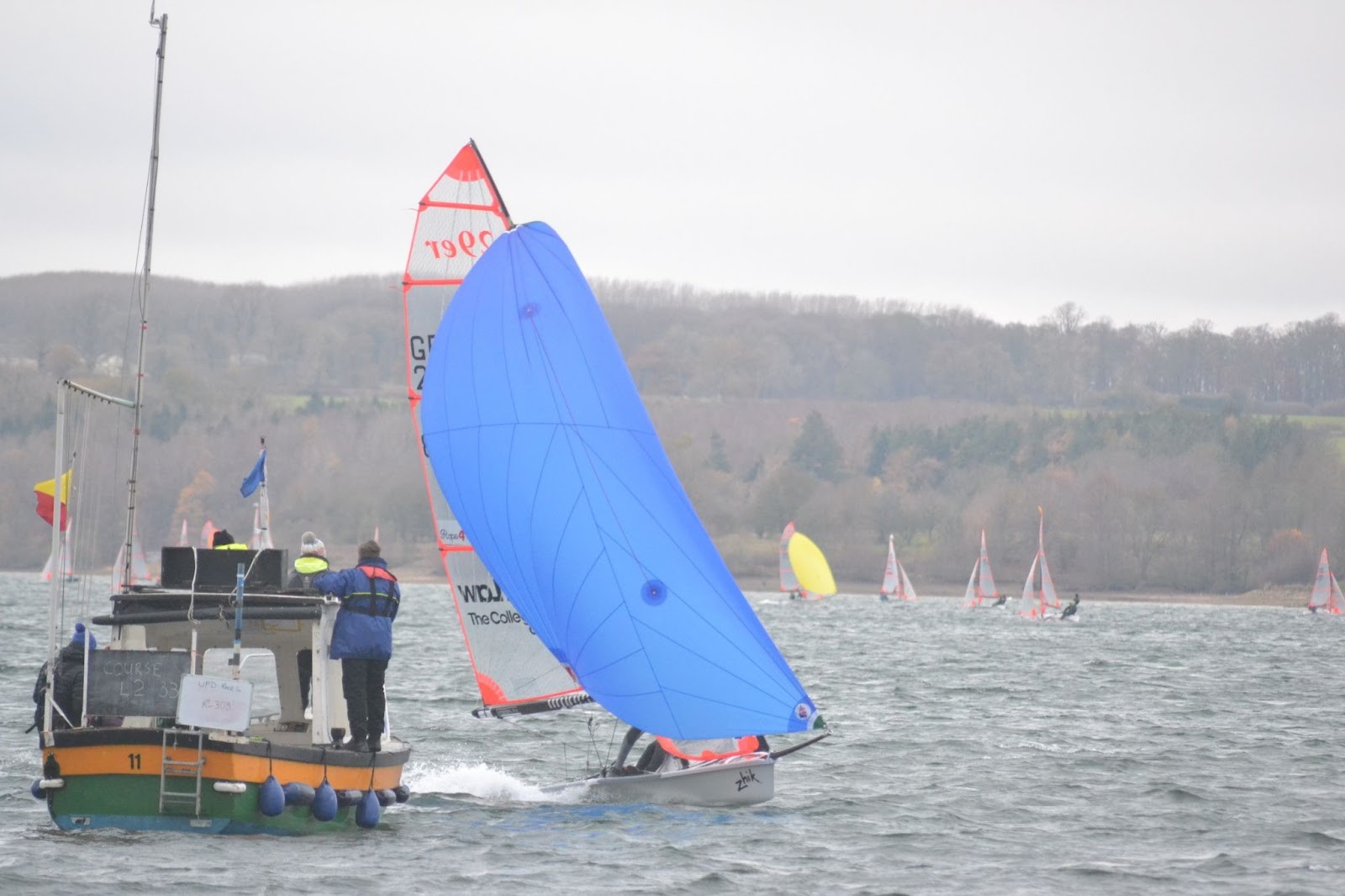 29er GP4/Inlands Championship – Rutland Sailing Club – 4th & 5th December 2021
The final Allen GP of the year had arrived; it promised to have all the hallmarks of a high drama situation – strong winds, freezing weather and the annual Christmas jumper competition! Ian Bullock's loyal fan club was excited to see how much racing he could get in before the winds built to an un-sailable level.
43 boats lined up for the start and racing was away! There were gusts of over 25 knots which were shooting down the course bringing random shifts that caught out even the most experienced sailors. Boat handling and quick reactions were key to taking advantage of these gusts and the fleet quickly spread out. Finian Morris and Oscar Morgan-Harris (GBR 2849) took the first race by nailing the shifts into the windward mark, followed by Freddie Lonsdale and Freddie Westwell (GBR 2903) who were benefiting from an overwhelming surplus of leverage and Olly Peters and Ben Bradley (GBR 3081) in third.
As the second race got away there were some 30 knot gusts coming down. Now the emphasis was on just staying upright, safety fleets were working overtime to check everyone was ok whilst a brave few attempted to continue the race. By this point the winds were so strong that some were contemplating surfing on the lake venue, for 29ers the waves proved a challenge with many pitchpoling leading to some spectacular wipeouts. The Youth Worlds representatives Leo Wilkinson and Sam Jones (GBR 2966) won the second race followed by James Crossley and Noah Fitzgerald (GBR 2206) in second and Ben Mueller and Sam Webb (GBR 12) in third. By this point the winds were too much with over half the fleet retiring so Ian decided to call it a day and sent the fleet in for the eagerly anticipated Christmas raffle generously sponsored by Allen, jumper competition and legendary Christmas party. 
Leading overnight were Juniors Finian & Oscar, followed by Leo & Sam and in third Ben & Sam. First ladies were Emily Mueller & Flo Brellisford (GBR 2743) with first mixed Annabelle Vines & Raulf Berry (GBR 3079).
Special mention to Suzie Sturrock and Eilish Graham (GBR 2828) who not only won the prize for the best festive outfits on the water but also were especially helpful with beach rescues for their fellow sailors struggling to make it ashore.
Day 2 dawned with a much chillier morning and some tired faces. The sounds of reggae echoed out of the boys changing room and the fleet were soon to be seen in the dinghy park doing an intense warm up including high knees, squats and a short run. The D flag went up and they were off heading out to the racecourse at the far end of the lake.
The gusty northerly provided some very difficult sailing. Despite this, Leo & Sam "took the dub" in the 3rd race of the event with the Freddies in second place and Ben & Sam in third.
The flat water and windy conditions in race 4 provided some of the best sailing of the weekend. Upwinds were an opportunity to "get it cooking like Gordon". The tactics were hard to crack with gusts appearing and disappearing. This was especially important on the downwind, those in lulls were sent backwards through the fleet pretty quickly. This time it was the Freddies and their super speedy sailing which prevailed with GBR 2966 (Leo and Sam) taking second and GBR 12 (Ben and Sam) taking another 3rd. 
The final race began with some lulls but the gusts soon picked up and the conditions returned to what they had been. It was for 2903 and 2966 to fight it out, whoever won the race, won the regatta. High stakes! Despite a big effort from Leo and Sam, it was the 6″ 5′ machine and his helm, Freddie Lonsdale and Freddie Westwell (GBR 2903), that captured the full force of the blustery winds to take both the race and event win (on countback). 2nd was Leo and Sam and 3rd in the final race was decided on the last leg with Charlie Gran and Cameron Sword (GBR 2694) spotting the gust for their first top 3 of the weekend.
Well done to Kuba Staite & Ollie Vines (GBR 2826) who had top 10 finishes in every race and just missed out on a top 6 place on countback.
First ladies were Emily and Flo, followed closely by Katy Jenkins and Amelie Hiscocks (GBR 2507) and in third place Gwen Sargent and Amelie Curtis (GBR 2929).
We would like to say a big thank you to Race Officers Ian Bullock who we missed on day 2, and David for stepping in to replace Ian, Rutland Sailing Club and the fantastic catering team. Lastly huge congratulations to all the sailors and those newer to the fleet for coming to Rutland and keeping going in such freezing and gusty conditions. Good luck to both the teams heading out to Oman for the Youth Worlds and what a way to end a great year! Merry Christmas!
Overall:
1st – Freddie Westwell and Freddie Lonsdale
2nd – Leo Wilkinson and Sam Jones
3rd – Ben Mueller and Sam Webb
4th – James Crossley and Noah Fitzgerald
5th – Charlie Gran and Cameron Sword
6th – Olly Peters and Ben Bradley
Girls: 
1st – Emily Mueller and Flo Brellisford
2nd – Katy Jenkins and Amelie Hiscocks
3rd – Gwen Sargent and Amelie Curtis
Juniors:
1st – Max Sydenham and Freddie Covell
2nd – Max Rawlinson and Tom Johnson
3rd – Zeb Fellows and Fin Gribbin
Mixed:
1st – Kate Robertson and Robin Stein
2nd – Morven Wood and Ollie Bull
3rd     –    Annabelle Vines and Raulf Berry
Event report by Ben Mueller and Sam Webb.