Allen 29er GP Series Round 5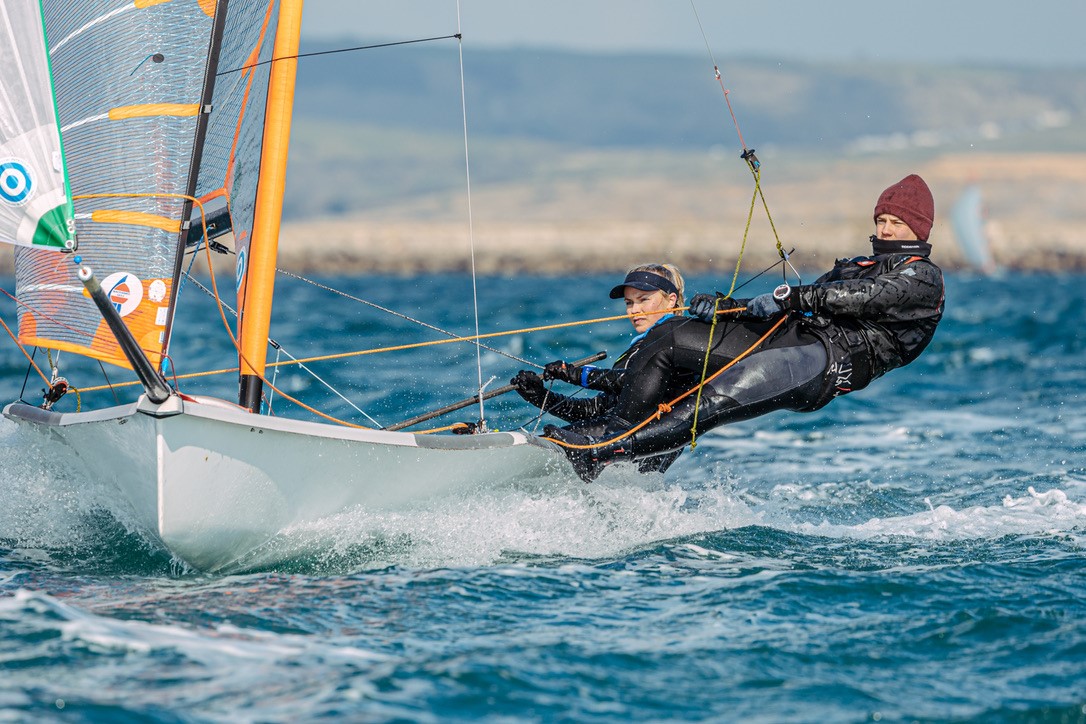 37 boats made the trip to Weymouth for the fifth and final GP of the year. It was set to be a wonderful weekend of racing with a cracking forecast. Saturday opened with a bang as the fleet were greeted with 25-knot averages and some gusts well into the 30s.
Race officer Ian Bullock made the brilliant decision to launch on time and soon the first race was away. GBR2903 Freddie Westwell and Freddie Lonsdale blasted off the committee boat end like a rocket and soon rolled the whole fleet to take a commanding lead which they held to the finish. Meanwhile, in their dust, a tight battle played out for second, eventually won by GBR2736 Charlie Gran and Sam Jones with GBR12 Ben Mueller and Sam Webb. James and Noah should have earned bonus points for their brilliant wipeout at the end of race 1. 
After watching some amazing pitch poles between races, race 2 began in a similar way to race 1, with Freddie and Freddie blasting off the line to lead at mark 1. A tight battle once again played out for the rest of the places. Up the second beat, the wind really kicked in, making for some fast sailing. The gusts were causing havoc on the final run. Freddie and Freddie capsized in the first gybe, surrendering the lead to GBR 2849 Finian Morris and Oscar Morgan-Harris before we disappointingly forgot how to gybe and went swimming instead. This let GBR 3081 Ollie Peters and Ben Bradley take a well-deserved win with Charlie Gran and Sam Jones in second. Another special mention for Jamie and Jamie finishing in 12th with no tiller extension. 


The breeze and chop had built and the decision was taken to send the fleet in for the day after race 2. Freddie and Freddie led overnight from Charlie and Sam with Ollie and Ben in third. Well done to everyone for making it back ashore and everyone had a story to tell at the fajita evening on Saturday night. 

Sunday dawned with an hour's postponement, before launching into a fresh, freezing northerly breeze and choppy seas. Race 3 saw a close battle up the first beat with Freddie and Freddie once again coming out on top with Finn and Oscar just behind. The Freddies extended their lead and once again took a commanding win, with Finn and Oscar in second and Ben and Sam in 3rd. 

Race 4 was another breezy affair with Charlie and Sam commanding the race to win from Freddie and Freddie with Finn and Oscar in 3rd. Sadly by race 5 the wind had somewhat died but that didn't stop Freddie and Freddie from taking the win and (just) the event with a race to spare. Second were Charlie and Sam and third were Finn and Oscar. 

With the breeze continuing to fall, the 6th and final race began with several boats caught out by Ian's Bullock's U flag. The first beat was tricky and I have no idea who led at the windward mark as we were a bit busy deep in the pack. However, I think Charlie and Sam performed an absolute horizon job, taking the race from GBR 2898 James Crossley and Noah Fitzgerald with GBR 2433 Jamie Wilkinson and Jamie Gatehouse in 3rd. A special mention to Max and Freddie for taking the brilliant route outside the huge oil tanker on the right hand side.

Overall Freddie Westwell and Freddie Lonsdale won on count back from Charlie Gran and Sam Jones in second and Finn Morris and Oscar Morgan-Harris in 3rd

First mixed were GBR 3079 Annabelle Vines and Raulf Berry and first females were GBR 2787 Katy Jenkins and Amelie Hiscocks. Finn Morris and Oscar Morgan-Harris were first juniors.

Thank you to everyone who made the event happen, especially the safety fleet and race committee for giving us great racing in testing conditions. Finally a huge thanks to Allen for sponsoring the GP series and providing some brilliant prizes.

Report by Finn Morris and Oscar Morgan-Harris

Overall Results

OPEN    
1       GBR 2903 FREDDIE WESTWELL & FREDDIE LONSDALE
2       GBR 2736 CHARLIE GRAN & SAM JONES
3       GBR 2849 FINIAN MORRIS & OSCAR MORGAN-HARRIS
4       GBR 12 BEN MUELLER & SAM WEBB
5       GBR 3081 OLLY PETERS & BEN BRADLEY
6       GBR 2898 JAMES CROSSLEY & NOAH FITZGERALD 

FEMALE  
1       GBR 2787 KATY JENKINS & AMELIE HISCOCKS
2       GBR 2924 KARRIE CLARK & MILLIE ALDRIDGE
3       GBR 2477 LAURA ELMS & JESS CHARLESWORTH

MIXED   
1       GBR 3079 ANNABELLE VINES & RAULF BERRY
2       GBR 2929 GWEN SARGENT & HARRY KENNEDY
3       GBR 2743 MORVEN WOOD & OLLIE BULL

JUNIORS 
1       GBR 2849 FINIAN MORRIS & OSCAR MORGAN-HARRIS
2       GBR 2122 HARVEY JENKINS & TOM ARMSTRONG
3       GBR 2225 MAX SYDENHAM & FREDDIE COVELL