Allen Endurance Series Round 1 – Whitstable Forts Race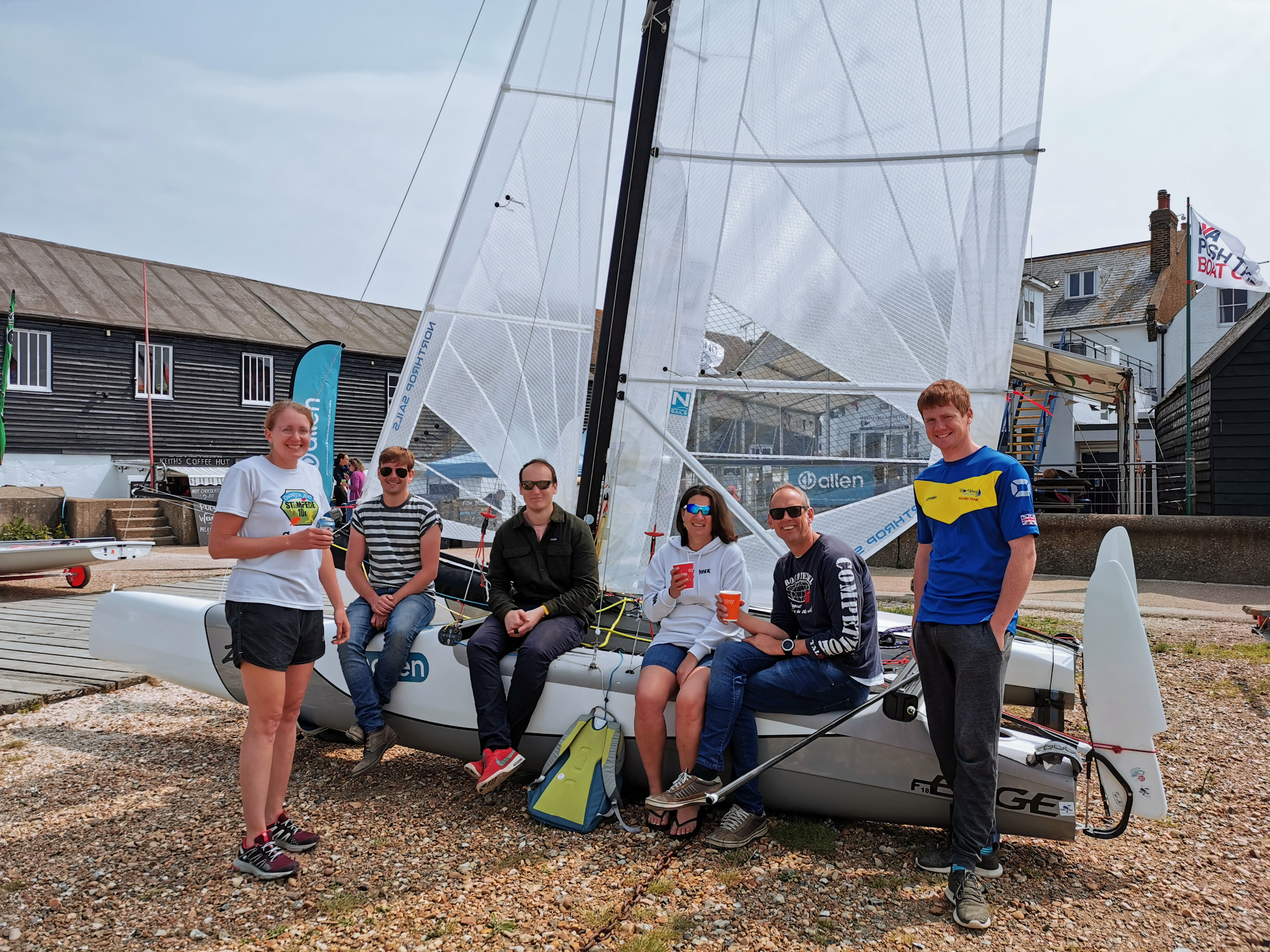 The weather for the weekend of the 18th/19th of May was forecast to be very light but that didn't stop 28 fast catamaran and monohull dinghies from entering the first round of the Allen Endurance Series at Whitstable Yacht Club.
Whitstable Yacht Club, which is located on the South side of the Thames Estuary in a lovely fishing town with a fantastic sailing area, each year hosts the Whitstable Forts Race. A race out to the Maunsell Forts and back. The race also includes other points of interest around the coastline such as Herne Bay Pier.
Most of the competitors arrived Friday afternoon or early Saturday morning to rig and ready their race machines. Racing on Saturday was not scheduled to start until the relaxed time of 2PM giving everyone plenty of time to tinker and fill up on bacon rolls. The wind slowly filled in thanks to a sea breeze and racing soon got underway on a large windward leeward course set not too far from the shore.
Thanks to the sea breeze there was plenty of wind for some of the foiling boats to get up and go. With club racing also taking place alongside the forts shake down race there was plenty of action to watch out on the water! When Saturday's racing was done, with some competitors glad for the shakedown race due to breakages, it was into the bar to await the result whilst making the most of the free pints and a BBQ put on by the club. Kyle Stoneham and Josy O'Brian (Vampire) took a convincing win with a corrected 25-minute lead to second place Grant Piggot and Simon Farren (F18).
Sunday morning looked a lot like most of the sailors who had been out in Whitstable the night before, gloomy and grey. After a short briefing explaining the days format and rules for taking part, paying special attention to tallying on and off (we wont name names), it was soon time to launch and head out to the start area with a steady 6 or 7knot North Easterly wind. The Fleet got away first time and headed North off the start out into the flooding tide. William Sunnucks/ Mark Self got to the forts first in their foiling Vampire followed by Kyle Stoneham/ Josy O'Brian in the other foiling Vampire. Not far behind was Nick Elmore/ Andrew Wood in their F20. First F18 (the largest fleet with 10 boats) to round the forts was Simon Northrup/ Caleb Cooper.
After rounding the forts, it was then a long downwind leg back to the start gate where Kyle/Josy managed to take the lead. After crossing through the start gate, the sailors could then head east to Herne Bay Pier. As a separate part of the race, the leg from the start gate to Herne Bay Pier and back classifies as the "Endurance Race" which includes the slower monohulls and single man catamarans. By the time the slower fleets had got half way along the leg back to the start gate the front markers in the fast cats soon went roaring past. By this point the wind was also starting to ease off. After a few more legs, out to some of the channel markers in the estuary, the race committee then decided to call it a day as the wind was looking like disappearing.
After a quick pack down, the race organisers held a prompt prize giving allowing those from further a-field to set off as soon as possible.
The full race is watchable online thanks to tracking supplied by SailRacer. Watch the race here.
The Allen Endurance Series combines 4 already well-established endurance events. The Whitstable Forts Race, Solent Forts Race, East Coast Piers Race and Isle Of Sheppey Round The Island Race. The winner of each event will claim a £100 Allen voucher whilst the top 3 boats in the overall standings after all 4 events will take home an additional £100, £200 and £500 Allen voucher respectively. The next event in the series is the Solent Forts Race taking place on the 8th & 9th June. Head over to allen.sailracer.org to enter online.
Results as follows:
Forts Race – leg from start line to Maunsell Forts and back. Fast Cats only.
1st Kyle Stoneham & Josy O'Brian – Vampire – Corrected Time: 2:22:28
2nd Will Sunnocks & Mark Self – Vampire – Corrected Time: 2:22:28
3rd Tim Neal & Chris Neal – F18 – Corrected Time: 2:26:07
Endurance Race – Herne Bay Pier and back. All fleets.
1st Kyle Stoneham & Josy O'Brian – Vampire – Corrected Time: 1:52:36
2nd Will Sunnocks & Mark Self – Vampire – Corrected Time: 1:54:52
3rd Nick Elmore & Andrew Wood – Nacra 20 – Corrected Time: 2:06:54
Full Endurance Race and Forts Race results below
Endurance Race
| | | | | |
| --- | --- | --- | --- | --- |
| Class | Sail number | Helm | Crew | Corrected Time |
| Vampire | GBR2 | Kyle Stoneham | Josy O'Brien | 1:52:36 |
| Vampire | GBR1 | Will Sunnocks | Mark Self | 1:54:52 |
| Nacra 20 | 167 | Nick Elmore | Andrew Wood | 2:06:54 |
| F18 | GBR522 | Simon Northrup | Caleb Cooper | 2:07:04 |
| A Class | GBR61 | Mick Davidson | 0 | 2:07:06 |
| Blaze | 661 | Ben Harden | 0 | 2:08:10 |
| F18 | GBR1577 | Tim Neal | Chris Neal | 2:09:33 |
| Dart 18 | 7735 | Tony Dod | 0 | 2:14:23 |
| F18 | GBR521 | Grant Piggott | Simon Farren | 2:15:55 |
| Dart 18 | 7962 | Mark Robson | Kerra Pearce | 2:18:33 |
| F18 | GBR514 | Nick Barnes | Neil Baldry | 2:21:16 |
| Nacra 20 | 44 | Chris King | Alasdair Rish | 2:22:49 |
| F18 | GBR503 | Matt Young | Robbie-Jay Barka | 2:27:30 |
| F18 | 1234 | David White | Harry Willett | 2:27:43 |
| Tornado | 435 | Kevin Dutch | David Oakley | 2:28:10 |
| Feva | 4102 | Clara Jones | Amelie Curtis | 2:28:11 |
| F18 | 1421 | Richard Golden | Charles Howting | 2:35:08 |
| F18 | GBR29 | Ghislain Melaine | James Stacey | 2:38:54 |
| F18 | 524 | Tony Stokes | Natasha WilsonT | 2:43:08 |
| Tornado | 400 | Richard Ledger | Paul Moore | 2:44:03 |
| Tornado | 402 | Robert Govier | David Figgis | 2:44:23 |
| Laser Vago XD | 1218 | John Berrington | Fef Griffin | 2:49:05 |
| F18 | 5 | Peter King | Cherri Farren | 3:14:19 |
Forts Race
| | | | | |
| --- | --- | --- | --- | --- |
| Class | Sail number | Helm | Crew | Corrected Time |
| Vampire | GBR2 | Kyle Stoneham | Josy O'Brien | 02:20:24 |
| Vampire | GBR1 | Will Sunnocks | Mark Self | 02:22:28 |
| F18 | GBR1577 | Tim Neal | Chris Neal | 02:26:07 |
| F18 | GBR522 | Simon Northrup | Caleb Cooper | 02:27:43 |
| F18 | GBR521 | Grant Piggott | Simon Farren | 02:30:19 |
| F18 | GBR514 | Nick Barnes | Neil Baldry | 02:30:41 |
| F18 | GBR29 | Ghislain Melaine | James Stacey | 02:32:17 |
| F18 | 1234 | David White | Harry Willett | 02:36:06 |
| Nacra 20 | 167 | Nick Elmore | Andrew Wood | 02:37:17 |
| F18 | GBR503 | Matt Young | Robbie-Jay Barka | 02:37:21 |
| Tornado | 435 | Kevin Dutch | David Oakley | 02:37:55 |
| Tornado | 402 | Robert Govier | David Figgis | 02:46:56 |
| Nacra 20 | 44 | Chris King | Alasdair Rish | 02:48:28 |
| F18 | 524 | Tony Stokes | Natasha WilsonT | 02:55:52 |
| Tornado | 400 | Richard Ledger | Paul Moore | 03:01:16 |
| F18 | 5 | Peter King | Cherri Farren | 03:07:06 |
| F18 | 1421 | Richard Golden | Charles Howting | 03:08:47 |
ALLEN ANNOUNCED AS SUPPORTING SPONSOR FOR 420 WORLDS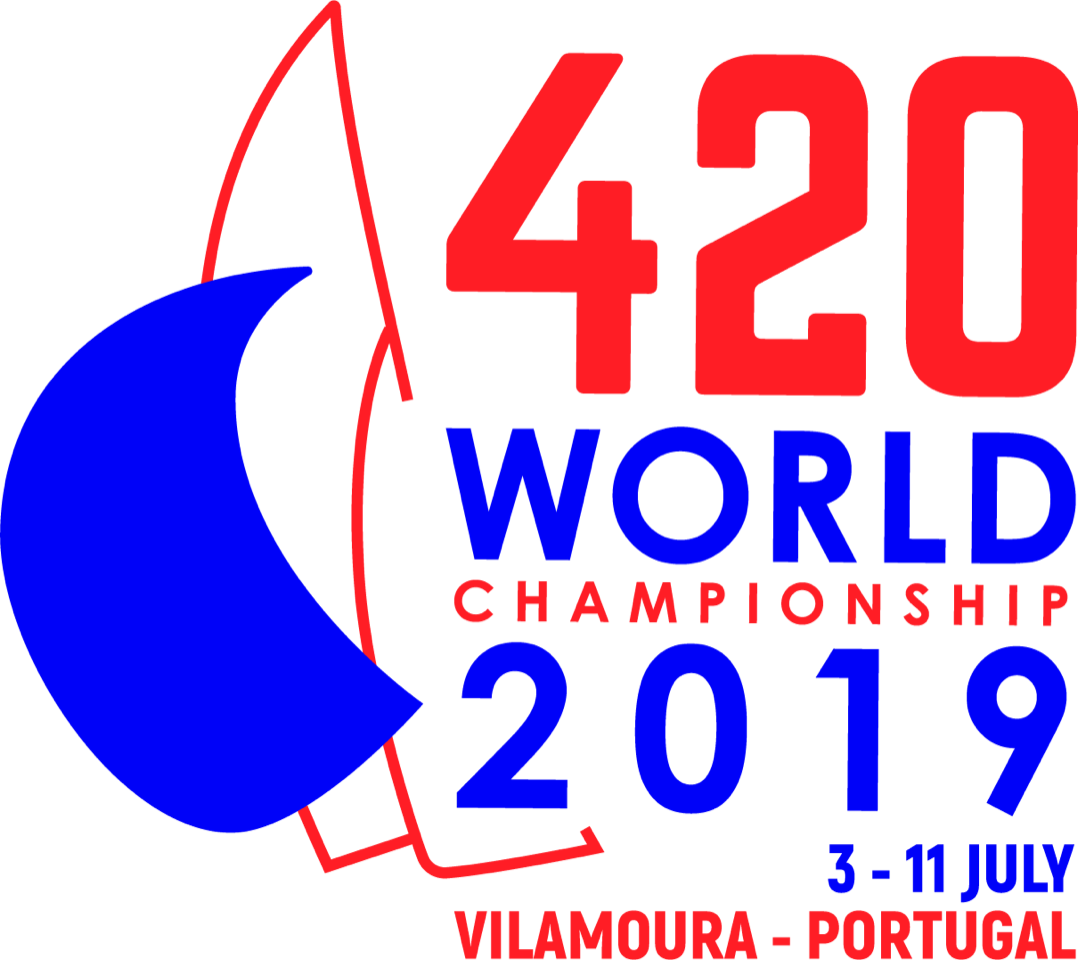 We are pleased to announce our support for the 420 World Championships which is taking place this summer in Vilamoura, Portugal.
Allen will be recognizing the achievements of the podium finishers in each of the Open, Ladies, U17 Open and U17 Women World Championships, with a £300 voucher awarded to the gold medal winning team, £200 to silver and £100 to bronze to purchase boat hardware from www.allenbrothers.co.uk. As well as the voucher prize, the podium teams will also receive an Allen aerovane.
A pop-up shop will be on site throughout the 2019 420 Worlds, run by local stockists and event organisers, Vilamoura Sailing, who will have plenty of Allen hardware in stock for the Championship.
Liz Adams, managing director of Allen Brothers, commented, "We are excited to support the 420 Worlds this year, especially when it is being held in such a great sailing venue. Seeing such a large number of boats entered into the event is really positive and shows that competitive youth sailing is still going strong and we are pleased to be able to support that."
The 2019 420 World Championships is taking place in Vilamoura from 3-11 July 2019. All information on the Championship website: 2019worlds.420sailing.org
About Allen Brothers
Allen Brothers is based in Essex on the east coast of the UK and has been testing, developing and manufacturing its extensive range of sailboat hardware in house over the last 60 years. Allen Brothers designers work closely with the elite Team Allen sailors who help to test and relay feedback about new products. To find out more about Allen Brothers go to www.allenbrothers.co.uk.
Allen selects new recipient for the Allen Academy Optimist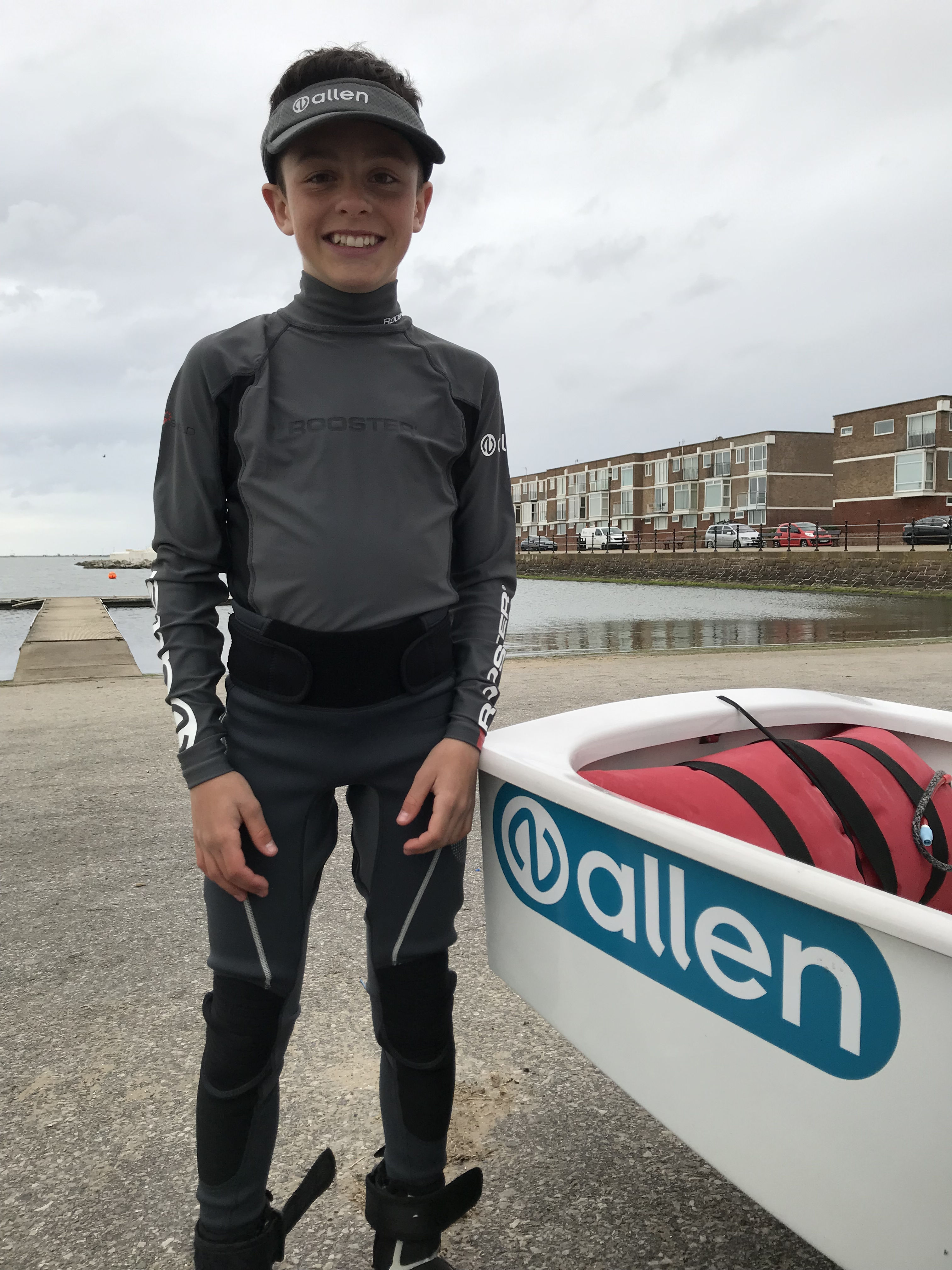 Another sailing season has started and with it the Allen Academy Optimist has also gone to a new home. This year's lucky recipient of the Allen Academy Optimist is Patrick Bromilow of West Kirby Sailing Club.
The Allen Academy Optimist is a concept put together by Allen Brothers with the aim of promoting and helping grow youth sailing. Each year a deserving young sailor is awarded the boat with the hope it will help them take their sailing to the next level. The lucky recipient is awarded the 2016 built Ovington Hull which comes fully re-fitted with brand new Allen hardware as well as a full refit of rope kindly supplied by Marlow Ropes and a new sail this year supplied by One Sails.
When collecting the boat, Patrick aged 12, commented "I was really excited to find out that I was going to get the Allen Oppi for this year. I had seen it at events last year and thought it looked really cool. I can't wait to use the new Allen AutoRatchet with the new Marlow mainsheet and get the boat set up the way I like to sail it. My dad is going to do some splicing on it with the Marlow Rope. I'm also really looking forward to using the new sail One Sails have provided, I've heard its really fast. The first event I will be racing with the new boat will be at the Inland Championships 18/19 May and I'm looking forward to taking it out in a big fleet. I've had a couple of practice days at my club in it and I think it's a quick boat! Thank you, Allen, for giving me the boat to sail this year."
The boat truly is race ready as Managing Director of Allen, Liz Adams, commented "This is the 4th year we have given away the boat and each time it gives me great pleasure that we are able to help support a budding young sailor with this superb racing Optimist, hopefully, giving them the confidence to go on and race to their full potential."
Previous winners of the Allen Academy Optimist include Quinn Edmonds, who has now moved out of Optimists and has had a successful season in the RS Feva and qualified for the RYA RS Feva Junior Squad. Nick Evans, another of the winners, is still sailing his own Optimist and has recently finished 4th overall at the Braassemermeer Easter Regatta (1st Brit).
One Sails has been chosen as the sail supplier of choice to the Optimist this year. The One Sails Optimist sail has won the last 3 World Championships in a row. The team at One Sails have also supplied Patrick with a tuning guide developed in conjunction with top Optimist coach Mauricio Bencic.
The rope on the Allen Academy Optimist was looking a bit worn at the end of last season so UK rope manufacturers Marlow Ropes have kindly stepped in to supply a top spec fit out for the mainsheet, sail ties, kicker and sprit halyard.
Joey Taylor Update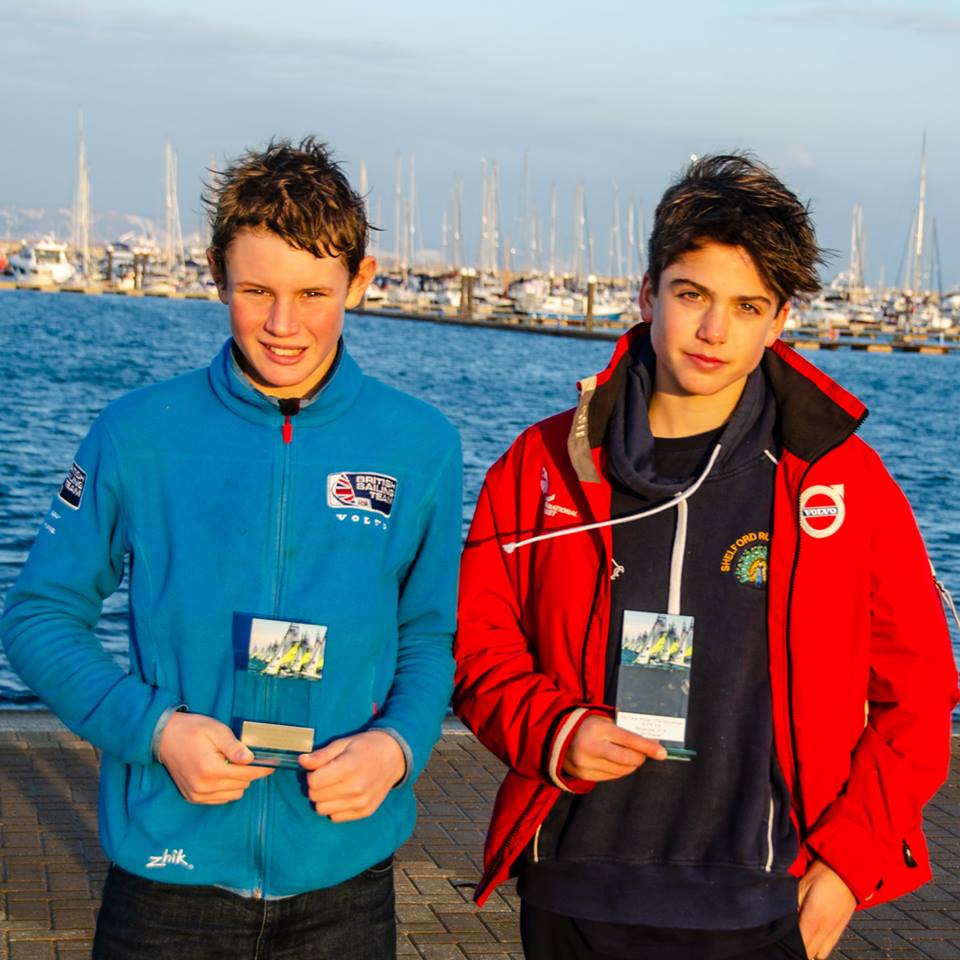 Terry and I started the winter with the RS Feva Winter Championships.  After 2 days of strong winds, we finished 4th in a fleet of 60 boats – this was only our second event together in the Feva and we were really pleased with the result.  My next event was the Spring Championships at Draycote with a stand-in crew as Terry couldn't make it.  This was a light and shifty event and we only really sailed near to our potential for the last 2 races.  Overall we came a disappointing 17th out of 53.  The Burnham Grand Prix was my next event, again with a stand-in crew.  It was breezy both days and after a difficult first day, we improved a lot on the Sunday with two firsts and a third from some really close racing.  This meant we came 3rd overall.
I have been training over the winter with the Burnham Squiddies in a mixture of conditions which has been a lot of fun.  I am training again with the Squiddies next weekend, with Terry crewing, and our next event is the Nationals at Abersoch at half term which we are really looking forward to.
I have also done some Oppie sailing over the winter, including the Spring Champs, the Easter Regatta at Braassemermeer and the Selections last weekend at Weymouth.  I have struggled this year as I am now right at the top of the weight range for the Oppie and have had to adjust my sailing technique because of this.  Also, most of my training over the winter was in the Feva and not the Oppie.  I think I probably will make the Flanders team in the Oppie but I haven't decided yet whether I will do the regatta as it feels like it is time to move on and focus on the Feva.
Keyball Review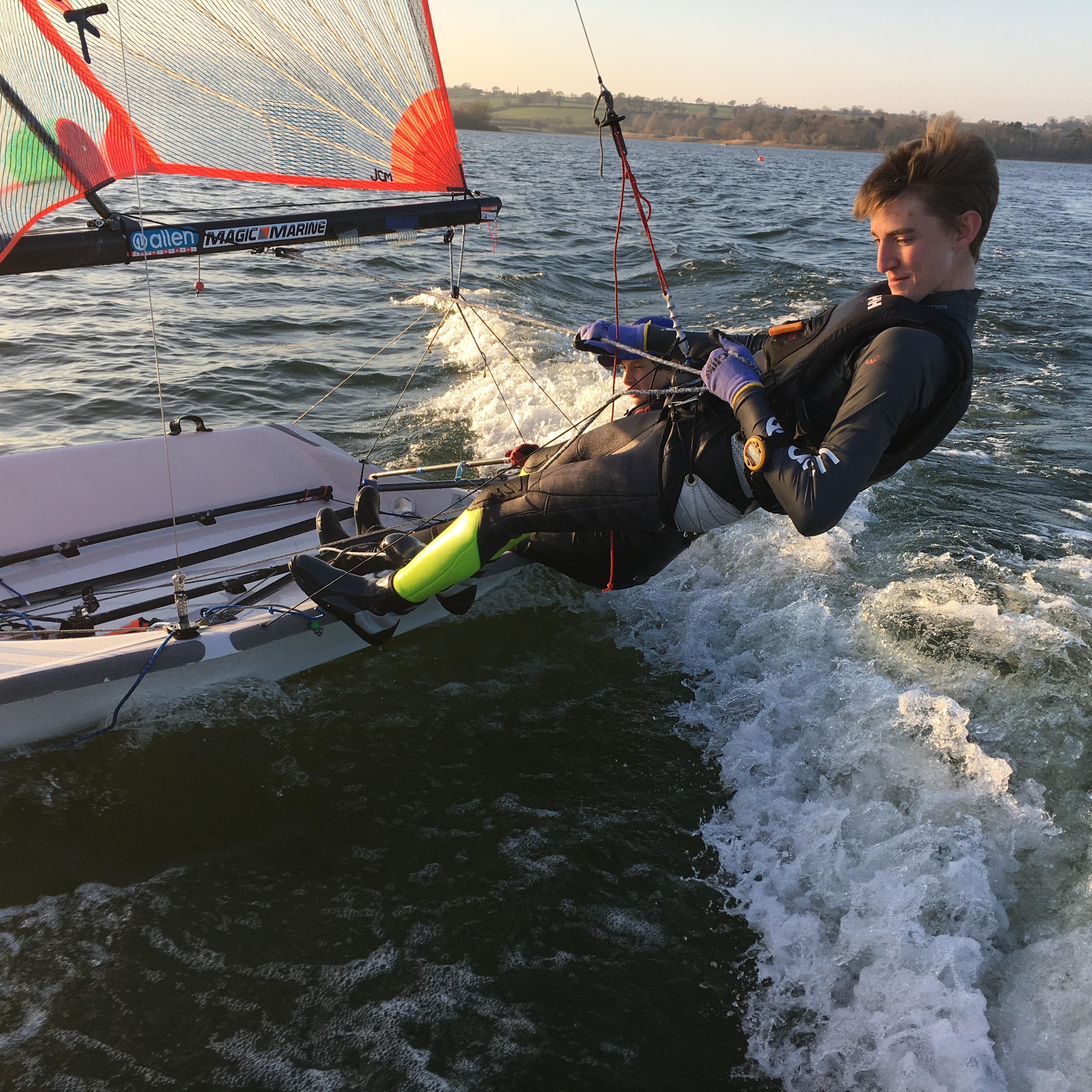 Allen's First recipient of the Allen Academy Optimist was Quinn Edmonds back in 2016. Since then, Quinn has gone onto sail an RS Feva very successfully with his crew Fin Oliver. The boys are now starting to transition into the 29er, making sure they have a head start once they become too big for the Feva.
When transitioning to a new boat, such as the 29er, there are many new things and skills that a sailor will be required to learn. The most important for the crew, in this case, being the ability to trapeze. So, the first thing any crew will need before learning to trapeze is a harness. Being well informed of the latest Allen products Fin decided he would try the Keyball trapeze system. Here's what he thought;
"Quinn and I have been transitioning into the 29er, as with starting to sail any new boat we needed some new kit. One of the first things we needed was a trapeze harness. Luckily when we first started, I was able to get my hands on an old traditional hook harness, however, I didn't find it very comfortable.
I also kept getting the hook caught on things when we capsized, as you do when you first learn to sail a 29er! I found I got stuck on the gunnel quite often. I soon decided that I needed to find a better alternative.
Having sailed with Quinn for some time now, I know all about the Allen range of hardware. I was aware that they offered an alternative, the Keyball system. As soon as I could, I bought one and have been really pleased I did ever since.
Unlike a traditional hook system, it has just a plastic socket molding on the harness. I soon found that it is less likely to cause damage to the boat as it has no sharp edges. Also, I found it much easier to clip and unclip compared to the traditional hook. I have the Banks Sails version of the harness which I find incredibly more comfortable and fitted than the other harnesses I had tried.
When using the Keyball system I feel very secure when on the wire and still have very good movement and flexibility around the boat. This has made me much more confident in the boat and I feel that I can tack and gybe better than I could with the traditional hook.
I have been asked several questions by coaches and other sailors about the Keyball system, such as; how I hold on during the exits of tacks and gybes. Personally, I think that even though it has a thin handle my hand still always lands on it, and the flexible ball on the end is easy to slide into the socket on the harness. So, I don't think that grip is a problem.
I don't think that anyone would have any trouble adjusting to using the Keyball if they decided to switch from a traditional hook. Overall, I really like this Keyball system and don't think I'll be changing anytime soon."
Allen launched the Keyball trapeze system at METS 2014 and since then Allen has gone onto work with some of the top harness manufacturers such as Zhik and Banks Sails to provide an alternative to the savvy sailor who is open to trying something new.
The Keyball system is available as both a ready-made harness and as a retrofit-able kit head to the Trapeze Harness section on this website to see more info. To find out more about the system watch the following YouTube videos below.
Allen Endurance Series Round 1 – Whitstable Forts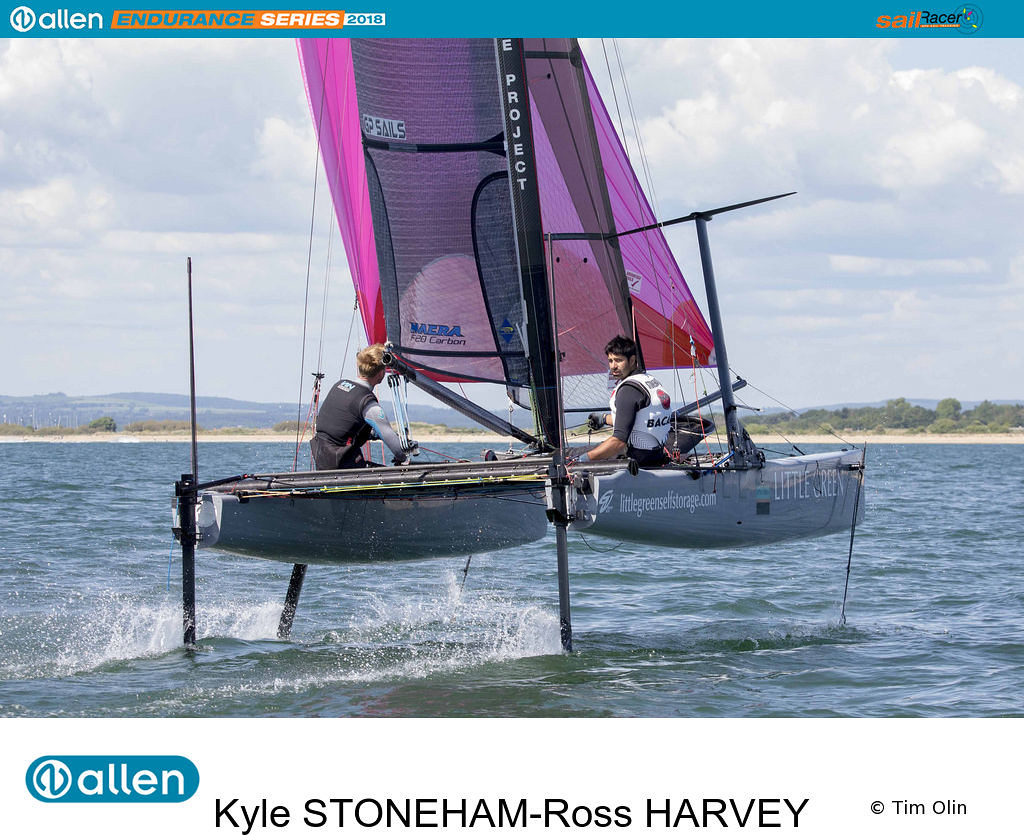 The first round of the 2019 Allen Endurance Series is set to kick off at the newly included event, the Whitstable Forts Race, on the weekend of the 18th and 19th of May.  As a new addition to the series for 2019 the Allen Endurance Series now includes 4 of the UK's most challenging long-distance races.
The Whitstable Forts Race is A long-distance race which has evolved over its 24-year history into a well-balanced test of sailing and racing skills, attracting top national helms as well as experienced club racers and international entries. Unlike normal styles of racing, the Whitstable Forts Race is laid out in a hub and spoke format. Competitors must sail to certain marks of the course which are off the coast of Whitstable and then back through a gate outside the yacht club before heading to the next mark. This style of racing allows for the sailors to cover over 85km of estuary and coastal waters as well as racing at all points of sail.
In the past the Dart 18, Formula 18, Hurricane 5.9, Spitfire and Tornado are all classes that have performed well. But its not only fast catamarans that can enter. Any Dinghy with a PY of 1270 or lower may enter the race.
The Allen Endurance Series, which is managed by Sail Racer, combines 4 already well-established endurance events. The Whitstable Forts Race, Solent Forts Race, East Coast Piers Race and Isle Of Sheppey Round The Island Race. The winner of each event will claim a £100 Allen voucher whilst the top 3 boats in the overall standings after all 4 events will take home an additional £100, £200 and £500 Allen voucher respectively.
Competitors must register for the series as well as for each event, using the SailRacer web site. Combining registration for the series at the same time as all four events will entitle the entrant to a discount. To be eligible for the Allen Endurance Series prizes, competitors must display a minimum of two Allen hull stickers during each event.
Also running alongside the Allen Endurance Series (AES) is the Allen blogger award to encourage creative writing about people's experiences on the water, building awareness about the series with the aim of increasing participation in this form of sailing. The prize is superb: £1500 of Allen kit for the winner's boat!
The organisers want to see engaging writing, focusing on the human-interest parts, the build-up, the challenges, paddock talk and shoreside fun to encourage more people to enjoy this great sport and these unique events.
To enter the AES blogger award participants need to send an engaging article about their 2018 season or one of the Allen Endurance Series Events to Jeremy Nicholson at Allen along with any supporting photos to illustrate their story.
The winner will be selected to blog on social media throughout the 2019 season, at the end of which they will receive an Allen fit-out for their boat to the maximum value of £1,500.
Allen Brothers gains ISO 9001 accreditation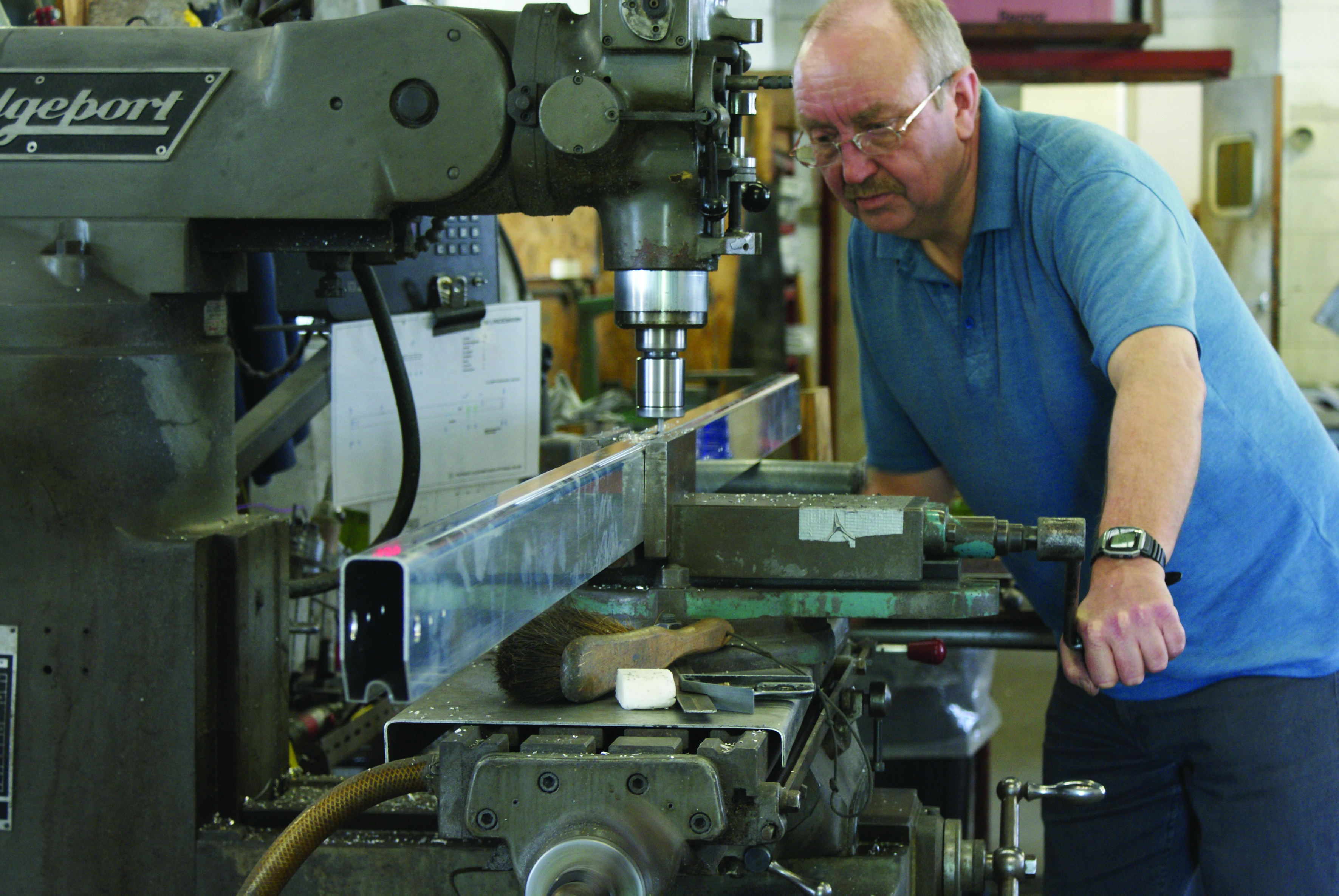 The UK's leading manufacturer of performance sailing hardware, Allen Brothers, has recently undergone an audit to gain ISO 9001 certification, and as a result, the British company now has accreditation to be formally recognised as competent to perform specific processes.
ISO 9001 is an internationally recognised standard set by the United Kingdom Accreditation Service (UKAS). Businesses that gain ISO 9001 have shown to UKAS they are able to keep a high quality of business practice throughout many different areas, including; customer service, consistent product manufacturing and regulatory requirements. Allen Brothers will have to undergo an audit each year to show UKAS it can maintain a satisfactory level or production and business practices.
In recent years Allen Brothers has seen major growth in custom projects for businesses both in and outside of the marine sector. Undergoing many different custom projects is only achievable with a well informed and organised production operation. Having gained ISO 9001 accreditation shows Allen Brothers is capable of mass manufacturing high-quality products as well as being able to ensure a high level of craftsmanship is carried out for custom items.
The Allen brothers Tony and Glen first founded the business back in 1956 with a vision of creating performance sailing hardware driven by innovation and technology. The first products they produced for their own race boats were such an improvement on everything then in use, customers demanded they set up production to meet the market. 63 years later and the family run business still holds true to the same principles by staying at the forefront of innovation and technology for the marine industry.
Allen Brothers still researches, designs, prototypes and manufactures everything from its Essex based factory. The company has recently invested in new computer-aided design software, production software and machinery such as a new vertical machining centre to help maintain a high standard of production.
Some of Allen Brothers in-house resources include:
Design & CAD modelling – using advanced PTC Creo CAD software the Allen design team can quickly develop new ideas and designs into computer models, which can be structurally assessed with their Ansys computer simulated stress analysis software. Prototype models can be seen within hours using the Dimension 3D part printer.
Tool making – finished designs are seamlessly progressed through the tool making stages using the parametric features of PTC Creo tool design and NC machining software. The toolmakers can produce single or multi-impression tools for injection moulding, sheet metal pierce and blank tools, secondary operation form tools, assembly jigs and fixtures.
Component parts – The factory is equipped to manufacture a diverse range of parts and can be particularly flexible in the production of short-run specialist parts, and low to medium volume quantities.
CNC injection moulding – Allen Brothers are experts in the use of advanced engineering polymers and composites such as carbon fibre filled acetals and nylons.
CNC turned parts – 5 axis sliding head lathes produce high precision parts in all materials.
CNC sheet metal forming – presses produce pierced and blanked parts, with secondary forming.
CNC milled parts – 2 HAAS 3-axis vertical milling centres allow Allen Brothers to make precision milled parts in a range of material from marine grade 6082 aluminium to Brass & Acetal.
Pressure die casting – Allen Brothers have the facilities in-house to die cast aluminium
yacht fittings using a hot-chamber die cast machine.
Aluminium gravity cast parts – are also cast in the in-house foundry.
Fabrication – The Allen Brothers versatile and skilled workforce can provide fully assembled products, using a range of techniques such as welding, drilling, riveting, threaded fasteners, adhesives, pad-printing and packing.
For more information about Allen Brothers or to get in touch about any custom projects you might have, please visit www.allenbrothers.co.uk or email sales@allenbrothers.co.uk
Megan Pascoe – First regatta of the year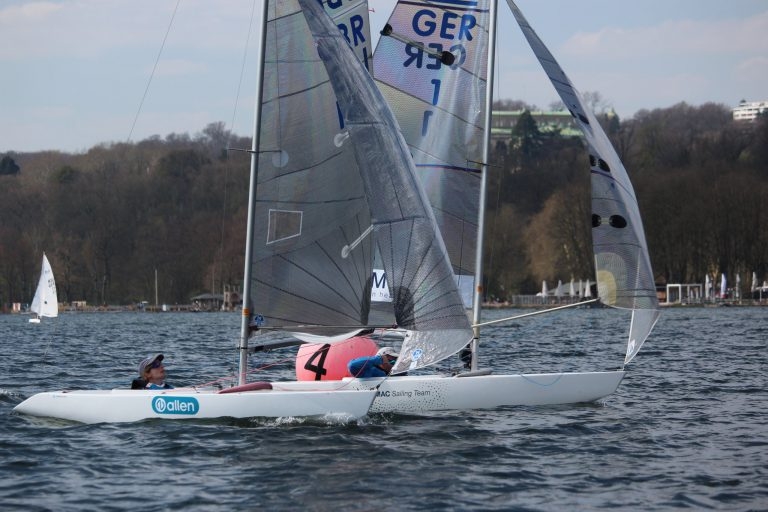 Ruhr City Cup in Essen
After a long winter mostly sailing a borrowed boat owing to my brother working some magic on mine it was time to start the season. The Ruhr City Cup is the ideal place to do it. A small crescent-shaped river with some interesting shifts but it makes the sailing fun.
It is always good to see what the German fleet has been up to over the winter and we spent a long time on Friday talking about this due to a complete lack of wind. Sitting in the sun chatting sailing, planning the next couple of years is not a bad way of spending a Friday. It beats sitting in the office.
As Saturday came the wind did as well, some of it anyhow. Five races in one day with a coffee break after 4 lead to a full on day. It's always nice after the winter to find out how fast the boat is going and pleasantly mine was going fast enough. I had a great battle all day with Heiko Kroger a Paralympic and World Champion. Unfortunately, as you can see from the picture I was on the outside of too many leeward marks going into the finish. We both had to bow to a very fast local Dragon sailor Ben van Cauwenbergh, a Belgium living in Germany sailing under an American sail number.
Sunday the wind had gone 180 degrees so we weaved our way through the rowers for three last races. I was starting better but in the first couldn't quite hold onto the inside at the leeward mark and lost to Heiko. Second race I couldn't find the right shift to save my life but managed to find one that mattered at the top to lead and managed this time to hold it. This lead to the last race winner takes all. Heiko did a very nice job of covering me up the beat, I should have stayed close down the run but didn't and could only get back to fourth. Every days a school day and we'll try again.
It is a great little club at WSB Baldeneysee celebrating its 100th year. The race team was once again excellent as local sailor Stefan Giesen brings his team from Kieler Woche. It is the volunteers that make this event from the beer fridge to an immense amount of cake. An event structure that is almost uniqiue to the Ruhr City Cup that everyone should experience once in their life. As Ben wrote in the German report all together nice weather, wind, nice people, three days all you can eat and drink, and fun!! Sums up the weekend perfectly and a great start to the season. Very excited for the months ahead.
Results: https://www.manage2sail.com/it/event/ERCC2019#!/results?classId=204e29a8-dcc9-4bb2-a5ce-ff509b58191b
Photos courtesy of www.2punkt4.de
Dylan Collingbourne's search for a new boat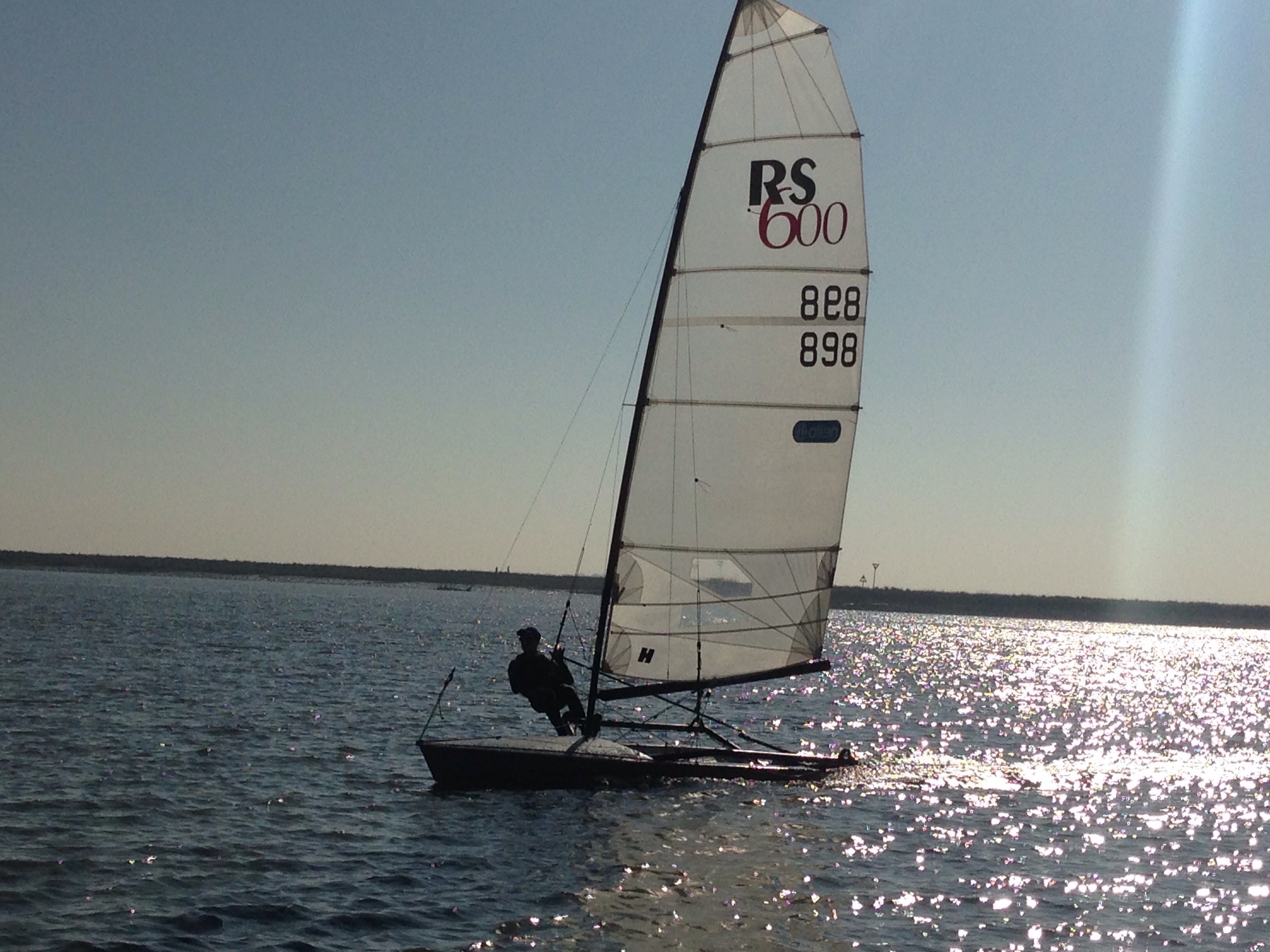 Around July 2018, I was considering changing class from the Laser Radial to another boat as I was not enjoying the style of sailing and hiking demanded by the Laser. I searched around and gathered some ideas such as a Blaze, a cheap International Moth, RS 100, RS 300 and the RS 600.
I had tried a Blaze as there are a couple at my local club and it was soon becoming the top contender. However, I had a look into their calendar and every national championship for the next couple of years are going to be based in the South / South-West of the country, and this was a problem when you're based in Essex and currently relying on parents to drive you to events!
When my search for the next boat started, I was still campaigning in the RS Feva and had been taking part in the RS Feva Europeans at the RS Games in Weymouth. Whilst I was down there, I also decided to stay on and do the RS 200 nationals with a friend from my local club. Both of these events were great and we scored some with brilliant results. I ended up coming away from the event with a 2nd overall in the RS Feva Europeans and a 40th overall in the 200's, a great result considering this was our first 200 event and we were racing against sailors who have had much more experience than both of us.
Whilst competing at the RS 200 nationals, the RS 600's had their national championships happening at the same time. I happened to spot the new prototype RS 600 in the dinghy park and after having a look and watching some of the racing, which looked really fun, the boat started to appeal to me!
Once i got home from Weymouth I started looking into the fleet in more detail. I found out where the local boats were and which areas of the country had been holding events. This made me want one even more. I then started looking into the second-hand market and it looked like the class was growing again as all the second-hand boats where being snapped up sharpish!
After purchasing my boat in October, I have been trying to sail it as much as possible and it has been a very, very steep learning curve. Even having some experience with 29er sailing and some knowledge of trapezing, it was still a very difficult boat to get to grips with.
When starting to sail the boat in about 10-12 knots, the first thing I noticed was that I struggled with was not having a third hand! It was a whole new experience, to helm using the mainsheet whilst also having to trim the trapeze height at the same time. Its ended up with me doing a lot of swimming!
However, with much practice over the winter, the 600 felt less and less like a giant arm-band and more like a skiff. I am still learning certain skills in the 600 and can't wait for the season to start so  I can get out on the water as much as possible. For this season I am most excited for the national championships being held at Stone Sailing Club in Essex. It will be my first event and I have some new Allen hardware that I can't wait to use, as well as some new Rooster kit that should help my trapezing.
Team Allen Sailor
Team Rooster Sailor
Dylan Collingbourne
To Find out more about the RS600 class head over to their facebook page or class website
Full Fawkes 14 walkthrough
The I14 restored by Phoenix Marine and put together by Allen designer Tom Clayton and Zhik's UK Sales Manager, Tristan Hutt, features a wide range of standard Allen fittings, including the Keyball Trapeze system. The Allen Keyball system removes the traditional hook from the trapeze harness and replaces it with a moulded plastic socket. The Keyball socket has no sharp edges or protruding parts making it much less likely to damage equipment or get snagged on something.
Check out this full walkthrough on the boat and see what the boys have done to bring her up to a modern spec!