Bloody Mary Champions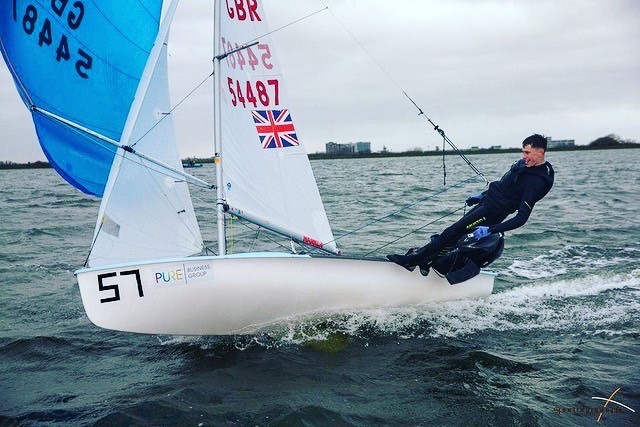 A huge congratulations to Team Allen's Dylan McPherson Sailing & Jack Lewis for winning the Bloody Mary!
The Bloody Mary is a huge pursuit race, this year with almost 300 boats entered. Dylan and Jack took the win after an awesomely windy event!
Dylan commented – "Jack and I had an amazing time last Saturday at the 2020 SailJuice Winter Series Bloody Mary pursuit race at Queen Mary Sailing Club! There were 288 top boats sailing at the regatta with a maximum of 30 knots breeze across the lake with the occasional drop of wind at times, perfect for our 420 in a pursuit race! We managed to finish 10 minutes in front of the boat in second place which was crazy, and we are so happy with our performance considering the difficulty of the event in such challenging conditions!"
Allen Endurance Series Wrap Up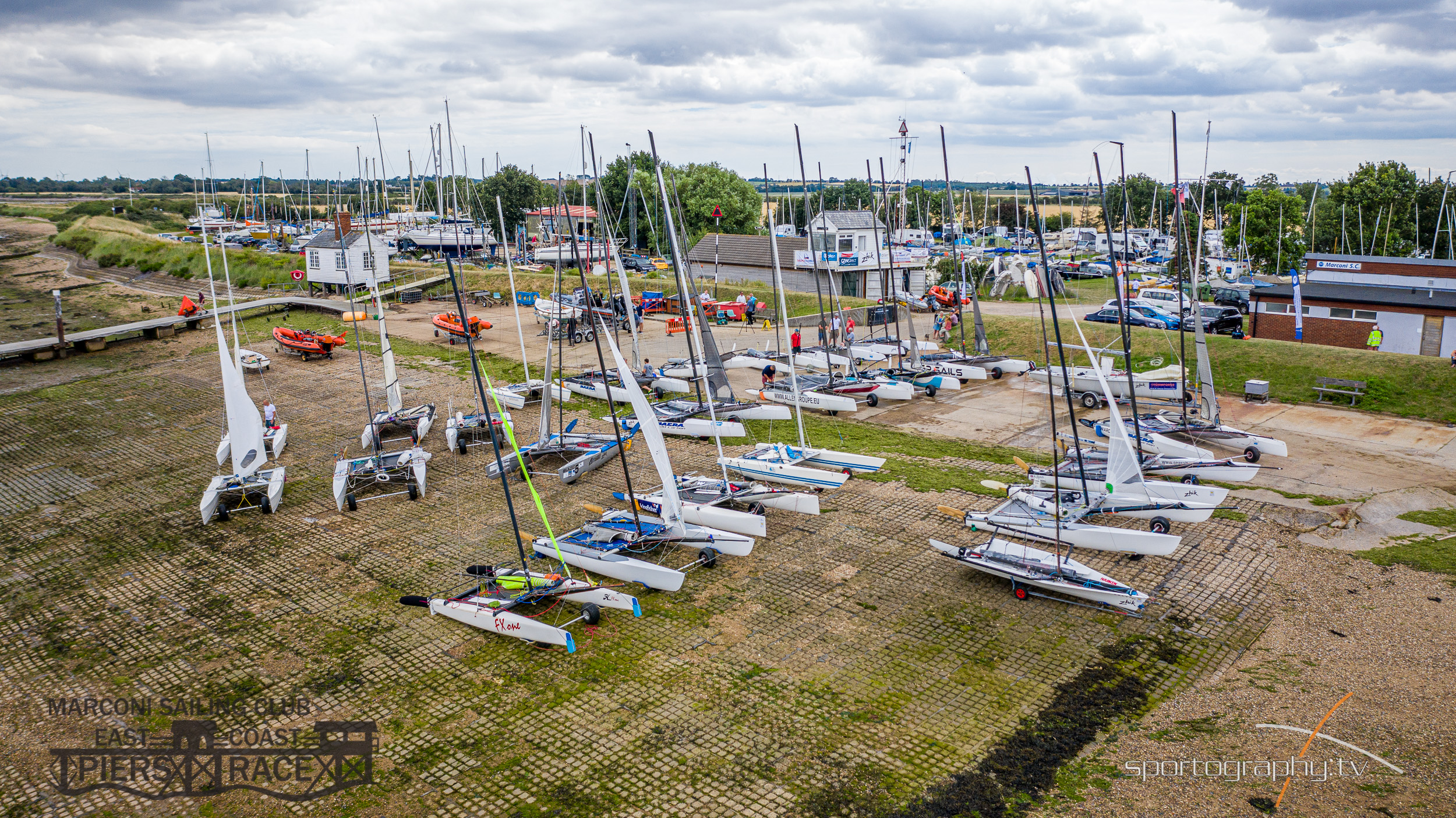 The second edition of the Allen Endurance Series (AES) wrapped up at the IOS Round Sheppey Race on the weekend of the 31st/1st September. The series which included a total of 150 different entries over the 4 events was again dominated by F18 sailors, with the high-performance catamaran claiming all 3 of the top overall podium spots for the second year running.
This year the AES showcased a wide range of conditions with each of the four long distance events experiencing varying wind speeds and sea states, ensuring each entrant got a good test of their sailing skills. Despite this, Simon Northrop of Minnis Bay managed to win two of the four events and after including one discard also takes the overall series win by just 4 points. Therefore, claiming a total of £700 worth of Allen vouchers.
Simon commented "We are pleased to have won the AES this year after finishing runners up in the first year. The series tests every skill from endurance to navigation and everything in between. We had some fantastic racing with the other competitors and we were hoping to take the Sheppey race to add to the other two wins in the series, but, we decided to sail over from Whitstable instead of trailing the boat and this was a bad call as we arrived late due to a light head wind and started 22 minutes late! We still managed a 6th overall, just 15 minutes behind the first boat, and we had a great blast chasing everyone down. The Sheppey race was the highlight of the series for me, despite this, as I last did this race in a Condor 30 years ago and it was great to come back again!
Thanks to Allen, Sail Racer and everyone else involved in the series, it's really great to have an overall title to race for all season and I look forward to competing again in 2020."
2nd AES overall place goes to Tim Neal, who claims a £200 Voucher and 3rd place along with a £100 voucher, goes to Nick Barnes.
The Allen Endurance Series will carry on into its 3rd season for 2020 and will consist of the following events
| | | | |
| --- | --- | --- | --- |
| Whitstable Forts Race | 23/05/2020 | 24/05/2020 | Whitstable YC |
| Solent Forts Race | 13/06/2020 | 14/06/2020 | Hayling Ferry SC |
| East Coast Piers Race | 27/06/2020 | 28/06/2020 | Marconi SC |
| Round Sheppey Race | 05/09/2020 | 06/09/2020 | IOS SC |
More details of the 2020 series will follow on the Allen Endurance Series website and Facebook page.
Click here for the overall series results.
Top 10 Overall
| | | | | | | | | |
| --- | --- | --- | --- | --- | --- | --- | --- | --- |
| | Sailor | | Boat | Whitstable | Hayling | ECPR | Sheppey | Nett |
| 1 | SIMON NORTHROP | Minnis Bay | F18 | 4 | 1 | 1 | 6 | 6 |
| 2 | TIM NEAL | | F18 | 7 | 2 | 151 | 1 | 10 |
| 3 | NICK BARNES | Brightlingsea Sailing Club | F18 | 11 | 4 | 4 | 7 | 15 |
| 4 | KEVIN DUTCH | Seasalter sailing club | Tornado | 15 | 151 | 12 | 3 | 30 |
| 5 | GRANT PIGGOTT | Weston SC | Nacra F20 Carbon | 9 | 3 | 26 | 151 | 38 |
| 6 | WILL SUNNUCKS | | Vampire | 2 | 6 | 33 | 151 | 41 |
| 7 | CHRIS KING | Weston SC | Nacra F20 Carbon | 12 | 9 | 24 | 151 | 45 |
| 8 | MARK ROBSON | UKIDA | Dart 18 | 10 | 151 | 39 | 38 | 87 |
| 9 | NICK ELMORE | Thorpe Bay Yacht Club | Nacra F20 Carbon | 3 | 151 | 7 | 151 | 161 |
| 10 | GHISLAIN MELAINE | | F18 | 18 | 5 | 151 | 151 | 174 |
"More Grip, Less Slip" With New Wave Ratchet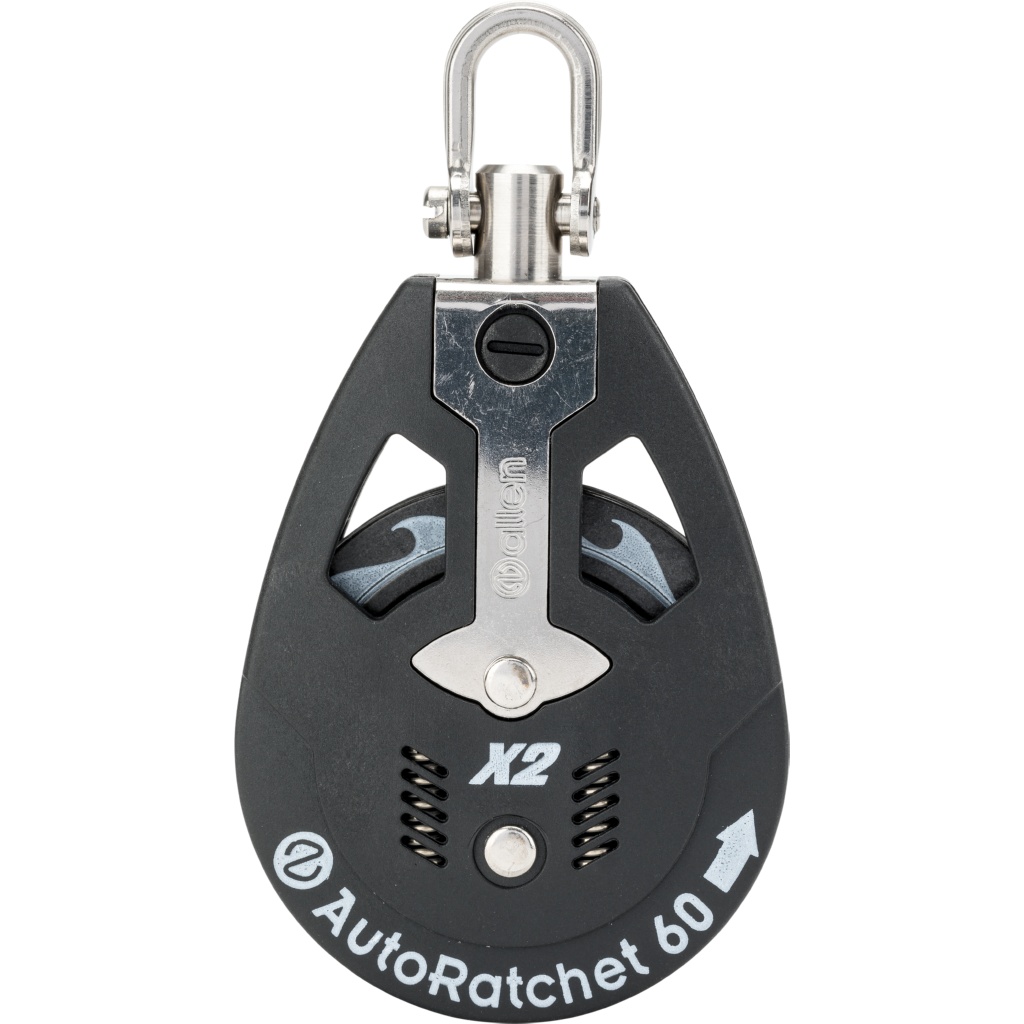 Introducing an additional option for our range of ratchet blocks, dubbed the Wave Ratchet, which will offer between 20 to 40%* more grip without adding any additional wear to the rope. 
Ratchet blocks are a very important part of performance sailing and can give the sailor a huge reduction in fatigue, when used appropriately. The ratchet block works by increasing friction to the rope that is being trimmed. The more friction a ratchet block adds to the system, the easier it is for the sailor to hold onto higher loads.
But, by adding more friction to a system the rope ends up taking the brunt of the punishment and will wear out more quickly. Fine, if you're a professional sailor and receive monthly care packages of rope.
The most effective way to increase friction is to add sharp edges to the ratchet sheave, but this quickly deteriorates and wears away the rope. So, after working alongside leading rope manufacturers the Allen design team came up with a simple solution which improves grip without chewing away at your expensive rope.
The Wave Ratchet sheave has an offset V style grip, made from a hard-wearing recycled plastic nylon, which does not have sharp edges that will eat into the rope. Instead, by adjusting the V formation in the sheave to be slightly offset, the ratchet now grips the rope at additional points around the sheave, resulting in more grip. However, the new Wave Ratchet not only improves grip but as a result of the design it also allows for a less 'jumpy' feel when easing the sheets.
We will be offering the new Wave sheave in both the 60mm Pro-Ratchet and X2 AutoRatchet blocks.
Details
 A2160WAVE – 60mm Pro-Ratchet with Wave Sheave – 1000Kg Breaking Load
A2360WAVE – 60mm X2 AutoRatchet with Wave Sheave – 1000Kg Breaking Load – 10Kg Trigger Load.
*Grip will vary depending on the type of rope in use with the wave sheave.
Below – Standard sheave design vs Wave sheave design.
A Flipping Good Upgrade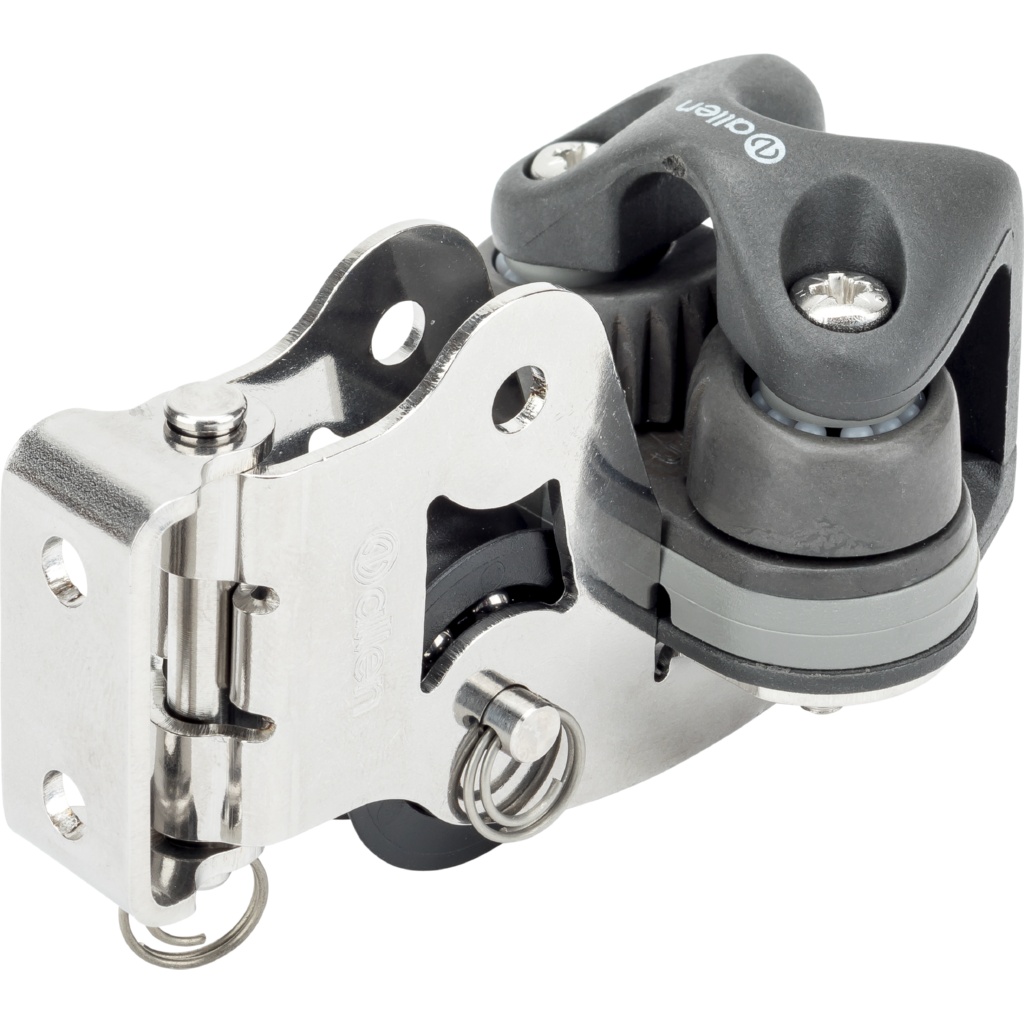 Upgraded and Flip-Flopping better than ever. The new range of stainless-steel flip flop blocks from Allen has been launched at METS this week.
The new range offers a redesigned body in two different sizes and incorporates a 20 & 30mm dynamic sheave. The new flip flop range also features a lighter yet sturdier body that can pivot through 180 degrees and is held in place by a removable clevis pin for easy access to the backing plate.
Allen Design Manager, Darren Elwell, commented "This new upgrade was well needed. Our existing range of flip flop blocks was well outdated and used far too much unnecessary material. By updating the design, we have not only cut down the material used to produce the product, but we have also made it stronger and lighter."
The 30mm body is available with or without cleats and makes for a great choice for pole launching or halyard systems.
To find out more visit the Allen website.
Details
| | | | |
| --- | --- | --- | --- |
| SKU | Description | Breaking Load |   |
| A2123 | 20mm Flip Flop Block | 350 | |
| A2133 | 30mm Flip Flop Block | 700 | |
| A2133-77 | 30mm Flip Flop Block With A..77 Cleat | 700 | |
| A2133-677 | 30mm Flip Flop Block With A.677 Cleat | 700 | |
NEW 60mm Tii block from Allen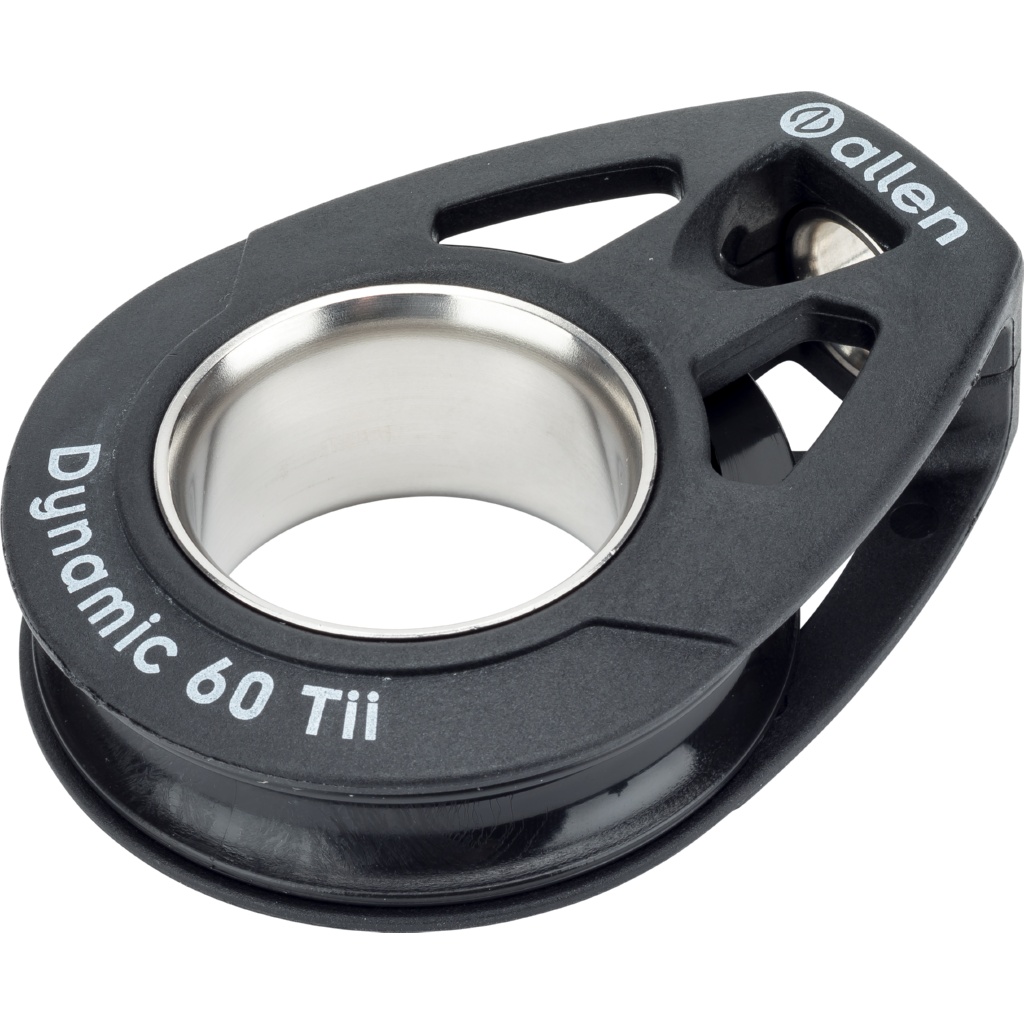 The popular performance range of Tii blocks from Allen has just gained a new addition, the long-awaited 60mm version.
 Allen Tii blocks are designed for soft attachment applications. Ideal for use in systems where weight saving is a necessity, there is no requirement for a metal shackle or maximum performance is demanded.
Design manager at Allen, Darren Elwell, commented "This is another product in our extensive range that shows we are no longer only aimed at dinghy's. Because the block can take standard working loads of 700Kg it's a great choice for sheets or control line applications where weight saving is essential. After our extensive testing, the A2060Tii has become the block of choice for World-class boat builders in the International Dragon, Etchell and Development Mini classes."
Allen Tii blocks feature a standout difference from their competition. A stainless-steel ring at the head of the block. The ring is designed to strengthen the block so that any cheek splitting loads are dissipated, allowing for higher working loads when compared to competitors tie on blocks in the same category.
To find out more visit the Allen website www.allenbrothers.co.uk
Max Working load – 700Kg
Breaking Load – 1400Kg
Maximum Working Load – The maximum load that the block will endure with the repeated sheave movement.
Breaking Load – The load at which a major failure is likely to occur.
New XHL makes eXtremly Happy Laser sailors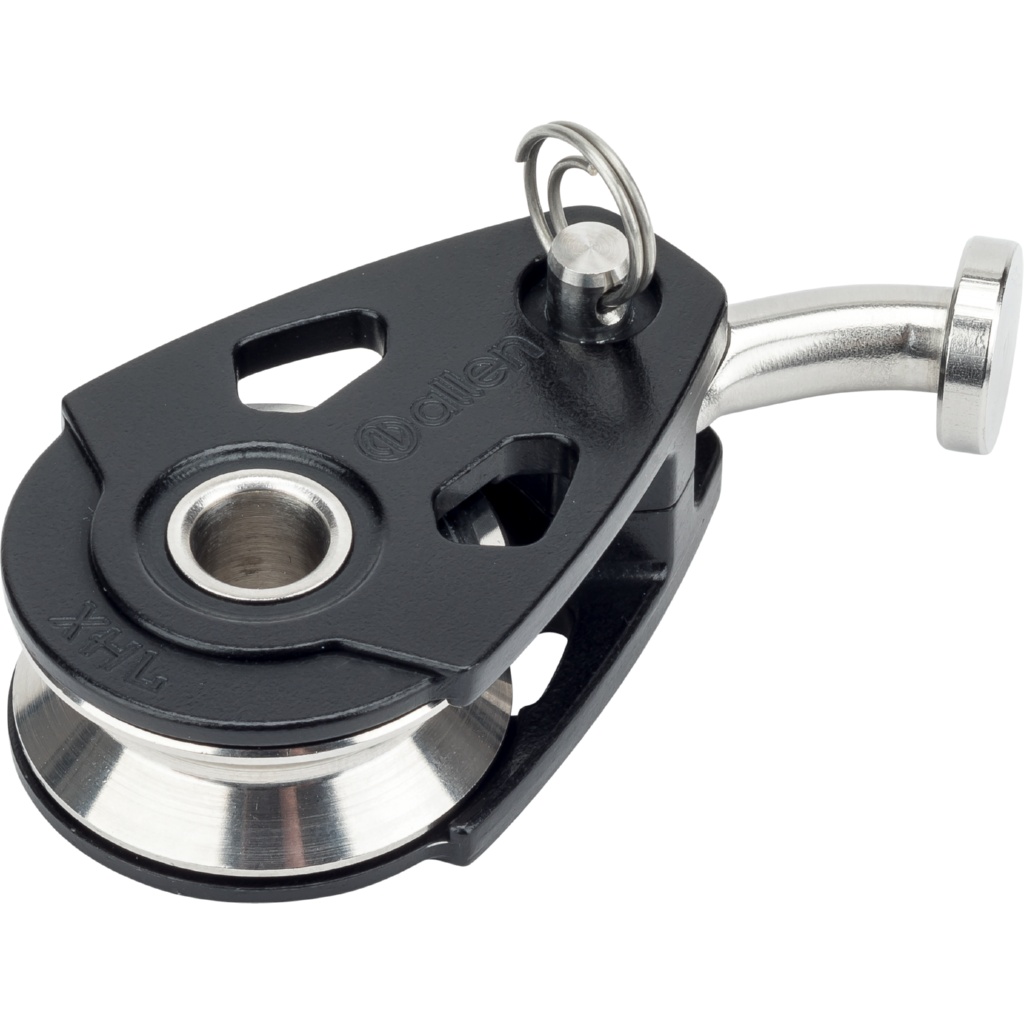 Introducing a new Laser specific vang block the A2031XHL-873.
The block which features the same extreme high load dynamic bearing technology as the rest of the Allen XHL range has been specifically adapted to work as the Laser dinghy's top vang block.
The XHL range was conceived when the Allen design team worked with the World's top International Moth sailors to create a solution for the extreme high loads, they were putting through the vang.
More recently Allen has been working on feedback from top Laser sailors who are looking for a more efficient top block for their vang. It was inevitable then, that the Allen design team would use the tried and tested XHL block to solve the problem. By adapting the 30mm XHL block to incorporate a stronger vang key the Allen design team has come up with a solution that is not only capable of withstanding the Laser vang loads but also sleek and stylish.
Southeast Sailboats who specialise in providing world-class rigging for the Laser has been using the XHL block and commented:  "This extremely free running block makes pulling on the vang easier, and the stronger key will ensure that it will cope with the increased loads imposed by the Laser MkII rig. By integrating the vang key into the block the overall length of the block and key is minimised, thereby not compromising the overall vang operating range.  This great block will also help sailors who are currently struggling to pull on enough vang to depower the sail for the conditions, and in addition make it easier for sailors who want to take a purchase out of the vang system."
The A2031XHL-873 has a breaking load of 1000kg and comes with a removable clevis pin.
Szymon Matyjaszczuk Crewing Tips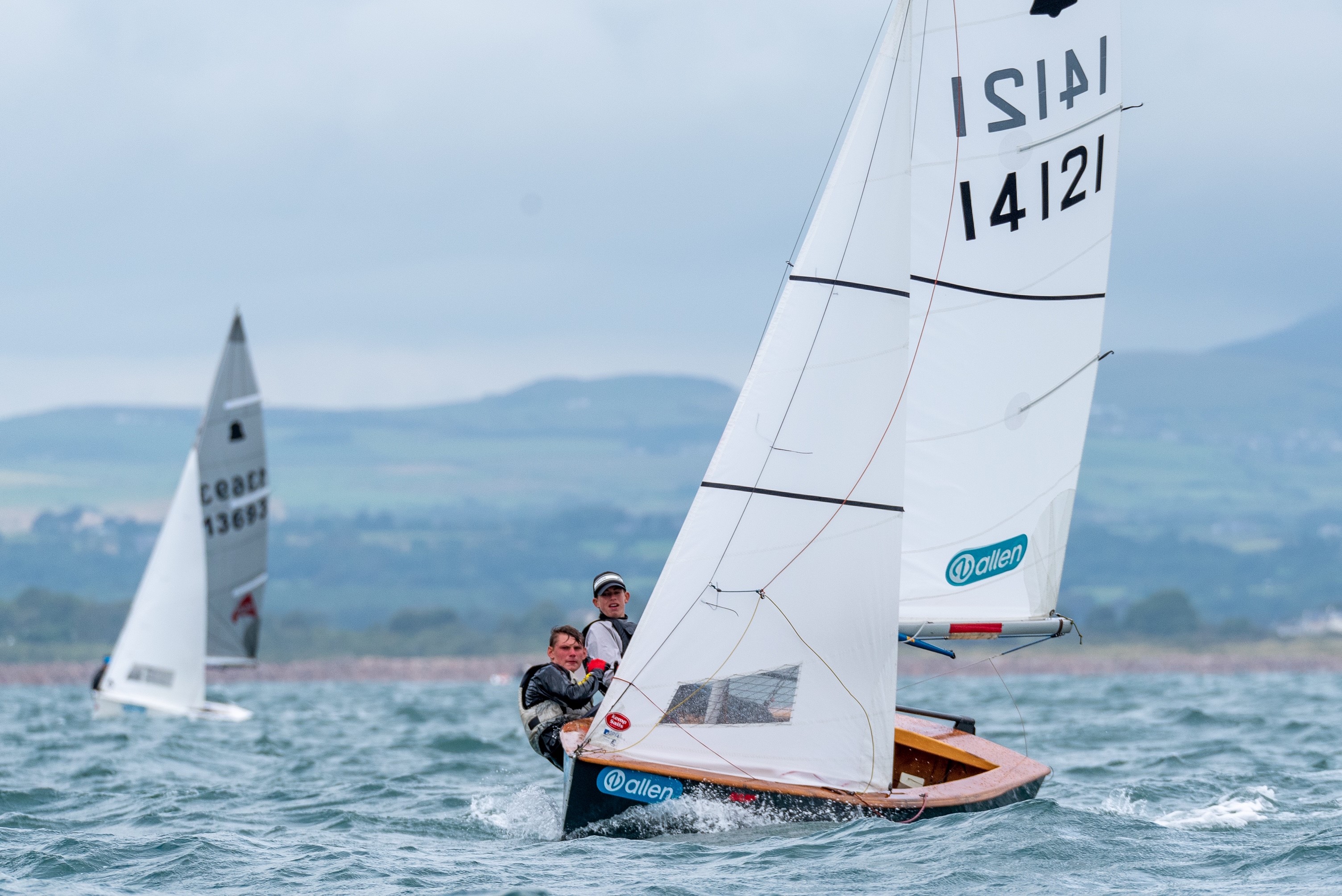 There is no one way of crewing, and the roles a crew must deliver from boat to boat differ but some fundamentals remain the same whether its sailing a 49er or the GP14. Now before I start I do not claim to be the expert on crewing as my journey and development is still growing, also I don't expect everything I will write in this article to work for everyone. But, nevertheless here are some of my views on how to improve your crew work in and out of a GP.
My first tip would be to practice manoeuvres.
This may be quite a generic tip, but it is so key as it needs to be done properly. This should be done by talking to your helm about each step of every possible manoeuvre. For example, coming up to the windward will look out for the next leg driver which will influence how the upcoming manoeuvre will play if its straight hoist the crew should prep the pole, twin and pull the guy so that the kite can clear the genoa or jib, then the crew should ease the kicker  and put the board up to ease the bear away and helm should put the kite up as soon as possible and it's the crews job to get the pole out as quickly as possible, if it's a reach hoist the helm and crew need to communicate to hoist the kite at the same time as there is a moment where putting the pole on is quite easy with this method. Now the reason I believe practicing manoeuvres is so crucial is first it will improve your sailing dramatically if you can have near perfect manoeuvres it also gives you confidents within the boat and gives you more options on the racecourse.
My second tip is to sail as many boats as possible with the best people you can find
This is the one tip that has improved my sailing the most, as I believe this has given me the most experience. Which in my opinion shapes a good crew as they are able to foresee different situations that may not happen so often within a class. For example on the start line 420s are extremely manoeuvrable meaning there are many different manoeuvres that can help out with holding a good position on the line. But to contrast this when I jumped into a merlin which is the complete opposite where doing a double tack is extremely risky/ near impossible in the last moments pre start, The merlin taught me to pick my spot on the line carefully and how to have accurate jib work.
My third tip is to have confidence in your controllables
This one is sometimes forgotten but keeping fit will help you make better decisions throughout any race day. Keeping your equipment working and too your preference will improve your ability to perform manoeuvres to your best ability, one addition that has made the biggest difference within the GP has to be adding an Allen ratchet to the genoa as it means I can play the sheet up wind easily reducing my fatigue during the day, This also lets you achieve the right leach tension in strong winds with ease. Also make your systems within your boat easily fixable as within the GP class we don't have coach boats and support boats that are going to carry all your spares.
Fourth tip is comms
Comms are so important but are very different within each boat, they are very dependent on who does what within each partnership. The main comms that a crew should be feeding into the helm are your position in comparison to others, shifts, pressure and speed compared to other boats as this will help you with your decisions on the course and what mode to sail in.
In my opinion time in the boat and experience is the best way to improve your crewing and playing around with different techniques will take you the furthest. Don't be afraid to explore and ask other sailors why they do things in the way they do. But if you try a wide range of techniques and methods, then you will realise what works for you or the boat your sailing.
Pascoe Takes Another World Title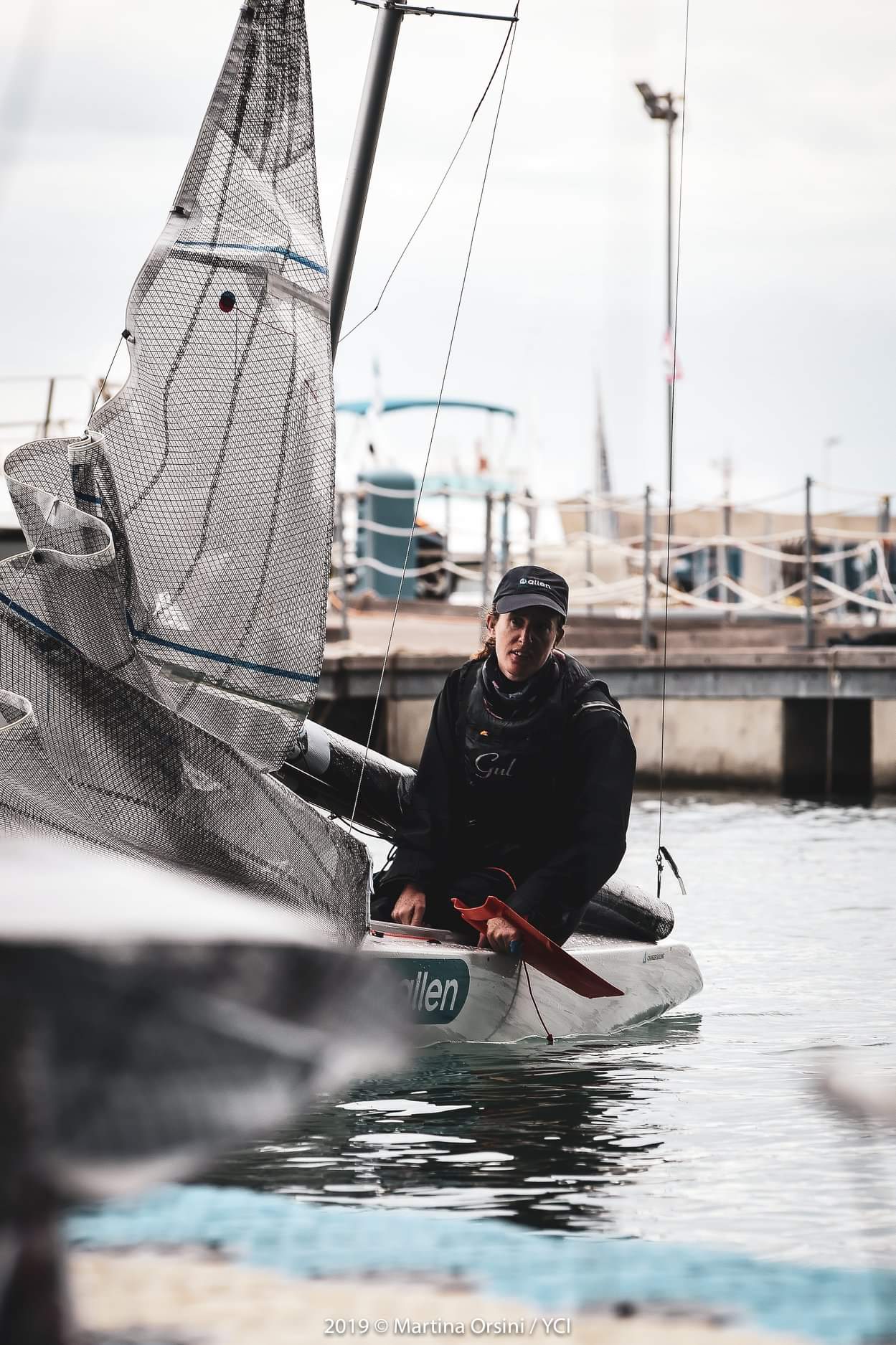 Team Allen sailor Megan Pascoe has claimed another 2.4 World Championship title! Read about her time at the event below
Nearly 80 boats arrived in Genoa at the Yacht Club Italiano for the 2.4mR World Championships last week. Multiple world champions were within the fleet with only a handful of the top sailors absent. Registration and measurement were easy and we all left for the practice race. We had an offshore breeze and a nice 7 knots. By the time we had got halfway up the beat the wind disappeared. If this was a sign of things to come we were in for a long week.
Turning up on Tuesday we looked out to sea to big waves and big breeze. When even the tug boats were going underwater staying on dry land seemed safer. After a thoroughly entertaining day of putting the world to rights we hoped Wednesday would be better. It was and the fleet left the dock in what we thought was a nice 8 knots, or that's what the forecast let us believe. What we really had was 16 knots and big waves. 3 races were sailed. Having not been in those conditions for a few years it was nice that I seemed to have a bit of pace. I finished the day with a 1,1,2. With a few of the top sailors already collecting letters and the chance of 2 discards being slim, it was going to be an interesting series. The usual players were at the top with Marko Dahlberg from Finland putting in a 2,2,1 showing that he is still one of the fastest in the breeze. Stellan Berlin from Sweden with a UFD and two other results in the top 4 was showing why he is a multiple world champion. Paralympians Heiko Kroger and Bjornar Erikstad were going well but both with a UFD a DNF, they were going to struggle to get to the top.
By Thursday no one believed the forecast and after a delay we went out in 12 knots with slightly fewer waves. Stellan left us all in his wake with Marko and fellow Fin Rikard Bjorstrom making the top 3. As we crossed the line we found that Stellan had a UFD making it look like it was going to be a two horse race between Marko and I. We tried a start for race 5 under a black flag but with a 90 degree wind shift and a large black cloud the race was abandoned up the first beat and we went home. It was difficult to see if we were ever going to get a series in. After the cloud passed we left the dock again and had the 5th race in a nice breeze. Heiko took the race win, I finished second and Fia Fjelddahl in third cementing her place inside the top 3. Marko made a rare result outside the top 3 setting up an exciting last day.
Friday was 16 – 20 knots with the waves as big as usual. It was going to be a big day to end it all. I was having a good race with Heiko and Antonio from Italy in a building breeze and I managed to beat Heiko up the last beat. With Marko in 4th, I had one hand on the trophy. The wind dropped enough to encourage the race committee to run another race. It was getting windier and windier as we went up the first beat. A rain cloud came in and a few of us headed to the spreader mark instead of the windward mark. Antonio went the right way and walked away with the race. With the wind on the fleet's limit, we went home and that was the end to a very entertaining series. I was very happy to win my second world title. It was great to do it with my parents watching and so many British and Irish around. The 2.4 fleet is a great fleet to be part of with a varied group of people. The top 4 were from 4 different countries, a mix of female and male competitors, able-bodied and disabled, 3 different sailmakers and 2 different mast makers.
An Aussie asked me what the secret of the week was. Some suggest it might have been the longer keel but with most of the other boats on standard keels I'm unsure of that. With sail set up I set up with more twist to get through the waves. Depowering more to get the boat balanced so you can steer through the waves. Then it is just concentrating on the steering to keep the boat going. Finding the windward mark is always useful as is being able to see the flags! An electric pump that is reliable is a simple win but an important one that can save you from joining the submarine core. The last point is sending it downwind. Learning to steer around the waves and getting the pump in the right place.
But most importantly is having reliable kit! So a thanks must go to Allen for ensuring my boat is fully sorted.
All in all a great way to end 2019.
Photos courtesy of Yacht Club Italiano.
Sailing the Allen Academy Optimist – Patrick Bromilow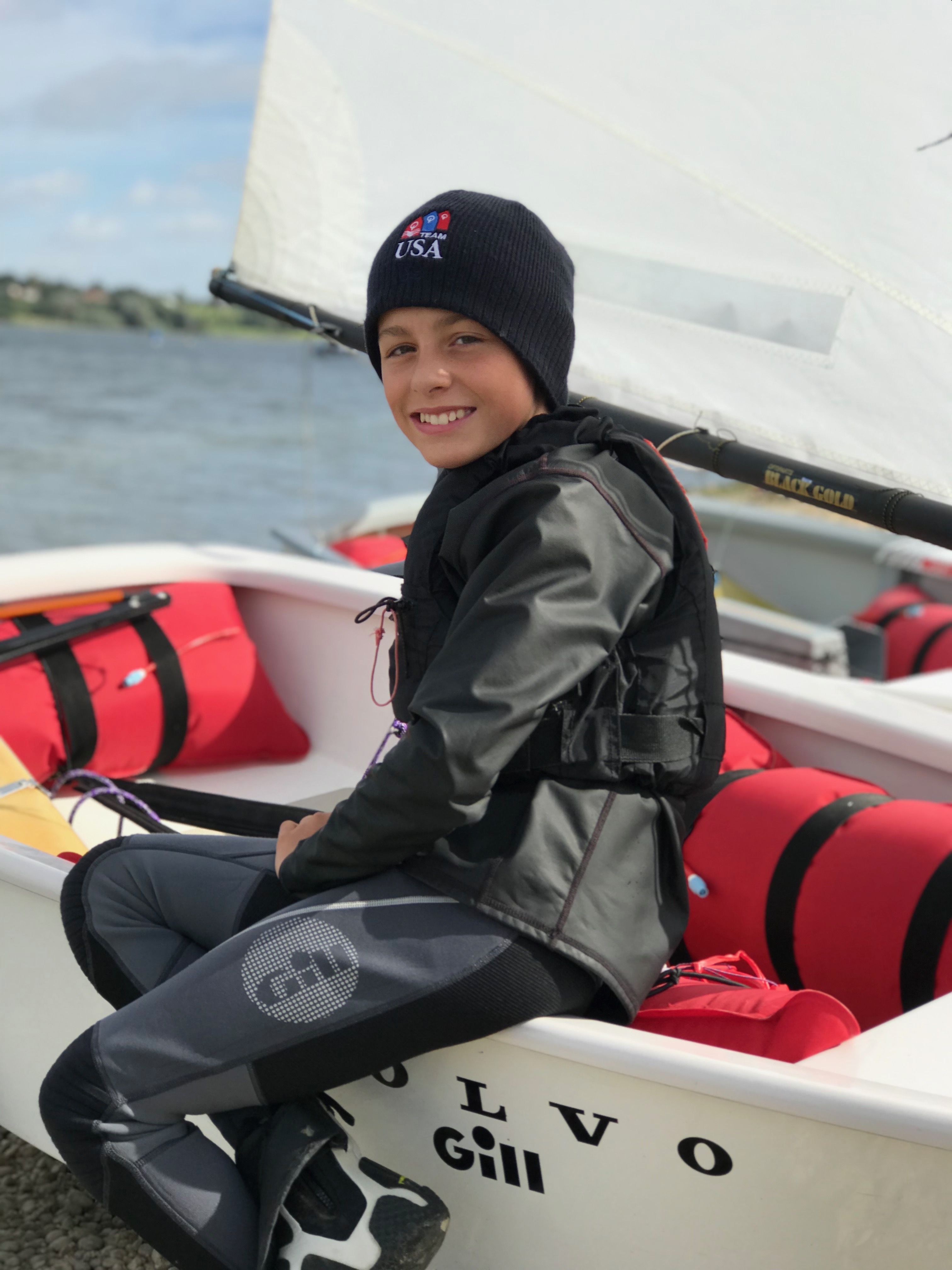 I picked up the Allen Academy optimist on my way home from the Magic Marine Easter Regatta in Braassemermeer. I was very excited and super happy to have been picked to sail the optimist this season.
As soon as we got home, I went sailing in it at my local club and it felt great. I went to a few local travellers' events to get used to the boat before getting ready to sail in the first ranking event of the season, which was the Inland Championships at Grafham Water. I decided that I wanted a new sail for my weight, as I had been sailing with OneSails before I got the Allen boat, so was very happy to receive a OneSail Light from OneSails UK. I was excited to be going to race in a big fleet with the new sail and boat. Unfortunately, when we got there, there was no wind for the entire weekend, so no races were sailed at all! Everyone was very disappointed, especially me!
Next chance for big fleet racing was the Oppi Nationals at Weymouth and Portland National Sailing Academy. I was looking forward to this whole week of racing. I was a bit disappointed with my results overall for the Nationals. I made gold fleet, but I felt that I wasn't sailing as fast as usual. It was very windy most days, and I struggled to flatten my boat in the gusts, and the boat kept stalling in the choppy conditions. This regatta left me wondering what was wrong with my sailing, and I had lots of chats with other sailors, parents and coaches about what could have been the problem.
Next up was the Irish Optimist Nationals in Howth, which I travelled to as part of the junior GBR team. I decided to take my old boat to this event, just to see if there was a difference in my boat speed. This was another very windy regatta, with a couple of days spent ashore due to the high winds. However, the days that I did sail, I felt a bit better than at the British Nationals, but I still struggled in the heavy gusts to keep my boat flat.
When we came home, after more discussions with lots of oppi parents and sailors, we decided that a new flexible rig in the Allen boat would be a good thing to try. So, I was very lucky to be able to get a BlackGold Flexi rig from Xtremity. It arrived just in time for the Late Summer Championships at Draycote Water Sailing Club, the second ranker of the season.
Another windy regatta! I felt really confident and good about going sailing on the first day, even though it was very windy with big gusts coming through. The first day I sailed really well and managed to keep my boat flat in the gusts, I could see my rig flexing as I kept on sailing. I managed to get a 3rd and a 6th on the first day, but I also got a black flag which meant my discard was gone. The second day didn't go as well, I started with a 13th and then the race after that I capsized, then in the final race I was still thinking about my capsize so wasn't concentrating and ended up with a 33rd. I knew that I could sail fast and do well with the new set up on the boat, so I focussed on those positives.
The final ranking event of the season was End of Seasons at Weymouth. I had left myself with a lot of hard work to do. I needed to do really well at this event so that I made one of the Winter squads. I had been in IOCA squad last winter, so I wanted to go into a higher squad for this winter.
I thought it would be a good idea to do the IOCA pre-event training the week before at Weymouth to give me a good chance of doing well for the End of Seasons. It was a super windy weekend again, but I had a great weekend of training and really got used to the new set up on the boat. I was feeling ok about the following week – apart from the 6-hour drive both ways to get there!
The first day of End of Seasons was raining like crazy, so we all rigged up in the hanger and put our rigs in the rig stands to wait for launch. I was feeling really good about my BlackGold lite spars and my OneSail light, and spent quite a bit of time setting up my rig. We launched in quite light wind, with the race area in about 3 and 12 knots of breeze. The first race I finished 11th, which was ok, but not good enough – I needed to do better! So, I made some adjustments and set up my rig again before the next races. I got a 3rd and then a 5th, so it ended up as a great day on the water.
The forecast for the second day was for too much wind, so we were postponed for a bit to start with, but then we were told to get ready to launch, so we went sailing whilst the wind was about 25 knots. It must have got up to about 35 knots when we were sailing out to the race area – it was so windy! Just before the start, it dropped to about 15-26 knots. I was still feeling great about my BlackGold lite spars and OneSail light, and I could see my rig flexing in the gusts. I had also depowered by de-spriting my rig which helped a lot. We only managed 1 race before the wind really picked up and we were sent to shore. I got a 9th in that race, which I was really happy with. I finished 8th overall and 2nd junior.
I was really hoping from my great EoS results, and my not so good LSC result, that I would get a squad invitation. So, I was really happy when I got the invite to join National Squad for the Winter!
I'm looking forward to a great Winter of training with my new squad, with some of my friends. The pressure is off now for a while. The next event is the Winter Championships at Datchet, which is always great fun and I'm excited to race, now that I've got the boat really sailing fast for me and the set up is really great!
Endeavour Trophy 2019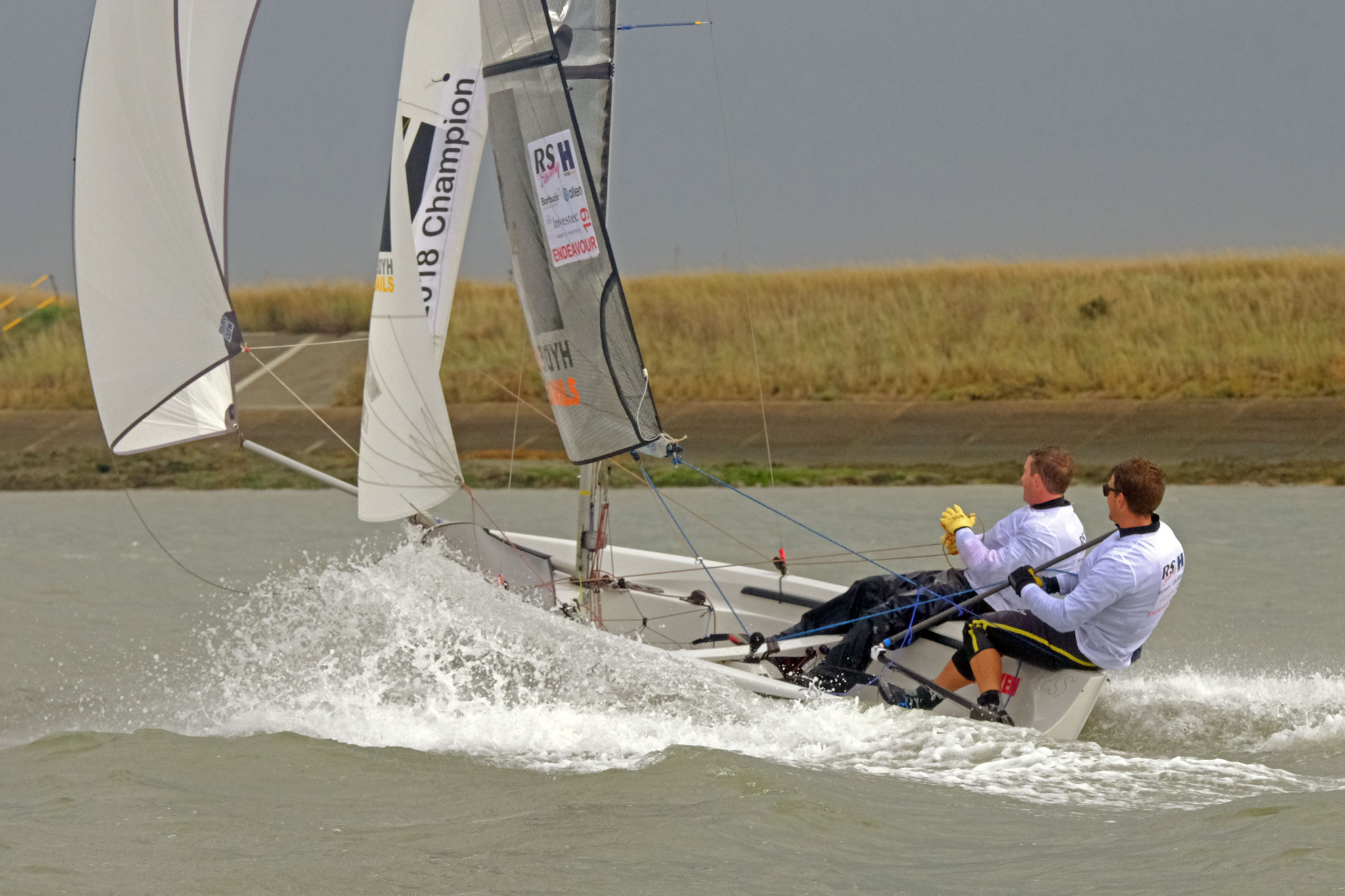 Saxton and Lewis made it an incredible 5 in a row this weekend at the 2019 Endeavour Trophy. Highlight videos and full report below.