Dylan Fletcher Gold Medallist Interview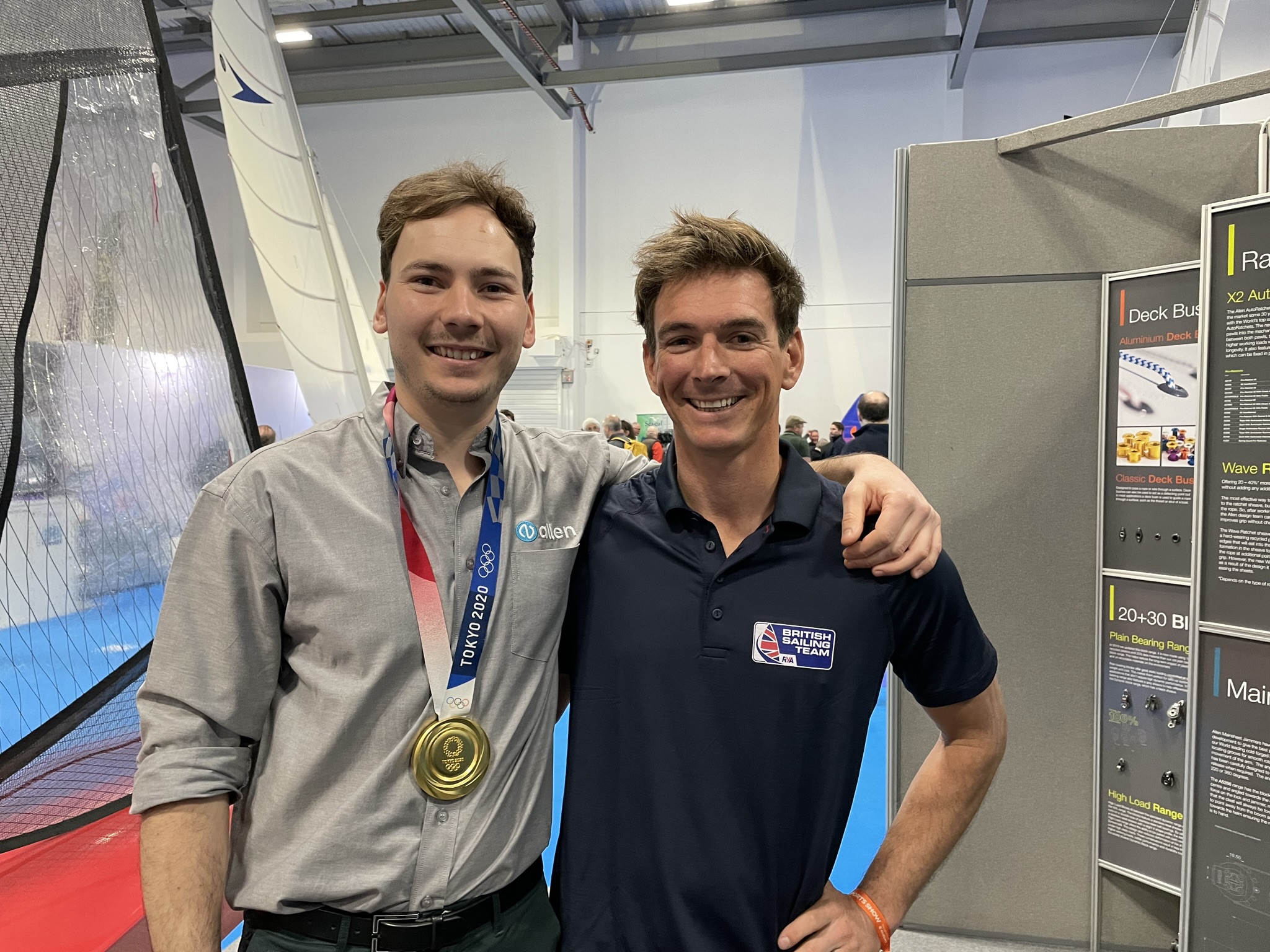 Back in 2021 Team Allen sailors Dylan Fletcher and Stuart Bithell took the win in possibly one of the closest ever finishes in 49er Olympic history. The pair snuck in front of the Germans in a photo finish. The result was an Olympic Gold Medal.
Dylan joined us on our stand at the RYA Dinghy and Watersports Show to show us his medal, share his thoughts of that nail-biting finish and inspire the next generation of young sailors who happened to be passing by! We took a few moments of his time to have a chat about which products he has been using on his 49er and Moth, as well as what his plans are for the next Olympic cycle. 
One of the products Dylan and Stu have helped us to develop on the 49er is the skiff swivel cleat. Dylan wanted a cleat that was at the optimum angle to make cleating and uncleating the jib sheet as easy as possible whilst at different heights on the trapeze, however, the plate that held the cleat needed to be super stiff. So when Stu inevitably stood or pushed on it, the plate didn't bend and change that angle. The result is a stainless steel plate that has been formed with a "backbone" shape to ensure it is super reliable and strong with minimal chances of bending.
Another addition to the skiff swivel cleat after feedback from Dylan, who is the main user of the product on the 49er, was to have a fairlead with minimal friction. So two ball bearing sheaves were added to guide the rope into the cleat. This helped reduce friction in the jib sheet when Dylan was sheeting from extreme angles.
As Dylan explained in the interview, our hardware has come a long way in 10 years and one of the products we are most proud to say has helped push sailboats to new levels of performance is the XHL block range. Originally developed to handle loads of the International Moth Vang system, which at the time was destroying most blocks available on the market. The XHL range is now found across a wide variety of boats and in many different applications.
The XHL range is different from other blocks on the market because it combines our patented dynamic bearing technology with a plain bearing peek washer. This results in a bearing technology that has extreme dynamic performance even after being subject to static loads of up to 1250Kg. Coupling this with CNC machined aluminium side cheeks and precision turned stainless-steel sheave has resulted in a block range that is ideal for vang cascades or halyard turning points where loads can be extremely high.
For more information about any of the products, sailors or information in this post please do not hesitate to contact marketing@allenbrothers.co.uk