Tii-on products are the future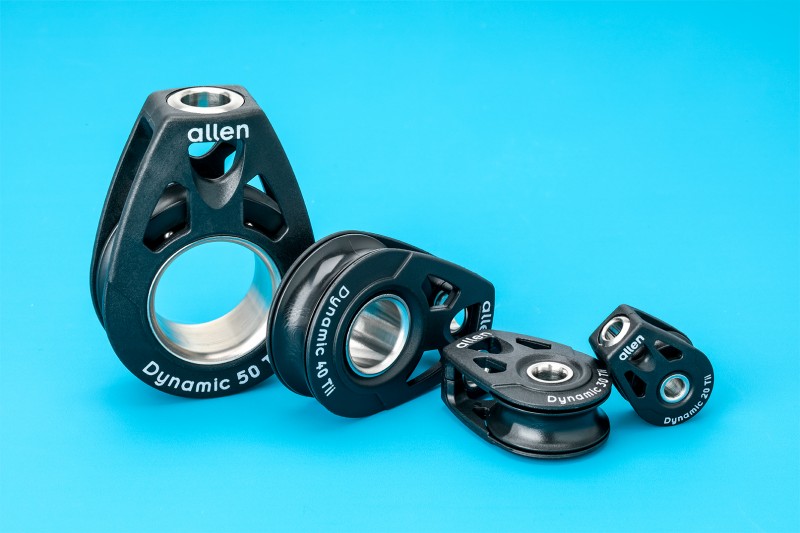 Tii-on products are quickly becoming the go to choice for many hardware fittings. So, in this short article we will list a few of our favourite products, as well as explain when and why Tii-on's should be used.
In this article
What is a Tii-on?
Tii-on is our brand name for products which require a soft attachment fitting (soft shackle/ rope shackle) or must be spliced or tied onto rope to be used correctly.
Rope Development
Rope development plays a huge part of why Tii-on fittings are becoming so popular. Rope manufacturing technology has evolved over the years and as such there are now many different types of rope to choose from. Thanks to these developments by the rope manufacturer's, rope is also now extremely strong. Gone are the days of needing 12mm + rope diameters for halyards and mainsheets.
3mm SK99 Dyneema® can be found with breaking loads of 1000+ Kg's. Dyneema® is also 7 times lighter when compared to wire at the same strength. These developments mean wire running rigging which is commonly found in vang systems can be changed to softer, lighter, but just as strong, Dyneema®.
Why use Tii-on products?
As sailing has progressed through the years we are seeing a bigger demand for stronger, lighter and more performance orientated hardware. So, naturally development took the path of removing the metal attachment points and metal shackles from blocks to reduce the weight and size. But then you are left with the problem of how to attach the product. Rope was the answer.
Rope is much easier to work with for the average sailor than wire. A simple knot can be tied around a block rather than having to bend and crimp a wire. Dyneema® can also be spliced to create continuous lines or loops, resulting in even more attachment options and uses. Splicing rope also removes the chances of snagging as their is no knots, crimps or anything protruding. We also think it looks much cooler!
Now that we have created products designed specifically for attaching via rope or Tii-shackles it has allowed sailors to create much more efficient control systems, which are lighter, stronger and more compact than ever before.
Super versatile, light and strong. The Tii-shackle can be used in a wide variety of applications, from attaching blocks to attaching sheets to a sail. Tii-shackles are easy to use as there is an adjustable loop at one end and a diamond knot at the other. Simply put the diamond knot through the loop and pull the loop tight to secure the shackle. Once tight the shackle cannot be undone unless manually threaded loose.
A Tii-shackle is much lighter and softer than a metal alternative, making them ideal for applications which could slap against a deck, mast or person!
Tii-Shackles offer more articulation than a metal shackle allowing blocks to align better when under load. However, they are not ideal for attaching to something with a sharp edge as Dyneema® is more prone to chafing.
We have designed the range of Tii-shackles to suit our range of Tii-blocks, so if you aren't confident with your tying or splicing skills then this is the option for you.
Tii-On Blocks 
Featuring our patented dynamic bearing technology of stainless-steel ball bearings running on a stainless-steel rails, the result is an unsurpassed performance under load when compared to others available on the market. The Tii-on block range is available in sheave sizes from 20mm up to 60mm and offers a large weight reduction when compared to the standard dynamic block range. What differentiates our Tii-on blocks from other tie on designs is the large stainless-steel ring at the head of the block. This ring is designed to stop the block from capsizing once spliced into a system as well as reducing the chance of the cheeks splitting apart. However, when splicing these blocks to an attachment that is wider than the block, a boom for example, it is still recommended that a cross splice is used to reduce the outwards load put onto the block.
When attaching a Tii-Block it is vital that you go through the loop in the head of the block, around the central axle and then back out through the loop at the top. The Tii-block range must be tied like this otherwise it will fail. The central axle is supposed to take the main load of the block. The central axle in the Tii-Block range is also designed to be used as a becket to give a wider range of cascade options.
We have recently developed and launched a new version of the 20mm Tii-on block. The new A2020Ti3 loses the stainless steel ring at the head of the block and is flared out instead. This design change is to help with usability of the block. Although rope dimeters have become smaller we have found that the user still prefers to over spec rope to ensure there is no chance of failure, therefore to ensure larger ropes can still be used with a smaller block we have increased the gap at the top.
High load thimbles are perfect for splicing into a system and are generally used in applications where there is a high static load or at the end of a control line to adjust the angle of a sheet.
High load thimbles can be used in either orientation, with the splice around the outside or through the middle.
Pad-Tii's are a great choice if you are looking to add an attachment point to a surface. They offer minimal protrusion yet are easy to thread rope around and give a strong, solid fixing point for any fitting.
We have two versions of the Pad-Tii but the fixed Tii-Bar version is our simplest option. Installation is easy as there are only two pieces, to install you simply push the threaded through deck piece into the required fitting surface. The nut is then screwed on from the underside of the mounting surface, both pieces can then be tightened using a pair of circlip tools. For complete water tightness, it is recommended a small amount of sealant is used.
Once the product is installed it leaves a smooth attachment point with minimal protrusion. The inside of the Pad-Tii features a domed shape to make feeding rope around the Tii-Bar extremely easy.
By combining the Allen patented dynamic bearing technology with a plain bearing peek washer we have created a bearing technology that has extreme dynamic performance even after being subject to static loads of up to 1250Kg. Coupled with CNC machined aluminium side cheeks and a precision turned stainless-steel sheave the range is perfect for use in vang cascades or halyard turning points where loads can be extremely high. These applications are also where you historically find a wire line, so instead Dyneema can be used to create simple cascade systems. The "ears" of the XHL range stop the block from capsizing and keep the load centred through the block.
Our traveller cars are CNC machined from extruded 6082 grade aluminium and feature recirculating ball bearings to give a durable, strong and smooth performance every time they slide. The 3 different sizes are available in a special Tii-on design which allows for a much lighter and lower profile car. Fittings can be tied to the middle or side bars to allow for traveller car control lines to easily be installed.
Dog bones are a great Tii-on accessory and can be used in a wide variety of applications.
Soft shackle – If you cant tie a diamond knot but need to make a soft shackle then try using a dog bone. Simply splice a loop in one of a piece of Dyneema, and then splice the other around a dog bone. Put the loop over the dog bone to create a loop that wont come undone and can be used for shackling pretty much anything!
Quick Release – have a control line which needs to be attached and undone when you rig and de-rig the boat? Rather than tying a knot every time, spend 5 minutes splicing the rope to a dog bone. The dog bone can then be pushed through the eye on the sail and will lock into place once through. It can then easily pushed back out when you want it undone. Resulting in a quick and easy attachment!
Stylish Ball Stopper – Replace plastic ball stoppers with a stylish metal dog bone, either tie around or splice around the dog bone.
Dog bones are CNC machined from marine grade aluminium and then anodised in 6 colours to allow you to add a personal touch to your control line systems.
To find out more about anything in this article or for more advice on how to attached a Tii-on product please get in touch with the Allen sales team – Sales@allenbrothers.co.uk – +44 1621 774689