Allen Endurance Series 2022 – Solent Forts Race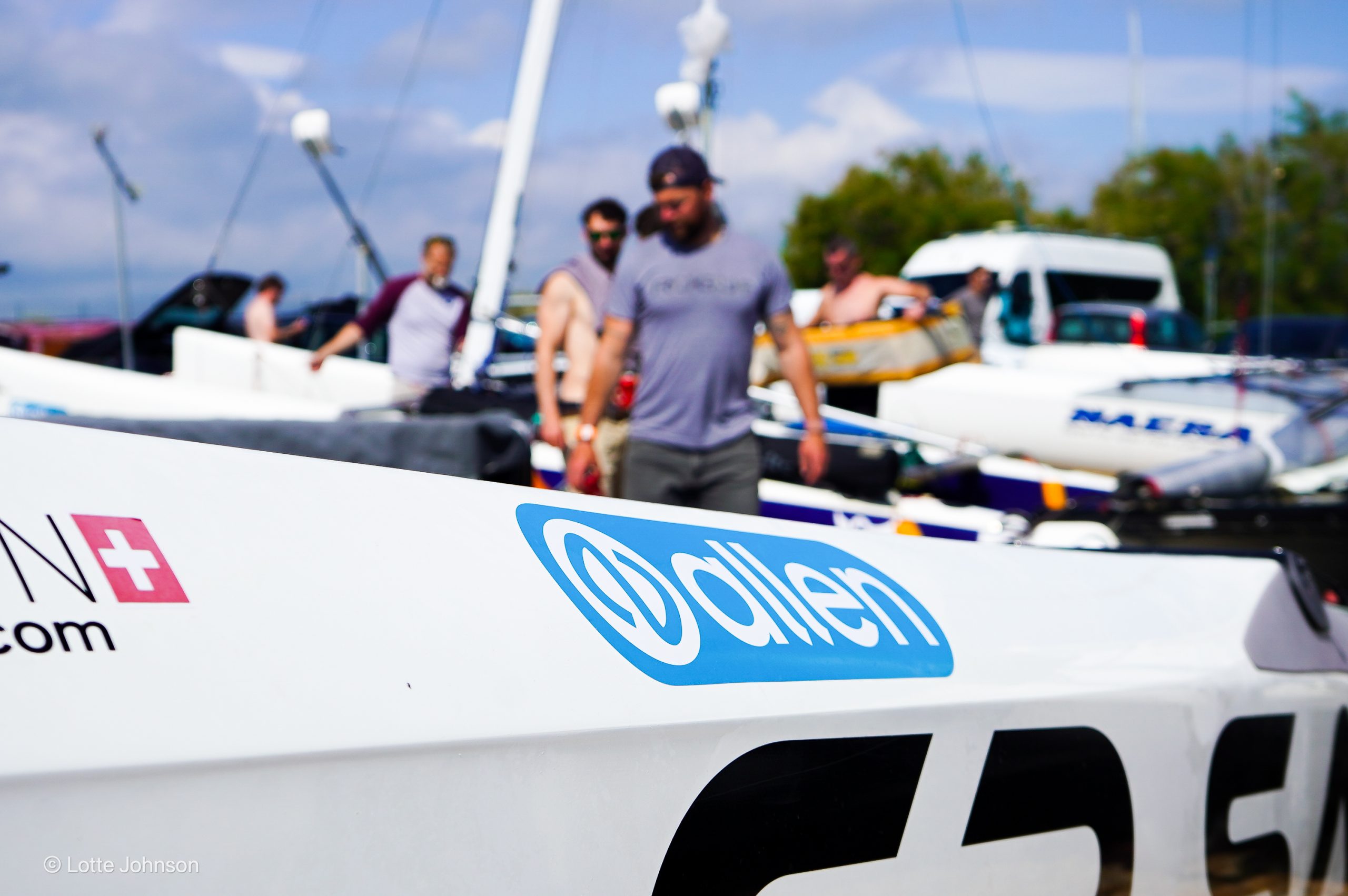 The Solent Forts Race is a long-distance event held in the Eastern Solent, run by Hayling Ferry SC from their base at the entrance to Langstone Harbour on the southwestern corner of Hayling Island. It is one of the founding events of the Allen Endurance Series, and is open to qualifying multihulls and monohulls. The event is sponsored by Allen, Nacra and GP Sails.
For the first time in its ten-year history, high winds forecast for Sunday forced the Race Officer to pull the event forward to Saturday, holding it on 25th June in place of the usual practice race.
The Solent Forts Race comprises a series of legs with the fleet sailing to a mark then back to a turning buoy at Langstone Harbour entrance. Following the start (also at Langstone Harbour entrance) the first leg out to the Winner south cardinal and back (a straight-line round-trip distance of just under 5 nautical miles) took the first boat in the 9-boat fleet (a Nacra Carbon 20 catamaran) 34 minutes in the Southerly F4-5 conditions.
The second leg was to the Nab Tower and back, a 15 nautical mile round trip (as the crow flies) with the wind increasing to Force 5 and building seas. This leg saw the first retirements: Sunnocks/Self (fresh from their 5th place in the Worrell 1000 sailing as Team Allen) pulling out with a damaged rudder, and the Nacra Carbon 20 of King/Risk with a broken spinnaker pole. Interestingly the support boats (all RIBs) were only able to manage 6-8 knots in the swell, whereas the competitors were able to sail at typically twice this speed upwind and 3 times as fast downwind.
The next leg to Spit Sand Fort saw the retirement of the only monohull in the race – the RS800 of Howe and Williams, pulling out with sail damage following a capsize.
With the time now 17:30, the Race Officer decided to shorten the course by removing the leg to West Pole (off Chichester Harbour), leaving the fleet to repeat the leg to Spit Sand Fort before finishing the race at Langstone Harbour entrance.
Line honours went to the Nacra Carbon 20 catamaran 'GP Sails' of Piggott/Cotgreave who finished at 18:11, completing the course in 3hrs 11 minutes. The last boat to finish crossed the line at 19:06.
The winner of the 2022 Solent Forts Race (on handicap) was the Formula 18 catamaran of Neal/Farren, winning every leg except the last on corrected time. The single-handed trophy was won by the Unicorn catamaran of 2022 Unicorn National Champion Dan Jarman.
Photos of the event are available from Lotte Johnson Film:
https://www.lottejohnson.com/solentfortsrace2022
The event used GPS tracking provided by SailRacer and this can be viewed at:  https://enter.sailracer.org/eventsites/live-screen-tracking-club.asp?eventid=223751&labels=S&templ=club_tracking
Allen Endurance Series Results – Overall
SHOP CATAMARAN HARDWARE