Billy Vennis-Ozanne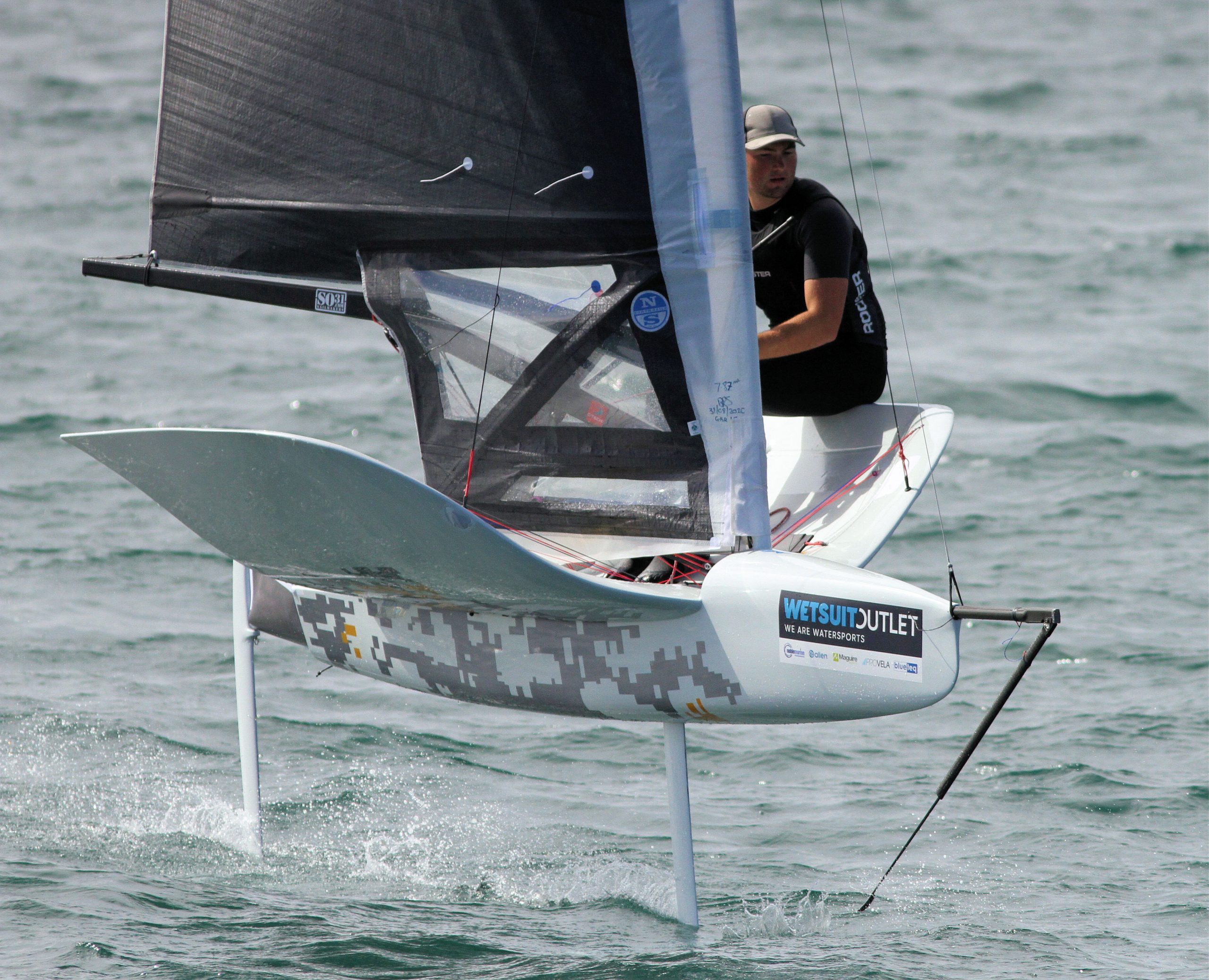 2020 Update:
What a year 2020 has been.
It started at the RYA Dinghy Show for which I had to prepare my new International Moth – an Aardvark Rocket – to be displayed on the Zest Boatworks stand, completely bare, to highlight the fantastic paint job they did. Once the show had finished it was a quick pack down to get the boat back to the shed and fully fitted out with its new Allen hardware. Some of the hardware includes the anodised XHL blocks and through deck bushes, which I feel really make the paintwork pop, and adds another layer of personalisation that i really relish. I take a lot of pride in how my boats look, a good looking boat is a fast boat!
Once she was ready and rigged in the workshop, well, we all know what happened, so she was parked in my front garden for a while teasing me to go sailing.
Being released onto the water after such a wait made it all worth it. I managed 2 weeks of training prior to the UK Moth Nationals, which as a class we were very fortunate to be able to run. What a week!! Finished on a little high by leading to the top mark in the last race. An awesome 3 weeks of intense racing and training with some top guys and girls.
I've been actively looking for a new team-mate in the 49er after going sperate ways from Nick, with whom I had a successful 4-year sailing partnership. Fortunately, while talking to fellow Team Allen sailor, Dan Budden, it came to light that Jack Lewis was looking to start 49er sailing. Jack and I have sailed together in the past, right at the beginning of my journey with Allen – Back when the maybe unknown custom 'Alien' stickers donned our RSFeva in 2013 for a couple of events.
Fast forward a month, a couple of sails and a new old team was formed. We've been extremely fortunate to be able to sail over winter getting in as many hours as possible, We look forward to the summer events once we are all allowed to travel a bit more.
2019 Update: Billy Vennis-Ozanne was at the Allen supported J70 Worlds, so we had a quick catch up. Check out what Billy's been up to and what he thinks of the A2020Tii blocks.
2018 Update: We have now finished most of our winter training and are on our way to Palma which starts end of March. Princess Sofia is one of the first big events of the season and this year is no exception for lack of boats. I believe there will be almost 100 49er's entered and then there are many other classes too. It has been great this winter as this is the first time we have trained outside of the UK during the winter months. Our training base has been Vilamoura which has been incredible as many other nations like us decided to train somewhere warmer. I haven't had to put on a winter wetsuit once. Our kit has worked wonderfully I am especially pleased with the new auto ratchets, we have them for our kite sheets and with a combination of me getting stronger and using them it has been a less forearm intensive winter.
2017 Update: 2017 was a successful year for Nick Robbins and Billy Vennis-Ozanne so far. Starting off by improving on their result in last year's RYA Youth Nationals with a Silver in the 29er Class at Hayling Island, The Team Allen sailors fought down to the wire in a close match, but were ultimately unable to better the performance of James Hammett and James Eales. they then went on to the 29er Worlds in California where they sailed most of the week ranking in the top 7 but an unfortunate last day saw them drop to 14th overall. With barely enough time to get over there jet lag they where back to the UK for the Nationals at WPNSA. With conditions suiting them they managed to top off a winning week by winning the last race of the regatta. The 2017 season finishjed with 2nd in the 29er Nationals.
Interview with Yachts and Yachting.com