Allen OK National Championship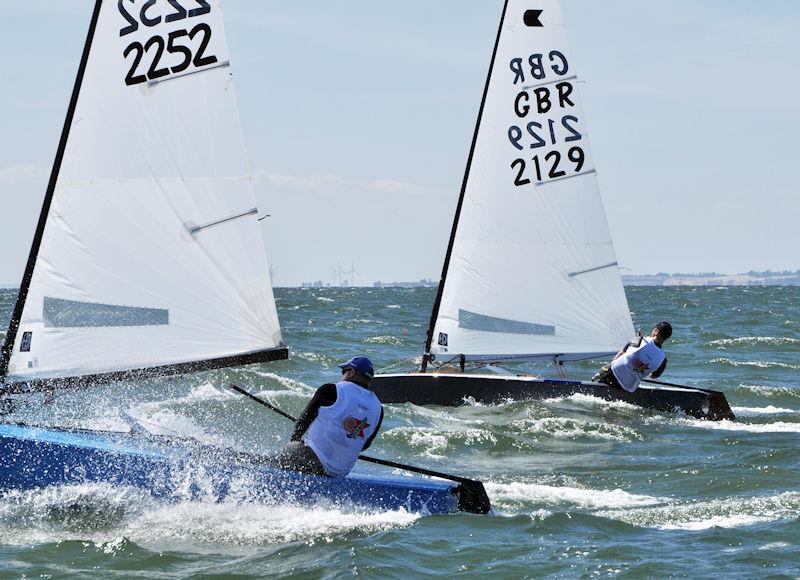 A more than OK time had at Herne Bay.
The Allen Sailing, OK Nationals were hosted by Herne Bay SC from the 14-17th of June. With a few notable OK regulars absent, the National Championship was setting up to be a very open event with several potential winners. This was indeed the case, with lots of different faces at the front of the fleet and a different race winner each time.
Thursday dawned with a light 5kt NNE breeze. A quick 1 lap practice race took place, to get the race team and mark layers ready to rumble – with the light forecast for the weekend there was plenty of action for the race team – who did a brilliant job in challenging conditions!
R1 started with some pin bias and a late arrival – Luke Gower. He timed his arrival to perfection, cruising up the start, winning the pin and crossing the fleet on port. Paul Childs worked up the left and Russ Clark the right. Both boats came in closely together at the top, with Russ sailing off for a comfortable win, followed by Childs and Alex Scoles 3rd.
R2, the wind swung 75 degrees to the right as the Sea Breeze arrived. With the tide turning it was a short beat. The breeze built to 12kts and a frantic 4-lap race ensued. Jim Downer in his home-built Leech showed fantastic pace – especially downwind to take the win, followed by Ben Harden from sponsor Allen. Alex Scoles completed the top 3.
Jim Downer led the day on 6pts on countback from Alex Scoles with Russ Clark and Patric Mure (our local Swedish friend) and Ben Harden all joint on 8pints.
After a tight first day, the fleet headed back to shore to enjoy some top hospitality from the kind members of Herne Bay a great BBQ and keeping the bar open until the fleet had had their fill of local Ale.
Unfortunately for day 2, the wind did not play ball however the ice cream and swimming in the sea was delightful. The class dinner that evening gave the fleet a great chance to catch up, hold their AGM and regale each other with old stores and drink more local ale – something the OK fleet is especially good at!
Saturday, was a day to be remembered! Champagne sailing, blue skies and 3 long races.
It left some sailors battered and bruised – the 'Rudder Sweep' may not be a good dance move in the nightclubs but has left most sailors with a black and blue bicep to remember Herne by.
With the arrival of Ex World Champion Jim Hunt with his radical-looking self-built boat, there was another quality sailor added to the fleet and Jim showed that he has still got it!! Hunt, Childs and Richard Burton battled it out over a 70 min triangle-sausage race in 15kts with lovely waves to play in. There were smiles and banter flowing around the track. Although a close race, the top 3 stayed the same all the way around with Hunt stretching out a comfortable lead.
R4 started in a similar vein. Childs led Hunt through the finish after the triangle-sausage course, delighted to take the win. Unfortunately, there was still another triangle lap to go and they were the only ones who beam reached across to the 'finish'. After realising there was still a lap to go, Hunt went in and Childs somehow recovered his composure and managed to keep Burt and Russ behind.
R5 and the wind eased off bringing some fresh faces to the fore. Luke Gower once again pulled off a port flyer, but Clark led to the windward mark followed by Burt in 3rd. Gower then proceeded to give a masterclass in downwind sailing. We are not sure how he does it, but boy is he fast on a run! The top 3 stayed the same with Childs just pipping OK International Secretary Robert Deaves, back in the OK for his first nationals in a few years, taking 5th.
The sailors returned to shore shattered, where Russ Clark led a debrief, having tips inputted from Jim Hunt, which was brilliant! The OK fleet is such an inclusive fleet, everyone took a couple of gems away from the chat – it was much appreciated by all.
At the end of the day Childs had taken the lead on 9pts, Russ Clark had 10pts and Richard Burton had a storming day, jumping up to 3rd with 17 pts. With two more races to go everything was still wide open.
Sunday dawned and it was all to play for. 2 races were scheduled, but would the wind gods allow them both to happen? Childs was nervous as if it was 1 race it was between Clark and himself and if it was 2, Burt, Downer and Mure also all had a chance!
After a delay, it became apparent it would be a one-race day, which meant it was match race time…! If Childs could beat Clark he won, or if both counted their discards, Childs won on countback. Off the line, it was looking good for Childs and both sailors headed right up the first beat, looking mid-fleet. Unfortunately for Childs Clark turned on the afterburners and the wind bent right.
Ben Harden led, followed by Mure, Simon Davis and Russ Clark with Childs further back. Clarke's afterburners were well and truly on, moving up to second. With Childs deep his only hope was to coax Clark the wrong way up the beat, so he rang the left-hand bell, Clark was much too wise to completely follow, but did some way – dropping places.
Harden led from start to finish, Gower 2nd and Scoles 3rd.
With Paul Craig having a storming last lap, it was tight… Childs was counting sail numbers as Clark crossed the line in 6th, sailing an excellent race and series, he took the regatta win by 1 point. Burt, unfortunately, couldn't take part on Sunday, allowing Patric Mure to take 3rd after an excellent series.
With 6 races and 6 different race winners, plus more who could have easily taken a win and several notable absentees, the class is in truly strong health. A mix of some new, young sailors and experienced older heads really show why the OK is so healthy – a great fleet to race in. Tight racing, but friendly and with good camaraderie and a wide mix of helm height and weight show why it is such a great boat to sail.
Herne Bay, the Race Team along with PRO Ben and Veronica Falat put on an excellent event. It is lovely to sail at a club that put so much effort into hosting a championship and make each and every competitor welcome – thank you so much to everyone who made this event happen!
The event was supported by our valued sponsors who helped not only with prizes but significant support behind the scenes and our thanks go to headline sponsor Allen Sailing (whose Ben Harden took 6th and won the last race), Fernhurst Books, Ovington Boats, Noble Marine, HD Sails and North Sails.
Russ Clark sailed an exceptional regatta, always in the right place and with speed all around the course. He was a truly worthy winner and gains the honorary right to sail as GBR 1 in the build-up to the 2023 Worlds in Lyme Regis. Clark commented after the event that "I'm really proud to win the Allen 2022 OK National Championships. The honours on the winner's trophy go back to 1961, which is very special, with some great names engraved. I had some tough racing against strong competition and I'm now looking ahead to the European Championships in France in September."
The final word goes to French visitor Yann Vilein who finished 17thwho summed up the welcome from the club and the camaraderie of the fleet "Thanks for all the welcome we received during this championship. I really enjoyed the level and atmosphere of this championship. A big thank you to the other competitors and volunteers participating in this event."
Overall Results:
1st Veteran – Russ Clark
1st Master – Robert Deaves
1st Grand Master – Mary Reddyhoff
1st Lady – Karen Robertson
Team Trophy – Burghfield SC
Report written by Paul Childs.
Photography by Nick Champion
SHOP OK DINGHY FITTINGS