How To Attach a Tii-On Block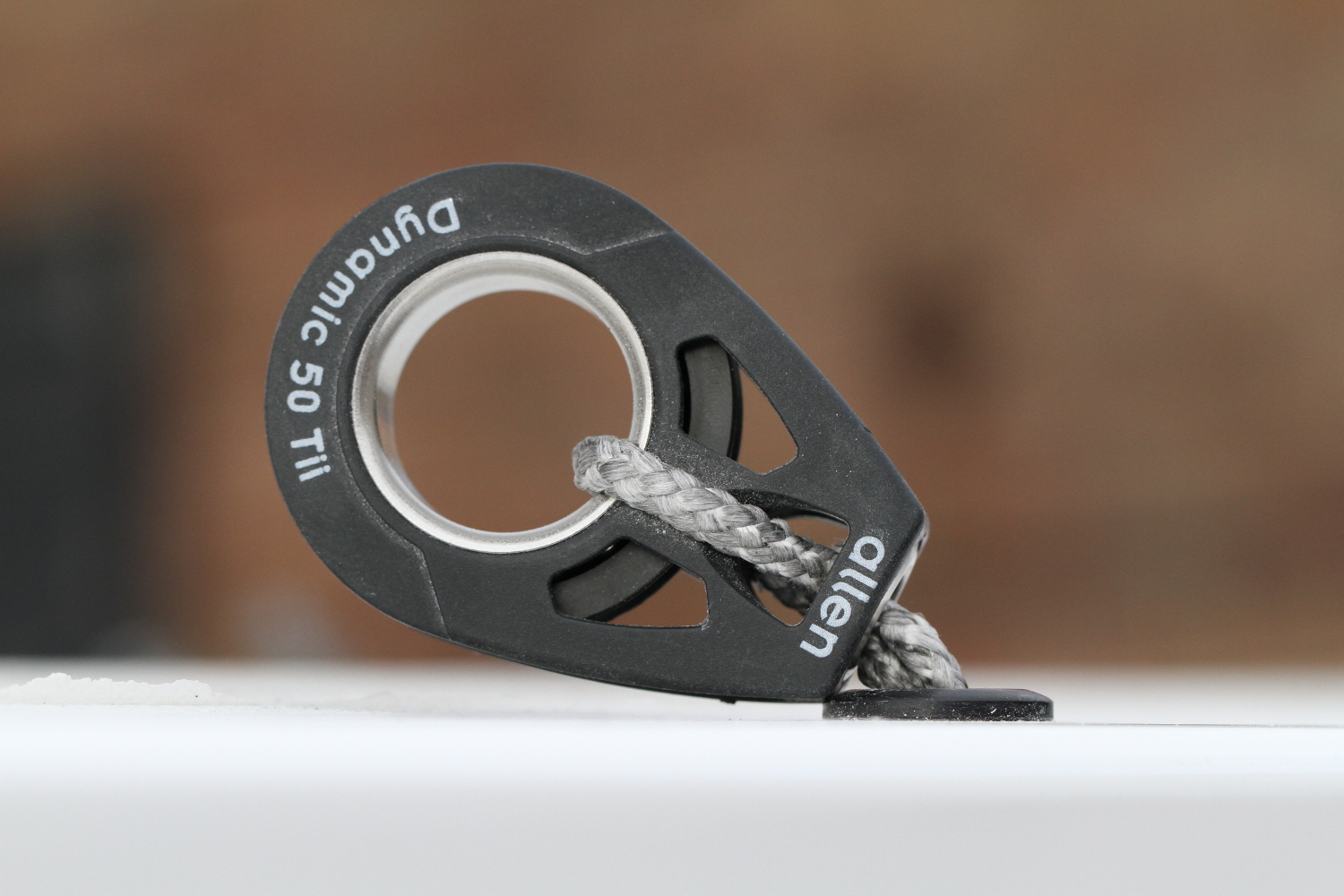 All of our Tii-on blocks are available with a Tii-shackle – a loop of Dyneema which is through spliced at one end and diamond knotted at the other.
However, it's important that you pair the Tii-shackle and Tii-on block correctly. Otherwise, the block could fail.
It can sometimes be a bit fiddly to get the Tii-shackle around and through the holes of a Tii-on block, so we recommend using a piece of kite line or whipping twine to help pull it through.
Watch the following video for a demonstration of how to use a Tii-shackle, Tii-on block and Pad-Tii.
Why use a Tii-shackle?
Super versatile, light and strong. The Tii-shackle can be used in a wide variety of applications, from attaching blocks to attaching sheets to a sail. Tii-shackles are easy to use as there is an adjustable loop at one end and a diamond knot at the other. Simply push the diamond knot through the loop and pull the loop tight to secure the shackle. Once tight the shackle cannot be undone unless manually threaded loose.
A Tii-shackle is much lighter and softer than a metal alternative, making them ideal for applications which could slap against a deck, mast or person!
Tii-Shackles offer more articulation than a metal shackle allowing blocks to align better when under load. However, they are not ideal for attaching to something with a sharp edge as Dyneema® is more prone to chafing.
We have designed the range of Tii-shackles to suit our range of Tii-blocks, so if you aren't confident with your tying or splicing skills then this is the option for you. However, if you are confident check out our guide on how to splice your own soft shackle using a dog bone.
What is a Tii-on block?
Featuring our patented dynamic bearing technology of stainless-steel ball bearings running on a stainless-steel rails, the result is an unsurpassed performance under load when compared to others available on the market. The Tii-on block range is available in sheave sizes from 20mm up to 60mm and offers a large weight reduction when compared to the standard dynamic block range. What differentiates our Tii-on blocks from other tie on designs is the large stainless-steel ring at the head of the block. This ring is designed to stop the block from capsizing once spliced into a system as well as reducing the chance of the cheeks splitting apart. However, when splicing these blocks to an attachment that is wider than the block, a boom for example, it is still recommended that a cross splice is used to reduce the outwards load put onto the block.
When attaching a Tii-Block it is vital that you go through the loop in the head of the block, around the central axle and then back out through the loop at the top. The Tii-block range must be attached like this in order to perform at its stated breaking load as the central axle is designed to take the main load of the block. The central axle in the Tii-Block range is also designed to be used as a becket to give a wider range of cascade options.
Tii-on products are quickly becoming the go-to choice for many hardware fittings. So, if you want to find out more about our range of Tii-on products then check out this article – Tii-on products are the future.
Tii-On Block Range Details
| | | | | | | | |
| --- | --- | --- | --- | --- | --- | --- | --- |
| SKU | Title | Sheave Size | Breaking Load kg | Length mm | Maximum Line Diameter mm | Maximum Working Load kg | Weight g |
| A2020Tii | Single Tii-On | 20 | 540 | 29 | 6 | 115 | 8 |
| A2020Ti3 | Single Ti3-On | 20 | 540 | 29 | 6 | 115 | 8 |
| A2020Ti3HL | Single Ti3-On With High Load Sheave | 20 | 540 | 29 | 6 | 250 | 14 |
| A2022Tii | Double Tii-On | 20 | 600 | 29 | 6 | 225 | 15.6 |
| A2030Tii | Single Tii-On | 30 | 750 | 42 | 8 | 140 | 24 |
| A2030TiiHL | Single Tii-On With High Load Sheave | 30 | 800 | 41 | 8 | 300 | 37 |
| A2032Tii | Double Tii-on Block | 30 | 1250 | 42 | 8 | 280 | 48 |
| A2040Tii | Single Tii-On | 40 | 800 | 58 | 10 | 180 | 34.5 |
| A2050Tii | Single Tii-On | 50 | 900 | 72 | 10 | 450 | 61 |
| A2060Tii | Single Tii-On | 60 | 1400 | 84 | 10 | 700 | 91 |
For any more information or to use this article please do not hesitate to contact Marketing@allenbrothers.co.uk