RYA Dinghy and Watersports Show – What to see?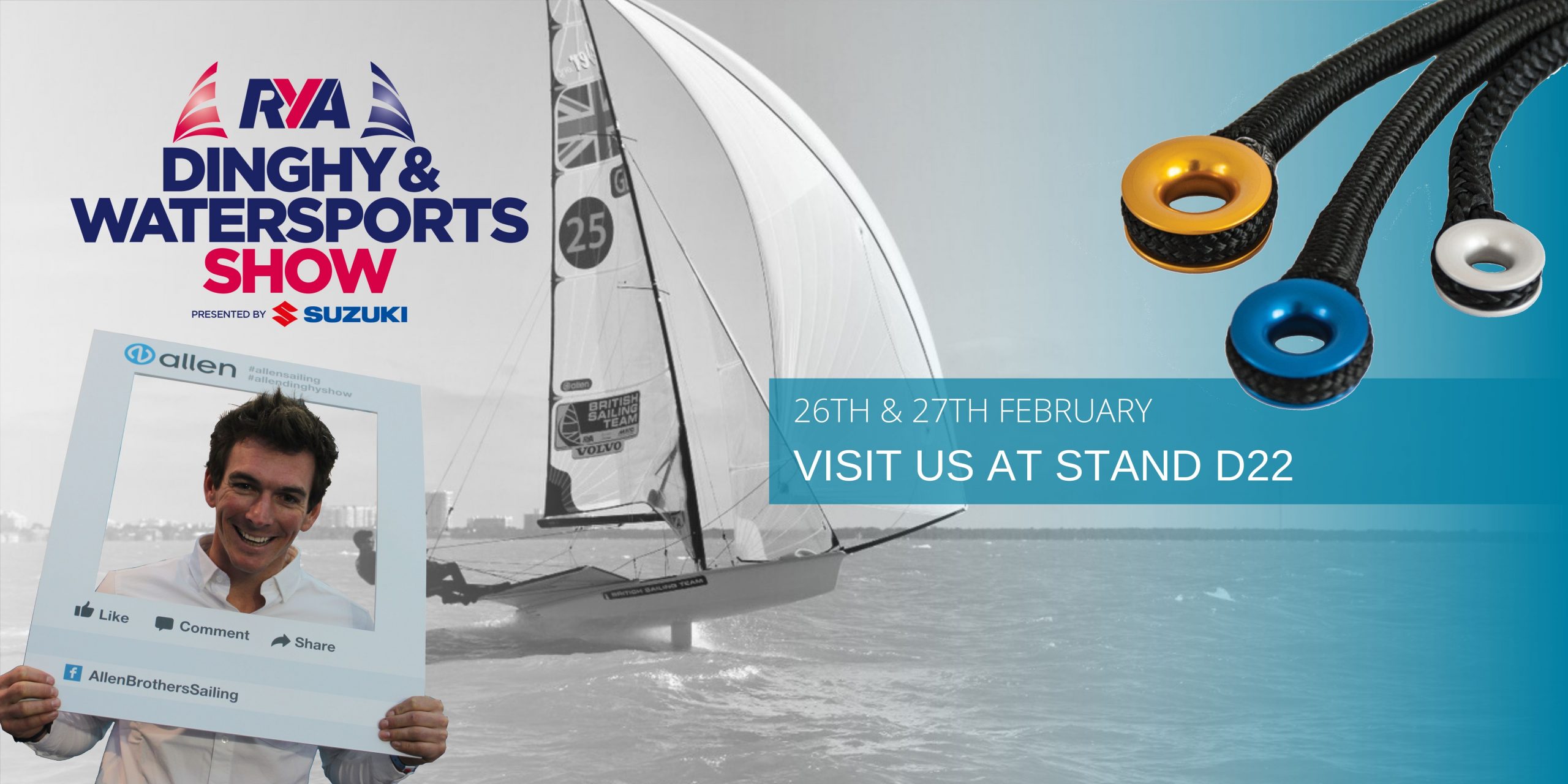 It's been two long years since we last welcomed watersports enthusiasts onto our stand at what is now called the RYA Dinghy and Watersports Show and we cannot wait to once again talk boats and boat bits with you!
For the first time, the RYA Dinghy and Watersports Show will be held under the roof of Farnborough International Exhibition and Conference Centre over the weekend of 26th & 27th February. We will of course be exhibiting and you can find us on stand D22.
We've got so much information to share from the past two years, but here are some of the highlights you can expect if you do visit us at the show.
Jump to
Competition
Win yourself a T-shirt and racing rules poster signed by Gold Medalists, Olympians and Team Allen sailors, Dylan Fletcher, Stuart Bithell, Luke Patience, Saskia Tidey and many more! To win, just come along to our stand and guess the number of individual parts in the clear box, simple! Check out the video below for a helping hand… and yes, we did include the parts that miss the box!
New Products
It may have been a crazy couple of years, but that hasn't stopped us from doing what we do best and engineering the best sailboat performance hardware! Below is a list of some of the products we have launched since the last Dinghy Show, most will be on display at our stand and our team will be more than happy to discuss all in greater detail.
Our newest range of through deck blocks were launched at the start of 2021. They offer frictionless guidance for rope and wire control lines that are required to pass through a deck. Featuring a hard-wearing acetal body, shaped perfectly to house the sheave, which results in a performance that you can rely on for adjustable rigging and other highly loaded applications. Available with one or two sheaves and in plain and ball bearing systems to suit a wide variety of applications.
The A2020Ti3 was originally developed for the paragliding and kiting industries to be attached via a webbing strap, the Ti3 has now started to find its way into the marine sector thanks to its super easy to use design.
Featuring a wider opening at the top of the block and flatter sides has resulted in the A2020Ti3 being simpler to thread rope around. The block still fits in the same footprint as the older A2020Tii and makes use of the same three sheave options which are tried and tested across the 20mm range.
The articulating range features the normal double or triple block setup but the spacer moulding between each cheek has been removed, as well as, the central rivet which holds the blocks together. The result is a set of blocks attached to the same double or triple ultra-strap but each can articulate separately from one another.
Utilising British made Marlow rope and our range of performance blocks to deliver an easy to install and use race kit. The race packs have been developed using our Team Allen sailors experience in the boat and finessed by our engineering know-how. We have 3 kits available, the Vang pack, Cunningham pack and Outhaul pack.
Over the last few years, we have been supporting a different sailor every season with our Allen Academy Optimist. Throughout this time we have had the pleasure to support some very enthusiastic young sailors who have relayed their important feedback to us. From this feedback, we have developed a cutting edge Optimist sprit system, which is now available to purchase.
Our new pack is pre-spliced and race-ready, so all you need to do is attach it to the boat for the smoothest and best-looking setup available. The pack includes everything you need to replace your existing optimist sprit system.
A professional half finger sailing glove with reinforced Amara on palm and fingers to protect your hands when pulling rope. Made from a high-quality 4-way stretch breathable fabric. Double-stitched for longevity. Neoprene cuffs give a super comfortable fit. Velcro strap for a secure fit. Come and check them out at the show!
Team Allen Sailors
We're proud to support some of the best sailors in the World. Many of whom are members of the British sailing team and will be taking time out of their busy schedule's to spend it with us on our stand. Some of the sailors that are likely to be seen floating around with us include Olympic Gold Medalists, Dylan Fletcher and Stuart Bithell. Olympians Charlotte Dobson and Saskia Tidey, as well as, a handful of other professional sailors! Come and have a chat with them and see why winners rely on Allen.
Display Boat
If you haven't seen it, we have been running a weekly guessing game over on our social media channels (click the links below to go and check it out). The boat behind the "guess the boat" game will be unveiled on Saturday morning and displayed on our stand throughout the weekend. The boat is equipped with a full fit-out of our performance products, allowing you to see the best ways to utilise different fittings and control systems. 
We look forward to welcoming you onto stand D22 at the RYA Dinghy and Watersports Show. Please come by and have a chat with the team about products, sponsorship and even opening a trade account. In the meantime, contact us at Sales@allenbrothers.co.uk