Allen OK National Championship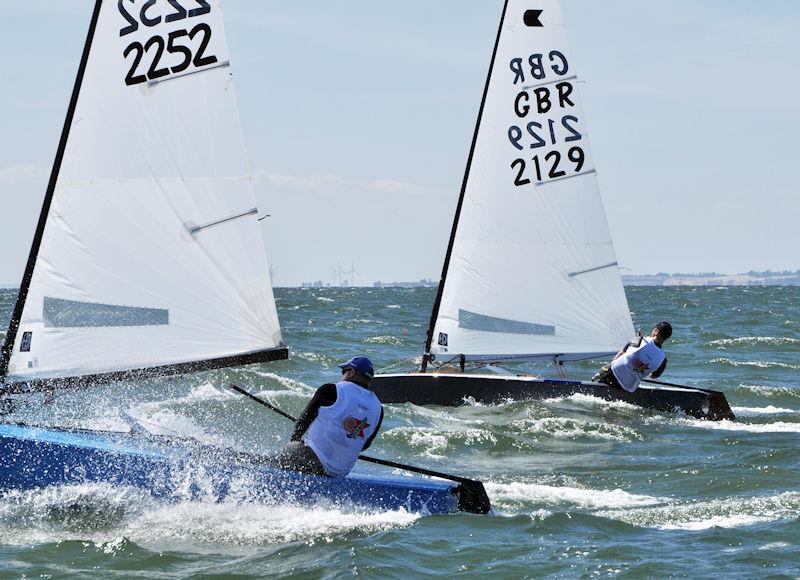 A more than OK time had at Herne Bay.
The Allen Sailing, OK Nationals were hosted by Herne Bay SC from the 14-17th of June. With a few notable OK regulars absent, the National Championship was setting up to be a very open event with several potential winners. This was indeed the case, with lots of different faces at the front of the fleet and a different race winner each time.
Thursday dawned with a light 5kt NNE breeze. A quick 1 lap practice race took place, to get the race team and mark layers ready to rumble – with the light forecast for the weekend there was plenty of action for the race team – who did a brilliant job in challenging conditions!
R1 started with some pin bias and a late arrival – Luke Gower. He timed his arrival to perfection, cruising up the start, winning the pin and crossing the fleet on port. Paul Childs worked up the left and Russ Clark the right. Both boats came in closely together at the top, with Russ sailing off for a comfortable win, followed by Childs and Alex Scoles 3rd.
R2, the wind swung 75 degrees to the right as the Sea Breeze arrived. With the tide turning it was a short beat. The breeze built to 12kts and a frantic 4-lap race ensued. Jim Downer in his home-built Leech showed fantastic pace – especially downwind to take the win, followed by Ben Harden from sponsor Allen. Alex Scoles completed the top 3.
Jim Downer led the day on 6pts on countback from Alex Scoles with Russ Clark and Patric Mure (our local Swedish friend) and Ben Harden all joint on 8pints.
After a tight first day, the fleet headed back to shore to enjoy some top hospitality from the kind members of Herne Bay a great BBQ and keeping the bar open until the fleet had had their fill of local Ale.
Unfortunately for day 2, the wind did not play ball however the ice cream and swimming in the sea was delightful. The class dinner that evening gave the fleet a great chance to catch up, hold their AGM and regale each other with old stores and drink more local ale – something the OK fleet is especially good at!
Saturday, was a day to be remembered! Champagne sailing, blue skies and 3 long races.
It left some sailors battered and bruised – the 'Rudder Sweep' may not be a good dance move in the nightclubs but has left most sailors with a black and blue bicep to remember Herne by.
(more…)